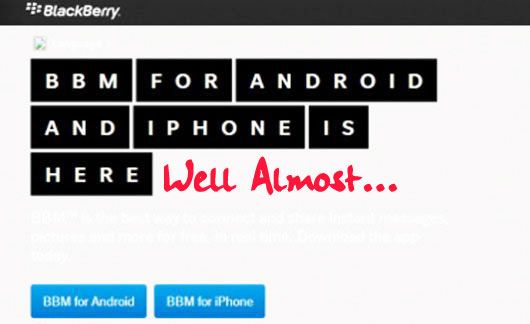 BlackBerry has paused the global roll out of its instant messaging service BlackBerry Messenger (BBM) on rival Android and iPhones, blaming the delay on issues caused by an "unreleased" version. Hmmm, I wonder if this has anything to do with the company's upcoming sale and the END of their consumer business!
"We know you're waiting. Pausing #BBM4All rollout to fix issues caused by unreleased BBM for Android app," BlackBerry said on Twitter.
(You know, sometimes when I hear myself type I feel like I'm speaking some foreign language! Remember when blackberries were food and twitter is what actual birds and gossipy girls did? *LOL*)
Last I heard Blackberry announced that you could BBM on Android from September 21, and on iPhone from September 22. Now it seems more than one million people have downloaded the service within 8 hours of launch and this unreleased version is glitching up a storm.
But hey, I'm looking forward to it, I miss my BMM days although WhatsApp has significantly softened the blow 🙂
Did you know?
BBM has more than 60 million monthly active customers on BlackBerry alone, and majority use BBM an average of 90 minutes per day. BBM customers collectively send and receive more than 10 billion messages each day.