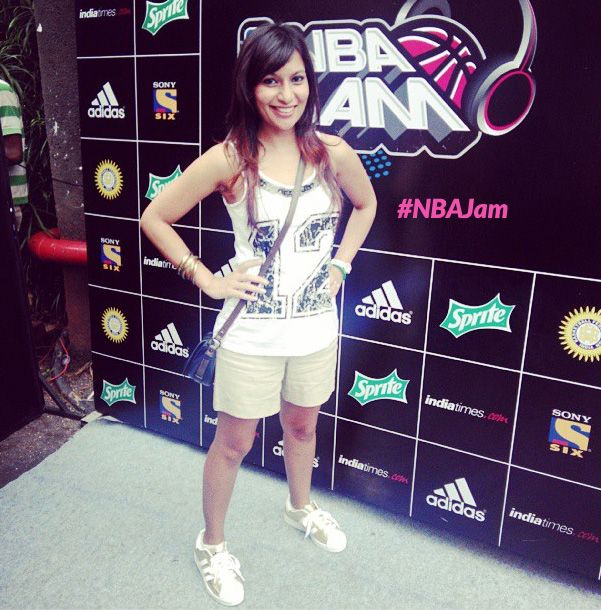 Yesterday, before the GQ awards, I sat court-side at the NBA Jam at Mehboob Studio (along with some trendy Mumbai peeps!) – Ashwin Mushran, Prabal Panjabi, Sushama Reddy, Carol Gracias & Samuel Ziza, Shiv Pandit, Rannvijay Singha, Manasi Scott, Suchitra Pillai, Reshma Bombaywala & Dimi Lezinska, Neetu Chandra and Ayesha Kapur (remember her? The little girl from Black is all grown up!) And yes, it was AWESOME. Check out 10 of my favourite things from the evening and leave me your comments below 🙂 xoxo
1. My Golden Kicks!
So I totally LOVE my spanking new Adidas Originals, Superstar 2.0 kicks! Don't you? 🙂 And I was very excited to wear them to an official NBA event!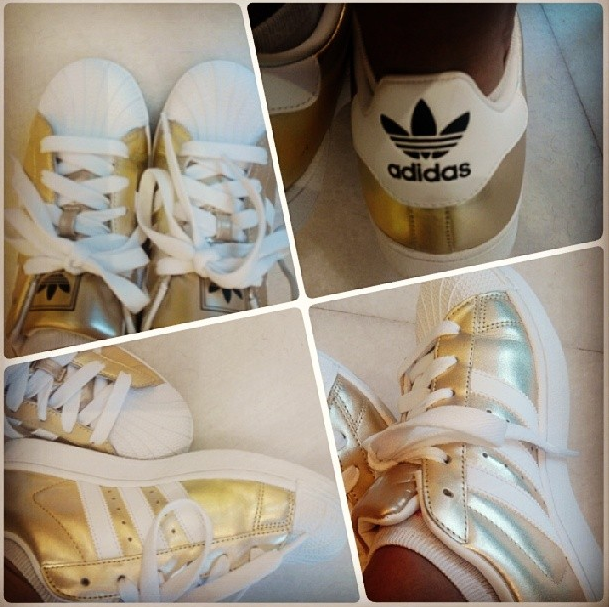 In fact, the Miami Heat mascot Burnie clearly liked them too and pulled one right off my foot and made a run for it! Luckily he was kind enough to bring it back 🙂 click here if you want to know how to get my whole look!
2. BURNIE THE FIREBALL!
Um, coming back to that fireball Burnie for a second, he was SO hilarious and just a wee bit naughty 🙂 when he spotted me Intsavideoing him he did THIS! *LOL*
FYI Burnie is the mascot of the NBA basketball team the Miami Heat and is meant to be a rough depiction of a fireball. He wears a furry orange suit with a green basketball for a nose :o)
3. NBA dunk team
Ok these guys DEFINITELY stole the show. I have never seen a more energetic display of acrobatic dunking skill in my life! I love that they came out bouncing and never missed a shot. NY Knicks Elite Dunkers – EPIC stuff.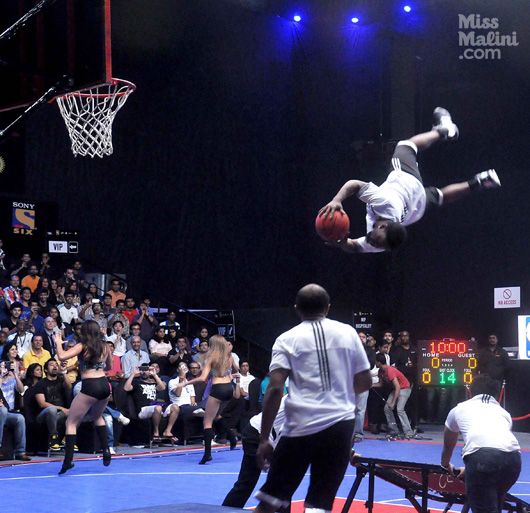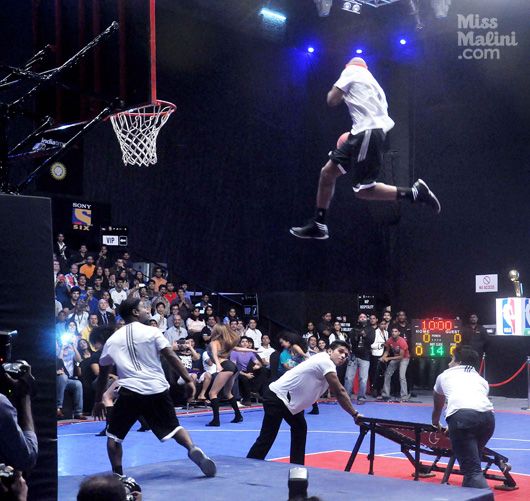 4. COURT-SIDE CUTENESS
I told all the girls to bring their little ones for the NBA Jam because you're never too young to become a basketball fan 🙂 just look at the court-side cuteness that ended up in the front row!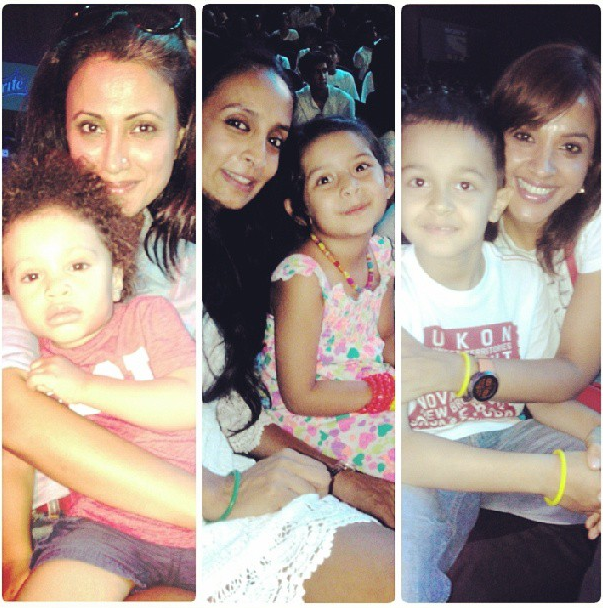 And to give you an idea of just how massive NBA players really are, take a look at THIS!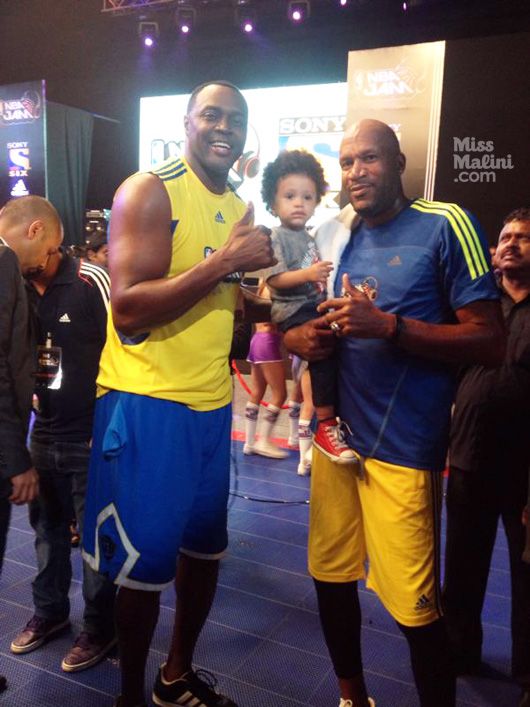 5. BRODHA V & Shaa'ir and Func
The LIVE acts during the Jam were supercool too. This was the first time I'd ever heard or seen this guy called Brodha V – who kinda reminded me of Eminem in a lungi and I have to say, he was awesome! This song btw is still playing in my head… Afterparty…yeah!
And of course Shaa'ir & Func killed it as per usual 🙂
6. THe LEGENDs
What's awesome is that I got to hang out with NBA legends Ron Harper and Horace Grant at my #BombayStreetStyle party and Kresha Bajaj's Koecsh launch in the run up to this event.
And I have to say they are the gentlest giants who have only glowing things to say about their India visit. Who knew basketball giants (literally) were such big teddy bears? 🙂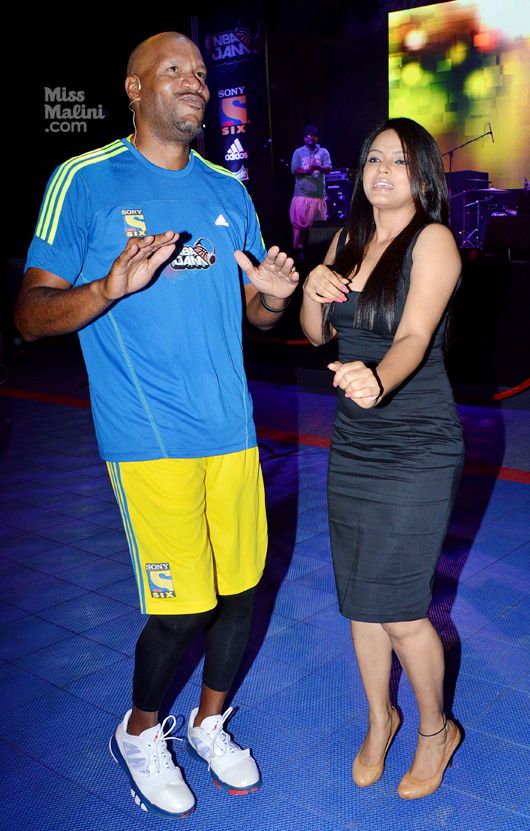 I particularly liked that they got up and started dancing to Brodha V's mashup Afterparty with a few lucky ladies (including Neetu Chandra!) from the front row. Yup and they've got moves.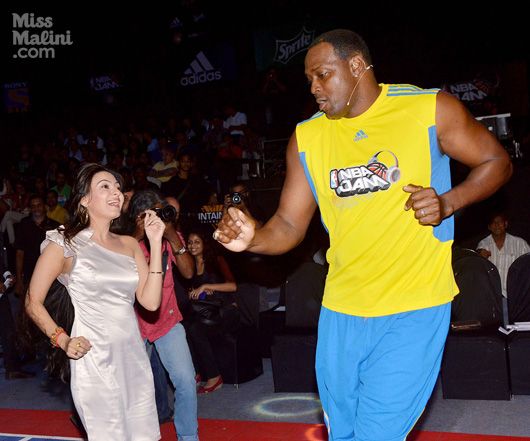 7. THE DANCERS
Holy hotness, the Sacramento Kings Dance Team were amazing! I also discovered that some basketball teams no longer have cheerleaders they have bootylicious dancers. #Upgrade!
8. THE HOSTS
A word of props to the MTV VJs who hosted the event. Nikhil Chinapa and Bani J were fab. And This is my now favourite picture of Nikhil EVER 🙂 *Bahahaha*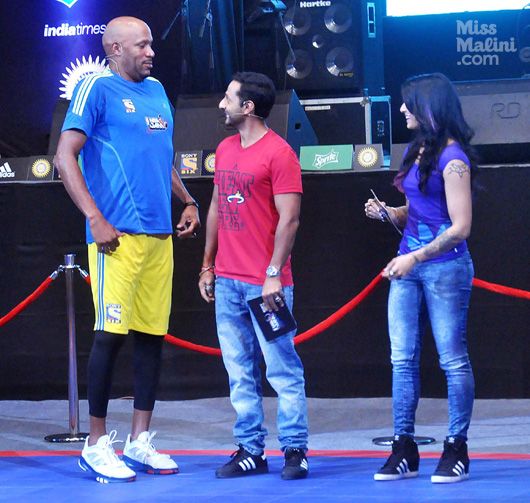 Right?! It's like he's a cuddly little smurf! (And yes, he's probably going to kill me for this.)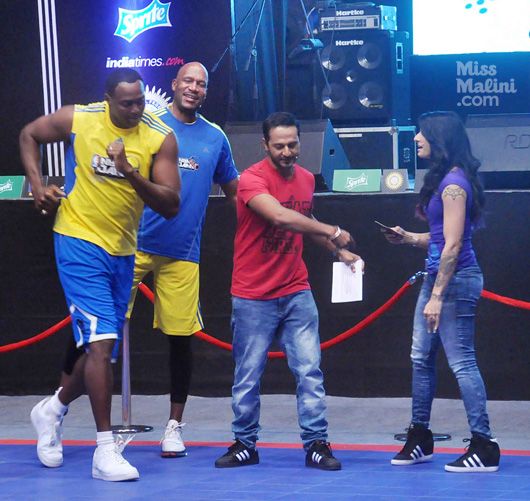 9. THE JAM
Now aside from all the fancy stuff the real purpose of the NBA Jam is to find and encourage young basketball talent in India. I was SUPER impressed with the skill level of the kids they found and was even more thrilled to see the first game was all girls! #FTW NBA India.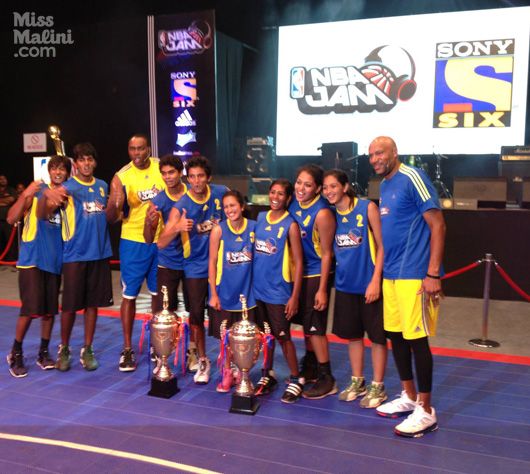 Oh and if only you could see those boys play, it was electric. Mad skills and passion for the game shining through. Also 5 three pointers in under 10 minutes? THAT was incredible!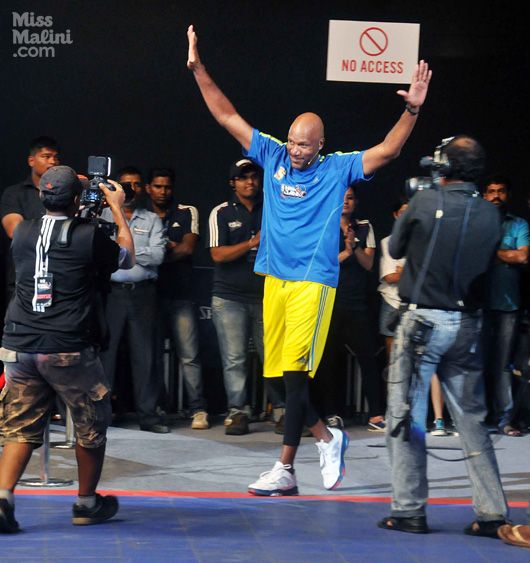 To cap it all off Ron Harper and Horace Grant played a 3 on 3 game with the winning teams which was equal parts funny and awesome 🙂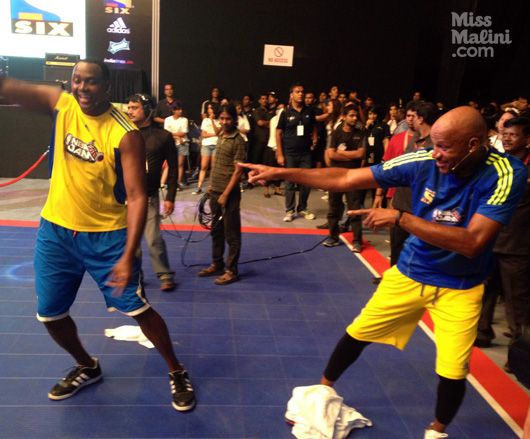 FYI NBA Jam is the ultimate combination of basketball, music and entertainment! The NBA Legends are global ambassadors of the game and were in Mumbai to promote NBA Jam and work with player and coaches. The NBA Jam Finals were played on September 29th at Mehboob Studio – the first-ever live NBA experience in India!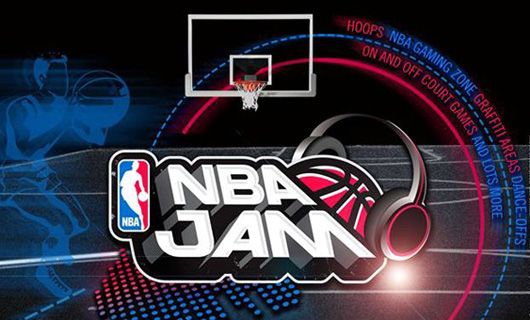 And guess what?! Since Sony SIX has partnered with the NBA to bring this cool NBA entertainment experience to India, they'll be creating a 60 minute show out of the event to broadcast it on Sony SIX mid-October! So incase you missed it, stay tuned!
Also Adidas and Sprite partnered with the NBA to create exciting contests which allowed fans to get on court to try their hand at the game and win cool gear. Amazing experience for the young, aspiring ballers!
Oh and PS, I'm sure you recognize all three of these faces from my blog 🙂
I got to experience ALL of this NBA awesomeness thanks to my pal Akash Jain who's in charge of Business Development for NBA India and Troy Justice Sr. Director, Basketball Operations-International. Hands down, Coolest. Jobs. Ever. Can't wait for your next event gentlemen! xoxo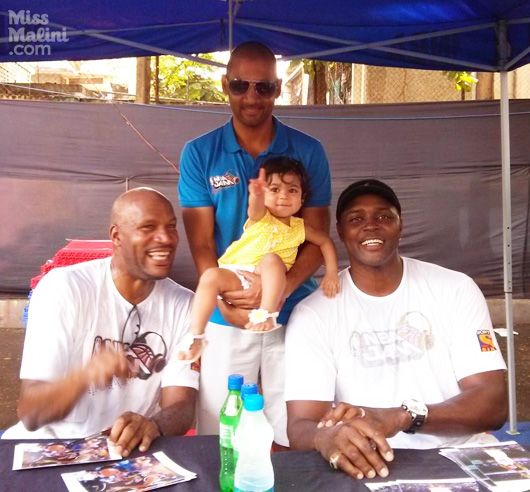 More Photos
[nggallery id=1336] Pix Yogen Shah for MissMalini