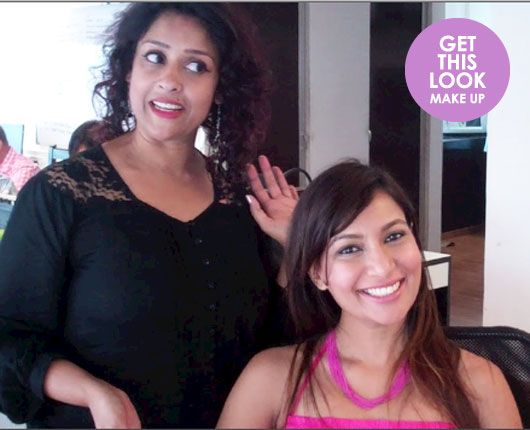 As I mentioned makeup artist Sunita Brace has made me look pretty on several occasions now. Check out the my Elle Allen Solly shoot and most recently my Lady Like shoot for The Closet Label where she made me look all fresh-faced and dewy 🙂 So I figured why not get her to give YOU a bunch of easy peasy makeup tips and tricks to follow too! (We did this on Wear Pink to Work Day btw, hence my extra pink outfit.)
We're kicking off this series with a 5 minute office makeup tutorial for girls on the go who have places to be and people to meet and need to put on a pretty face on in under five minutes. Also check out Sunita's budget and splurge recommendations below!
Eyebrow Pencil
budget: Lakmé, Maybelline
splurge: MAC brow pencil
Kajal
budget: Lakmé eyeconic, Maybelline colossal kajal
splurge: MAC graph black, Chambor forever black
Mascara
budget: Maybelline colossal volume express, Lakmé eyeconic curling mascara
splurge: Benefit bad gal
Concealer
budget: L'Oreal Paris true match, Maybeline
splurge: MAC select cover up, Bobbi Brown creamy concealer (be warned it tends to be a bit oily!)
Compact
budget: compact revlon
splurge: MAC Studio fix
Blush
budget: Maybelline cheeky glow, L'Oreal true match
splurge: MAC dolly mix
Lipstick
budget: Maybelline plum perfect
splurge: MAC meher
Lip Pencil
budget: Lakmé, Maybelline, Colorbar
splurge: MAC boldy bare
Feel free to leave your questions and suggestions for our next video in the comments below and we'll get right to it!
Facebook Like! www.facebook.com/brace.sunita
See More of Our Exclusive Fashion Content:
–       Fashion News
–       Fashion Events Coverage
–       Beauty Tips: Fashion
–       Beauty Tips: Hair & Makeup
–       Fashion Photos & Videos
–       Show Me Everything!