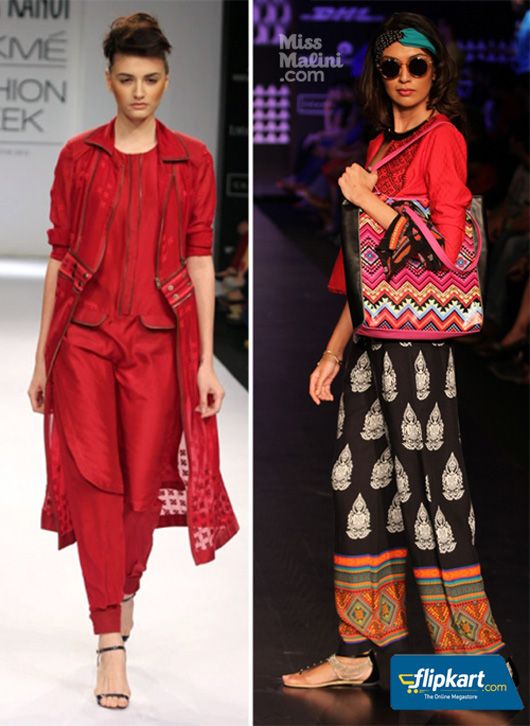 When the going gets tough, the smart try fusing. Fusion fashion involves mixing ideas to form a great look and showing the world what your influences are. East meets west, street meets chic or just an eccentric mix of contrasting ideas. Fusion fashion is all around us and Team MissMalini has picked a few cool looks from runway shows of Indian designers for you to take note of.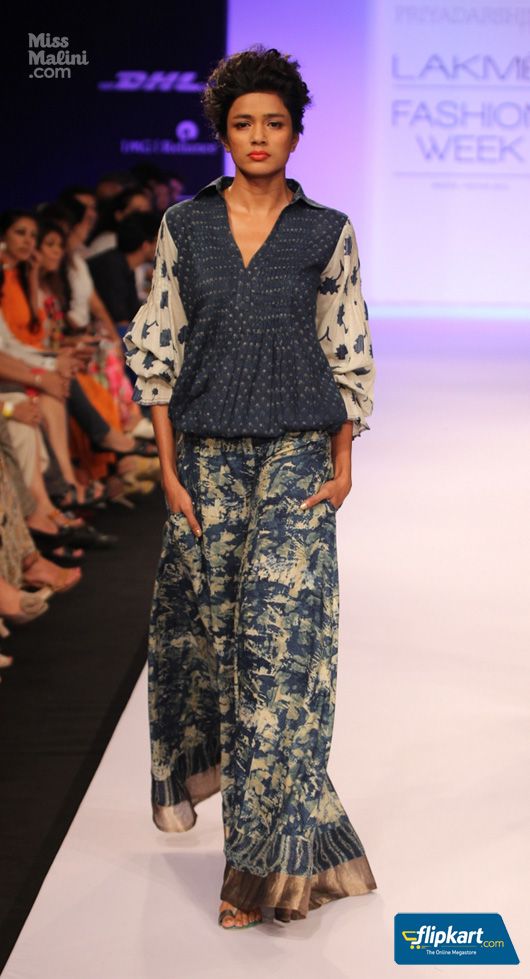 A strong sense of urban chic with a bohemian touch – that's what we loved about this print on print look by Priyardarshini Rao. Taking tips from this look, you can try a pair of printed pallazzos and team it with a printed desi version of a tunic. Keep your accessories simple and earthy to highlight the look's graphic and strong silhouette. It's all you need to make an impression.
Where to wear? At a relaxed day off with your best friend. The day that may include a chic brunch, fun movie and some shopping!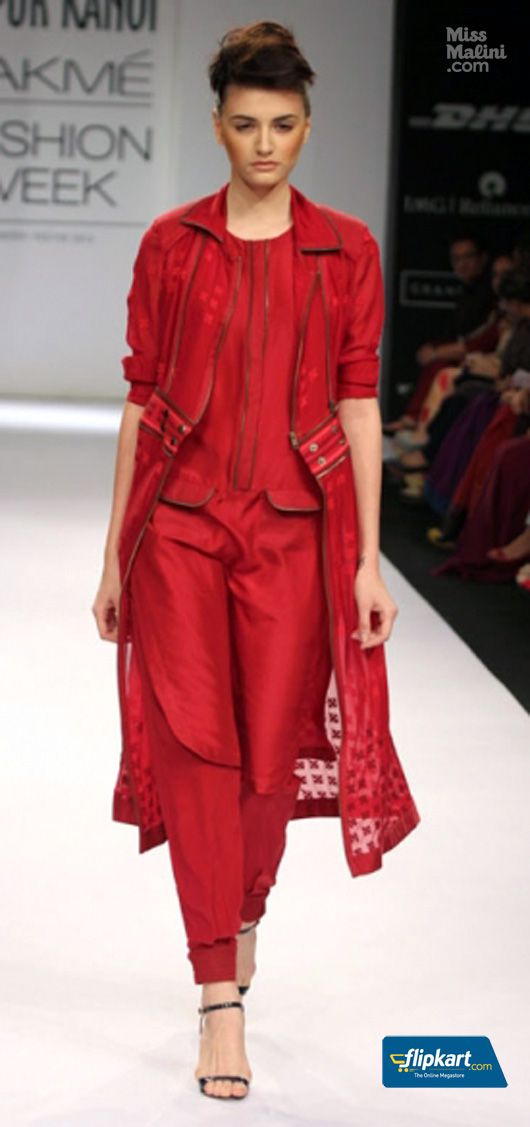 Bomber jacket and zippers skilfully presented in a new-age Indian context. That's what Nupur Kanoi did, giving fashion lovers another taste of her version of fusing sensibilities. On similar lines, you could take a simple kurta and team it with a pair of well fitted trousers. For that bad a** edge, throw on a cool biker jacket over the look. Remember to keep the colour story balanced using similar tones as opposed to a stark colour contrast.
Where to wear? To a hip exhibition or a fashion forward event, where your desi-edged style won't go unnoticed.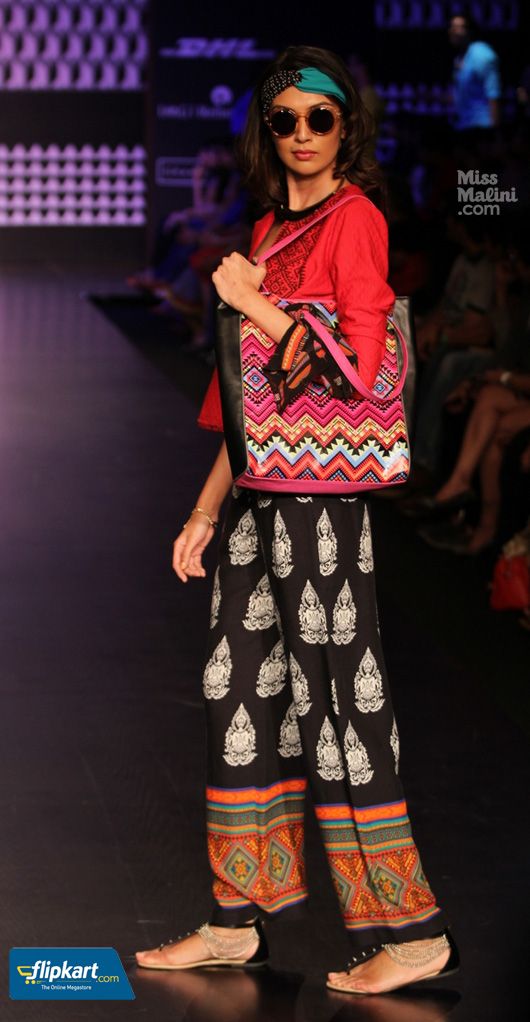 Fusion fashion is all about telling stories with the way you put a look together. Global Desi's a/w '13 showcase presented influences from tribal and gypsies, that were interestingly fused to form a look that is cool and free spirited. Printed palazzos teamed with embroidered kurti tops can form the base for a fun look. A cool desi-graphic tote, a printed bandana and a pair of shades would add that sense of 'street chic'.
Where to wear? To college and then go street shopping for more goodies. Or just for aimless soaking in the sights and sounds of Goa.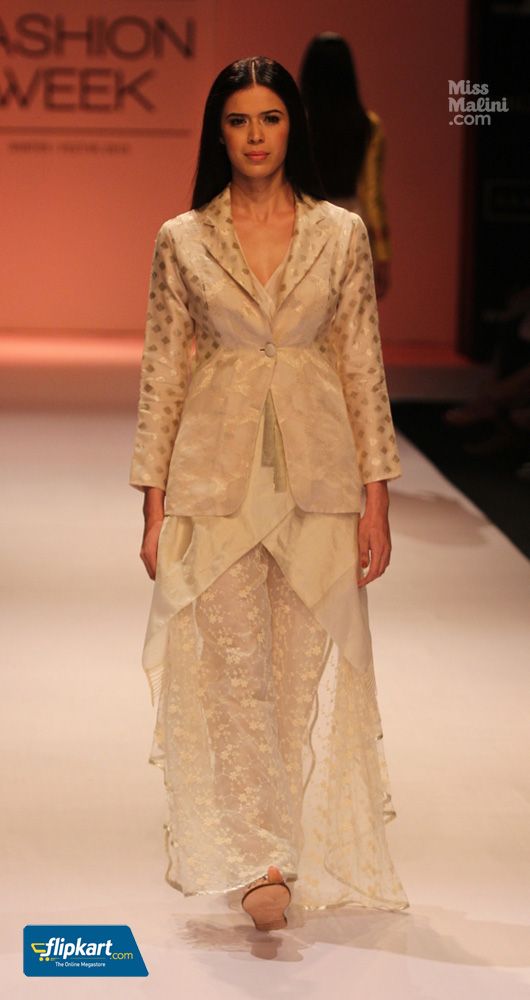 For his winter/festive '13 show at Lakme Fashion Week, Rahul Mishra presented a collection strong in Indian textiles and textures. We absolutely adored his blazers over a flowing silhouette. This could be a great look while dressing desi, especially when you know the venue would be cold and an extra layer would keep you stylishly cozy.
Where to wear? To an outdoor desi function and you could dress it up with fine Indian jewellery. So chic!

The palazzo trousers have proved their versatility once again! At Krishna Mehta's winter/festive '13 show at LFW, we saw model, Candice Pinto working a look that had a flow-y asymmetrical kurta worn over a pair of wide-legged pajamas. You could try to personalize this look with a voluminous flared kurta over a pair of printed palazzos.
Where to wear? To your best friend's sangeet function.
So there you go, 5 very distinct looks from the runway for you to play around with. And this is just the tip of the iceberg. Fusion fashion could be pulled off in a ton of interesting ways. From something as simple as teaming a pair of denims with a cotton kurti, or kitsch Indian themed fabric tote with any of the above mentioned styles. To help you get started, we have shortlisted a range of cool picks from Flipkart, fashion's new address. Stay tuned for more style tips and leads to keep up with current trends, all on MissMalini.com!