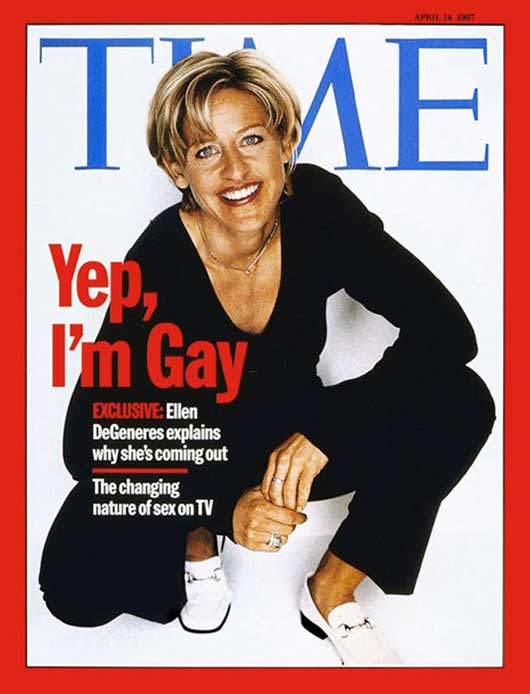 The Indian Supreme Court's ruling on Section 377 this Wednesday has set off a firestorm of debate and outrage over the rights of the LGBT community. The giant step forward in 2009 by the Delhi High Court declaring 377 unconstitutional, was squashed by last week's Supreme Court decision. Years of fighting to achieve equality and acceptance, wiped out by a few old men at the behest of social conservatives and religious groups. On twitter at least, the public aligned heavily on the side of equality and tolerance, with much of Bollywood expressing their disappointment with the ruling.
With public opinion and common sentiment seemingly on the right side of history in this debate, one question must be asked. Where is India's Ellen DeGeneres?
In the history of gay rights in the United States, the mass shift in public opinion (towards tolerance and equality), can be traced back to April 1997. It was the year when comedian & television star Ellen DeGeneres came out to the world, a courageous move to say the least. Now certainly Ellen was not the first celebrity to discuss her sexuality. Elton John had come out as bisexual more than 20 years earlier, and many rock stars (Freddy Mercury, Mick Jagger, David Bowie, etc.), in the 70's were all open about their orientation. Actor Sir Ian McKellen (X-Men, Lord of the Rings), first spoke with the media about his sexuality in 1988, among others in the following decade. But Ellen's coming out was different.
At the time she was starring on her Emmy nominated sitcom, Ellen, and had convinced the producers to let her character come out in the 4th season. The episode was a smash success bringing in over 42 million viewers, and it won 2 Emmy awards. In real life, she came out officially on the Oprah Winfrey show, who had also guest starred as Ellen's therapist in the big episode.
Here's the entire episode in two parts (the second part opens with a thank you song by Grammy Award winning vocalist Melissa Etheridge, who came out as gay four years earlier).
Then the backlash came. The show was cancelled after one more season, when the executives decided to scale back marketing & promotions. The show had lost corporate sponsors and faced heavy criticism from religious, and other conservative groups. DeGeneres was hit hard by the incessant tabloid reporting and her career took a noticeable hit. But it was temporary. After just a few years Ellen came roaring back with her hit talk show, The Ellen DeGeneres Show, which captured dozens of Emmy wins and nominations, and still brings in over 4 million viewers per episode. Her character (though short lived after coming out), was the first gay main character in prime time U.S. television, and paved the way for future groundbreaking shows, like Will & Grace and The L Word.
In the years since Ellen bucked the system, gay rights has advanced leaps and bounds in the U.S. In 2003 (the year Ellen got her new talk show), the last remnants of laws prohibiting homosexuality were wiped off the books, followed by Massachusetts becoming the first state to legalize gay marriage. Today there are 16 states (+ the capital, Washington D.C.), that treat homosexual marriages equal under the law. Within the last few years a majority of the American public has finally tipped in favor of nationwide marriage equality, and there are bi-partisan calls to end this debate for good. That final step will likely take several more years to accomplish (as conservative and religious groups in the U.S. continue to oppose equality), but the trend cannot be reversed at this point. The U.S. will one day join Argentina, Belgium, Brazil, Canada, Denmark, France, Iceland, Netherlands, New Zealand, Norway, Portugal, South Africa, Spain, Sweden, and Uruguay in fully legalizing gay marriage, and more countries are sure to follow.
The momentum which is needed to change public opinion, and force action from government, often depends on celebrities stepping forward. It is through these actors, musicians, comedians, authors, talk show hosts, and even politicians, that the dialog starts to shift. When the masses see their idols talk about the ugly discrimination, fear, and self-loathing faced in their lives, an understanding is formed, and empathy can foster.
Once Ellen came out, dozens and dozens of beloved entertainers followed, and public opinion began to sway. So where is India's Ellen DeGeneres? Look at the wave of Hollywood celebrities who came out after she did, and imagine what it can be like in India, once someone volunteers to jump first.
1997 – Ellen DeGeneres
"I decided that this was not going to be something that I was going to live the rest of my life being ashamed of. I belong with everybody else, and that's what I finally did."
1998 – George Michael
Compelled to come out after several tabloid scandals, George Michael found the courage to say, "I have no problem with people knowing that I'm in a relationship with a man right now. I have not been in a relationship with a woman for almost 10 years."
2002 – Rosie O'Donnell
Rosie and Ellen had been friends for years before the famous coming out episode. The two had discussed this comical "Lebanese skit" beforehand, and Rosie pledged to go along with it, so as not to leave Ellen 'out there' on her own. Though she wouldn't officially come out until several years later, she had been living openly for some time, and is viewed alongside Ellen as one of the first to stand up vocally for the movement.
2004 – Cynthia Nixon
Miranda from Sex in the City is married to activist Christine Marinoni, and says, "I'm just a woman in love with another woman."
2006 – Lance Bass
The former boy band teen idol from N Sync, with scores of sex crazed screaming female adorers in the late 90's, kept his personal life very guarded. After coming out on the cover of People Magazine, he said "I knew that I was in this popular band and I had four other guys' careers in my hand, and I knew that if I ever acted on it or even said [that I was gay], it would overpower everything."
2006 – Neil Patrick Harris
NPH brushed aside speculation over his sexuality for years, and in 2006 he went public on the cover of People Magazine stating, "I'm quite proud to say that I am a very content gay man living my life to the fullest and feel most fortunate to be working with wonderful people in the business I love." Neil is married to fellow actor David Burkta, and they have adorable 3 year old twins.
2007 – Jodie Foster
The two-time Academy Award winning actress was sometimes quizzical in her public statements, but she often mentioned her love and affection for Cydney Bernard, her former partner of 15 years.
2008 – Clay Aiken
The American Idol fan favorite says that becoming a father caused him to speak out publicly about his orientation, "It was the first decision I made as a father… I cannot raise a child to lie or to hide things. I wasn't raised that way, and I'm not going to raise a child to do that."
2008 – Wanda Sykes
The hard hitting, outspoken comedian & actress says at rally, "We shouldn't have to be standing out here demanding something we automatically should have as citizens of this country."
2009 – Adam Lambert
This one was no surprise to the millions of Adam's fans from American Idol, he just waited for his Rolling Stone interview to come out, cause "that will be cooler".
(I can't help linking to his performance of "Mad World" on American Idol… to date one of my favorite reality show moments ever).
2009 – Chris Colfer
The Glee star who plays a gay character on the show, is just as lighthearted in real life quibbling, "You know what my answer to that question was prior to coming out — was that I was straight as every other actor in Hollywood."
2010 – Anna Pacquin
The sexy True Blood star is married to her co-star Stephen Moyer (Bill Compton) with two year old twins. Regarding her bisexuality she says "For me, it's not really an issue because I'm someone who believes being bisexual is actually a thing. It's not made up. It's not a lack of decision."
2010 – Ricky Martin
After years of dodging rumors and keeping his personal life private, the Latin mega-star came out in a statement on his website saying, "I am proud to say that I am a fortunate homosexual man. I am very blessed to be who I am." The decision to open up about his sexuality was difficult for Martin, and he struggled with fear and uncertainty, brought on by years of hearing that his feelings were unnatural and evil. Coming out was a big relief for Martin, telling Larry King in an interview, "Everything about saying that I am gay feels right. If I'd known how good it was going to feel, I would have done it ten years ago."
2011 – Zachary Quinto
The Heroes star, and latest 'Spock' from the Star Trek franchise, was compelled to speak up after a spate of teenage suicides brought on by gay bullying. "It became clear to me in an instant that living a gay life without publicly acknowledging it — is simply not enough to make any significant contribution to the immense work that lies ahead on the road to complete equality."
2012 – Jim Parsons
Everyone's favorite obnoxious braniac from The Big Bang Theory, came out in a New York Times article last year. He's been with his partner Todd for the last 10 years.
2013 – Jason Collins
Seven foot tall, professional basketball player Jason Collins may be the least known person on this list, but his coming out was very important, being the first openly gay athlete playing a major American sport. He came out within a competitive male dominated culture, (where gay slurs and insults are still common in the locker room), by saying, "I'm a 34-year-old NBA center. I'm black. And I'm gay."
His courage was praised by commentators, activists, and fellow players. President Obama called him directly to say he, "couldn't be prouder", of Jason's bravery. In an interview the President stated, "I think a lot of young people out there who are gay or lesbian who are struggling with these issues to see a role model like that, who's unafraid, I think it's a great thing. And I think America should be proud that this is just one more step in this ongoing recognition that we treat everybody fairly. And everybody's part of a family. And we judge people on the basis of their character and their performance, and not their sexual orientation. So I'm very proud of him."
The list goes on, and there are many who I did not mention, who deserve the same recognition. The reasons for coming out are as varied as the subjects, but it boils down to a simple truth. There is absolutely nothing wrong with being who you are; every person deserves to be treated equally. The bigger take-away here though, is that coming out did not end any of these celebrity careers, and it didn't ruin anyone's life. They weren't viewed as freaks or outcasts, and NONE of them regret their decision to publicly come out. Looking back, many of them wish they had done so sooner.
Each of these celebrities were met (mostly) with admiration, respect, and gratitude for their willingness to speak up. Their actions helped motivate and move the American public to demand equality. Their actions have created coalitions between gay people and straight people, united in the quest for basic human rights. Their actions spoke to the young, and to the old, across racial divides. They CHANGED OPINIONS of millions and millions of people, some of whom likely never knew anyone who was gay, and couldn't relate to the struggle. Their actions gave strength and support to other public figures who would later come out openly, stating the example set by those who stepped out first. Their selflessness inspired us, and continues to inspire us.
The wait has been long in India for these types of role models, and hopefully the current national debate, re-ignited by the Section 377 ruling, will inspire Indian celebrities to answer the calls of a community in pain. There may be some backlash, there may be some career implications (though we see these are temporary). There will be some hate speech, and there will be opposition by religious groups. But one thing is certain. Whoever takes that first leap will not be alone. Others will follow, and they will all be remembered as prominent figures who helped spark a movement. Anyone who comes out from the ranks of Indian film, television, theatre, music, literature, and so on, will be remembered, and they will be revered. If not today, surely tomorrow.
The expression 'once in a lifetime opportunity' gets thrown around a lot, but this is undoubtedly one of those moments. The most conservative estimates show that there are at least 20 million LGBT citizens of India, and the true numbers could be as high as 100 million, or more. One action, one statement, will better the lives of millions, and will help end so much heartbreak. Who will answer the call?