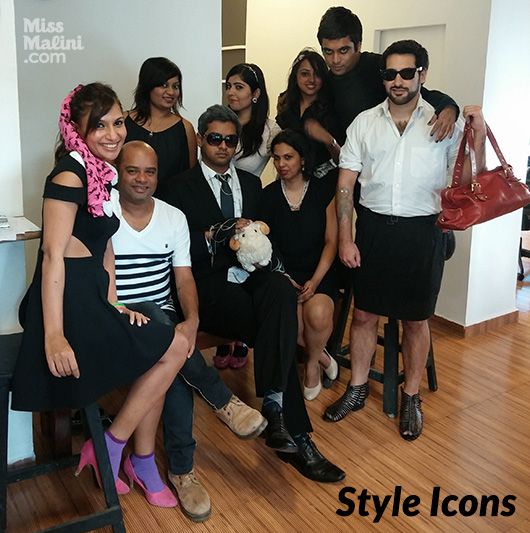 We've been having a bit too much fun at the Team MissMalini office. Last month, it was my birthday and I got to pick the theme for our dress up Friday. Inspired by something I had come across online, I suggested we come dressed as our favourite style icons. It sounded a little tough but everyone was so sporting! We had some really fun icons walking around office. I'm sure you want to know who came dressed as whom and how they put their look together. But first, watch the show!
missmalini as katy perry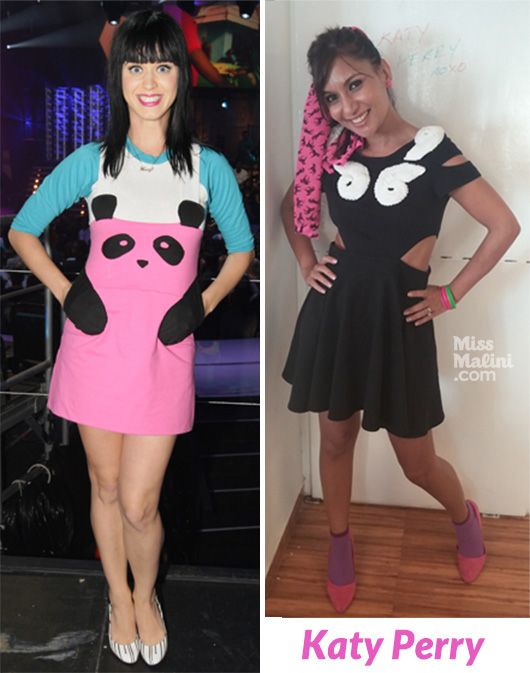 MissMalini says, "I love Katy Perry because she's fun and fearless (but not quite as macabre as Lady Gaga)! Also, because her fashion identity is usually all about being playful and stylish with a candy coated twist! Ever since I watched her movie, Part of Me — Katy Perry, I fell in love with her for being so vulnerable and torn between her relationship and career. (After having a Big Fat Bollywood Wedding and everything). I saw that she stayed true to her fans and found time for them even when her heart was breaking and boy, did she look good doing it! xoxo"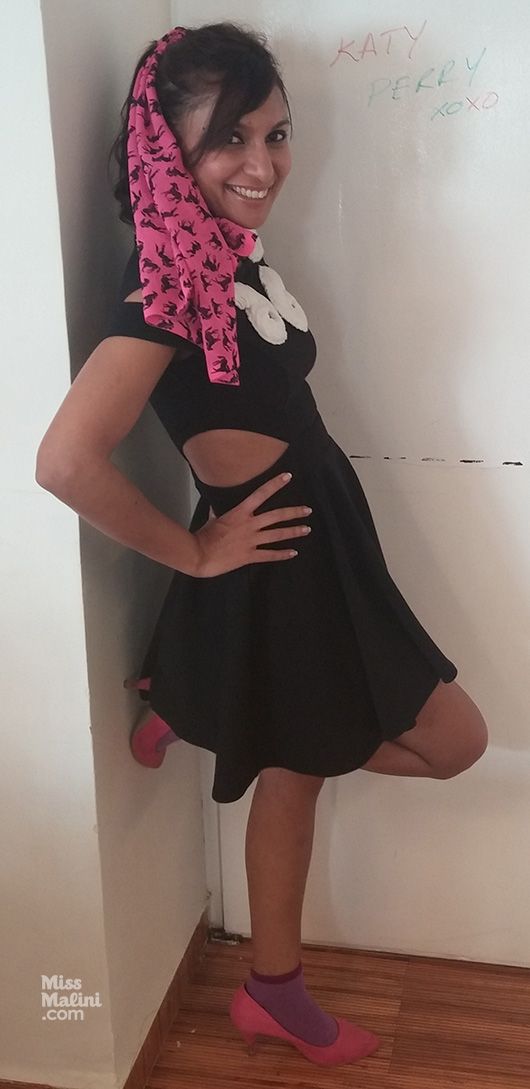 nowshad rizwanullah as karl lagerfeld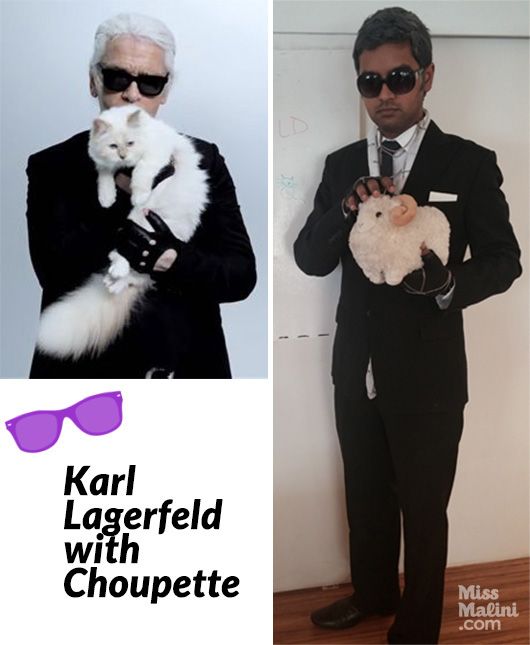 Marv D'Souza says, "Nowshad wanted to be Karl, so I told him to wear his white shirt and black suit… We powdered his hair with talcum and I got him biker gloves and dressed them with chains… I also found a cool scarf with black Gothic cross motifs and styled his tie with some more chains."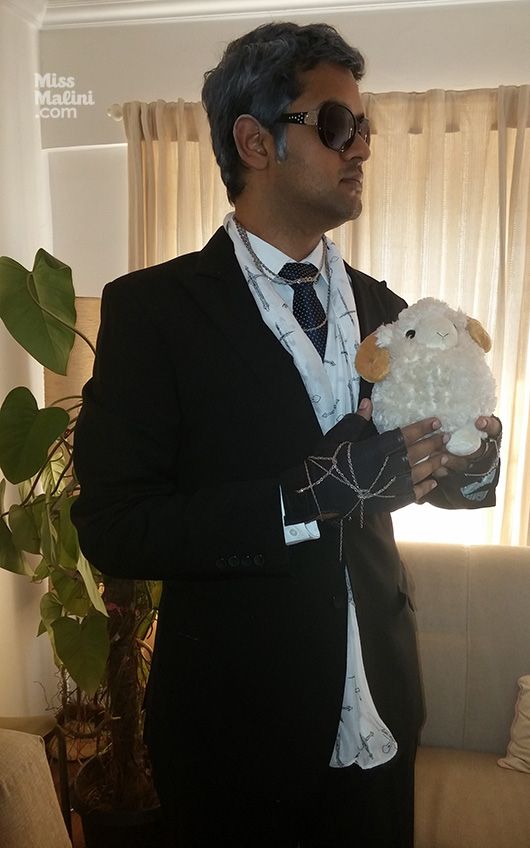 I loved that Nowshad brought a stuffed sheep as Karl's famous pet, Choupette. We were all amazed when he walked in.
mike melli as marc jacobs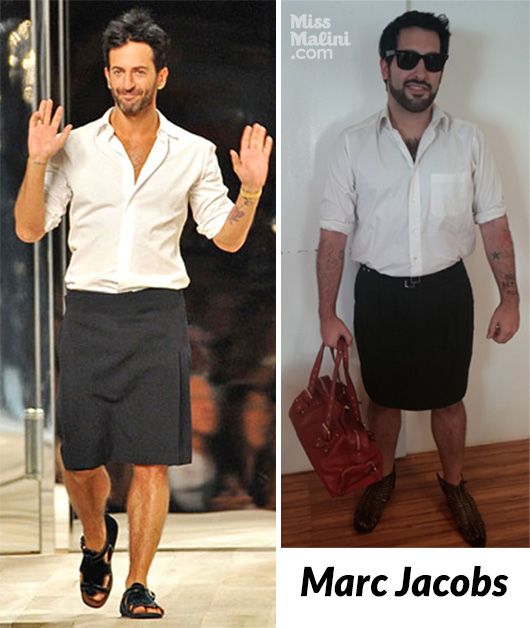 Mike Melli says, "For fashion icons, I wanted to be someone who instantly turns heads, hence Marc Jacob's patented shirt on skirt look. I bought the skirt from Hill Road, Bandra and wore gladiator sandals."
Mike was so in character, he even had Marv draw faux tattoos identical to Marc's.
dhruvi shah as carrie BRADSHAW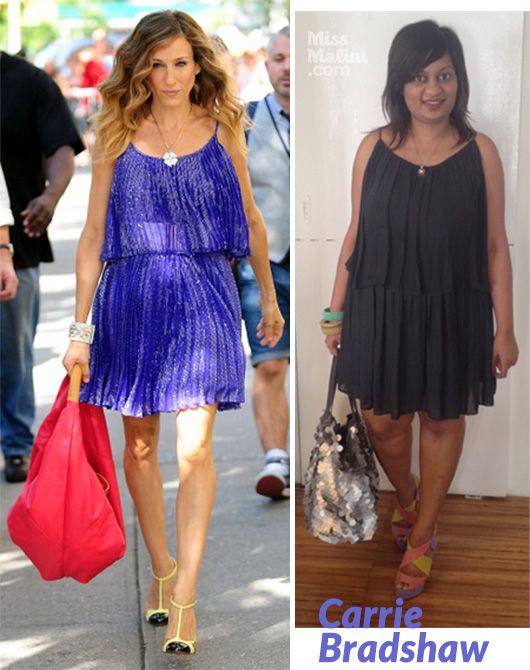 I have watched all of Sex And The City growing up. I was always so envious that Sarah Jessica Parker got to keep the shoes and clothes. I often imagine myself as Carrie Bradshaw when I'm out with friends or making notes in my head to write later. So, she was the ideal choice for me to dress up as. I wore this dress from Zara and paired it with my colourful shoes from Forever New. I even brought out my flower necklace to match hers.
rashmi daryanani as blair waldorf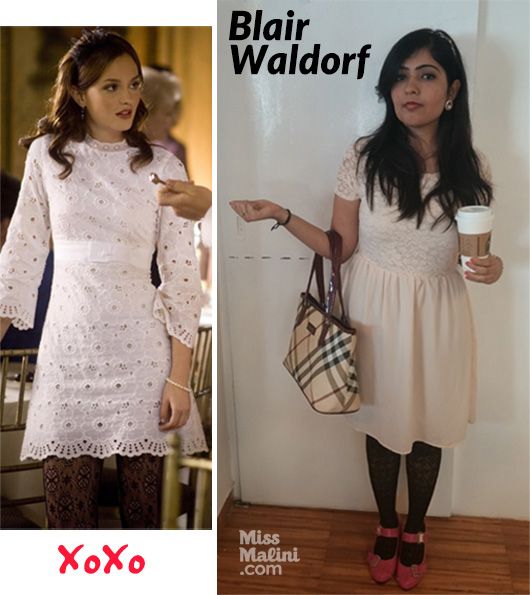 Rashmi Daryanani says, "When I heard that we'd next be dressing up as our style icons, I immediately knew who I'd be: the Queen Bee, Blair Waldorf! I'd always loved wearing headbands and girly, lacy dresses, so when Gossip Girl first aired, I fell completely in love with Blair's style. In fact, I would often buy dresses just because I thought it was "so Blair Waldorf!" What I'm wearing in this picture is actually one of those dresses I picked up just so I could channel her. I paired it with tights (Blair often sports them during the winter months), pink heels borrowed from Amruta (Blair loves her pops of colour) and a pearl bracelet (she always picks classic jewellery pieces and wears a lot of pearls). Of course, I couldn't leave out my crowning glory – a headband, since Queen Bee is rarely without one. I decided to wear a pearl one with a bow on it, since I thought that best suited Blair."
amruta khatavkar as kate middleton/duchess of cambridge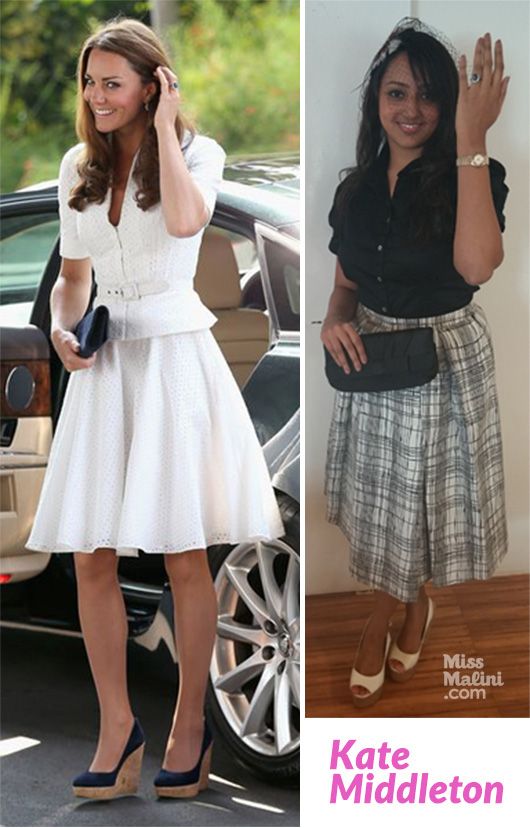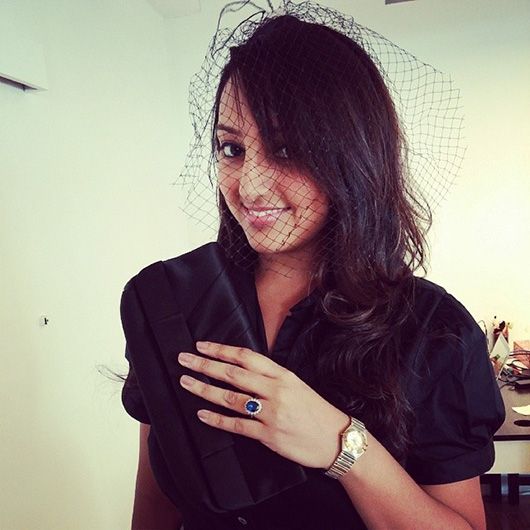 Amruta Khatavkar says, "I already had my very own Kate Middleton blue sapphire and diamond ring (yes, I'm obsessed with British royalty that way), so she was my obvious choice of fashion icon. Kate wears a lot of skirts by designer Jasper Conran, so I decided to wear mine as well. I paired this skirt with a plain black shirt from Zara and white peep-toe wedges from Steve Madden. The duchess wears the most beautiful and trendy hats so I decided to add a little glam to the look with a feathered fascinator."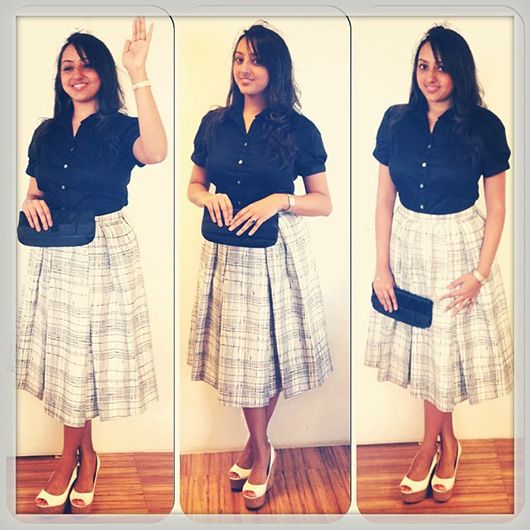 In fact, Amruta was so in character, she kept waving like a princess and by popular vote, was the best dressed style icon that day. Congratulations, darling. 😉
karen alfonso as coco chanel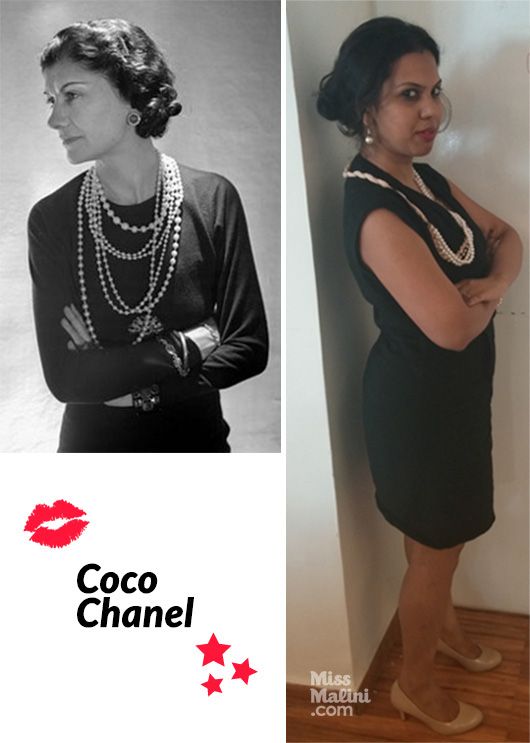 Karen Alfonso says, "I love Chanel and how she revolutionized the way women dress. I believe in her tenet, 'fashion fades but style is eternal'. I own a couple of black dresses and am partial towards costume jewellery and pearls. Hence, channeling Chanel was super easy :)"
ranjit rodricks as jean paul gaultier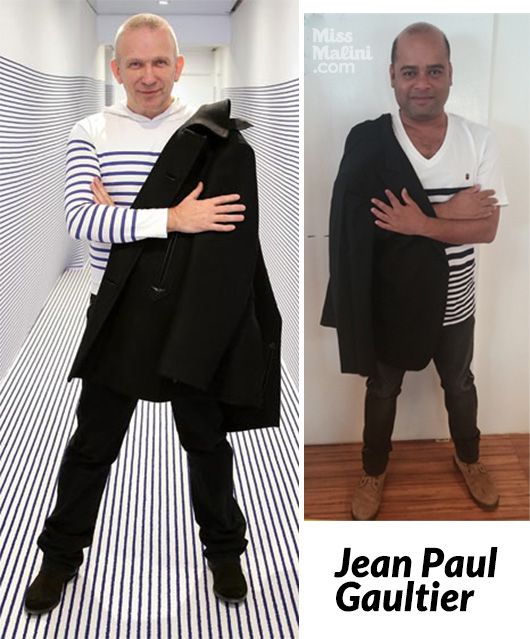 Ranjit Rodricks really admires Jean Paul Gaultier and chose to channel him for our style icons dress-up day. Here's an interesting blog he wrote on why Jean Paul Gaultier is his style icon.
marv d'souza as brian molko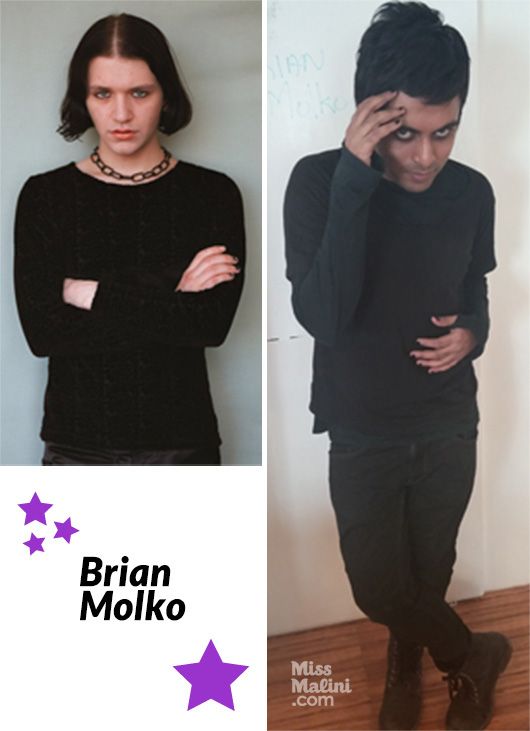 Marv D'Souza says, "I love Brian Molko and have loved him since the first time I heard "Pure Morning". He is open about his bisexuality but he doesn't see it as a topic of trivial discussion. He is flamboyant but dark, he can be camp while being boisterous. Either way, I think Brian Molko is cool and has a loyal fan base in the goth/punk/industrial sub culture.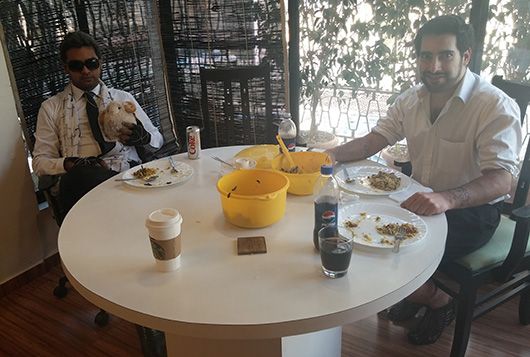 It was also quite hilarious to watch Karl Lagerfeld and Marc Jacobs eat biryani for lunch together.
Did you enjoy our renditions of our favourite style icons? Who gets your vote? Tell us in the comments below.