I'm just gonna say it: if you watch one episode from this season of Koffee With Karan, make it the Emraan Hashmi/Mahesh Bhatt one. Emraan doesn't give too many interviews, so it was a treat to hear him mouth off so many things without much thought. The same goes for Mahesh Bhatt, who doesn't really mince words. The result of bringing the two of them together? A hilarious episode, where no one was diplomatic, and where the rapid fire was finally, actually rapid. Normally, the rapid fire is the most nerve-wracking portion for most celebrities, but Emraan Hashmi and Mahesh Bhatt answered every single question. Every single one. Never happened before on KWK, and not likely to happen again.
Catch up on the biggest revelations below, but make sure you also watch the show. It's hard to narrow down your favourite parts in an episode where practically everything was noteworthy.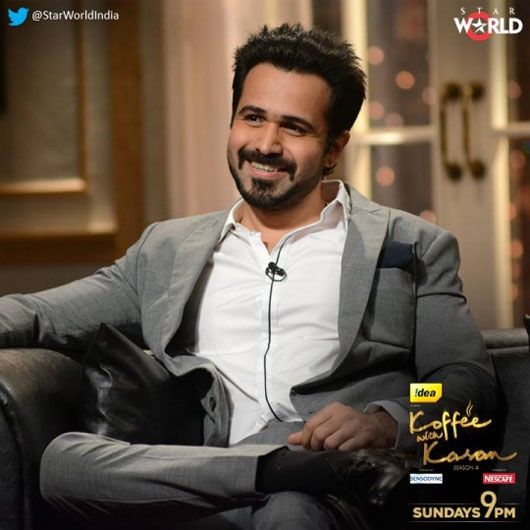 1) Emraan Hashmi couldn't buy a cycle
When told he is to be 'blamed' for Emraan Hashmi's serial kisser tag, Mahesh Bhatt has only one thing to say: "That penthouse that he has in Pali Hill, which costs about 40 crores, is thanks to that image that was given to him. Left to himself, he didn't have the means to buy a cycle! It is erotica and the great music that was provided to this… guy, that made him the heartthrob of the nation."
Trust Mr Bhatt to and easily let out the worth of Emraan's house and take full credit for the persona he created. In fact, throughout the episode, he repeatedly implies that Emraan has him to thank for his career.
2) Ameesha Patel refused to work with Emraan
Mahesh Bhatt recounted a time when a director had Ameesha Patel and Emraan Hashmi do a photo shoot together as a look-test. The results weren't that great, according to Bhatt: "What came back at the end of the day was a disaster. He looked like a whipped dog, as if he's been whipped and put in a corner. I don't blame that poor girl for saying no to him. She said 'no, there's no way I'm going to act with him.'"
Meanwhile, Emraan says, "I don't blame her for that. I wasn't prepared for that situation, and I wasn't very good in that photoshoot."
3) The casting couch is real
When asked to react to "reality shows," Mahesh Bhatt says, "No reality at all." As for 'casting couch'? "Reality."
4) Mahesh Bhatt thinks Kajol is an overrated actress
During his rapid fire, he was asked who he thought the most overrated actor or actress was, and he picked Kajol. That's not all, though: he thinks Barfi! is an overrated film and Sanjay Leela Bhansali is an overrated director.
5) Mahesh Bhatt doesn't think Aamir Khan is a great actor
This is Mr Bhatt's list, ranked in order of acting ability: Shah Rukh Khan, Ajay Devgn, Hrithik Roshan, Ranbir Kapoor, Salman Khan, Aamir Khan. Probably one of the very few times that Aamir would make it to the bottom of a best actors list!
6) Emraan Hashmi's got a thing for people's wives/girlfriends
Here's what he'd like to steal from the following people:
Abhishek: His wife.
Ranbir: His girlfriends.
Saif Ali Khan: His wife.
Shah Rukh Khan: His house.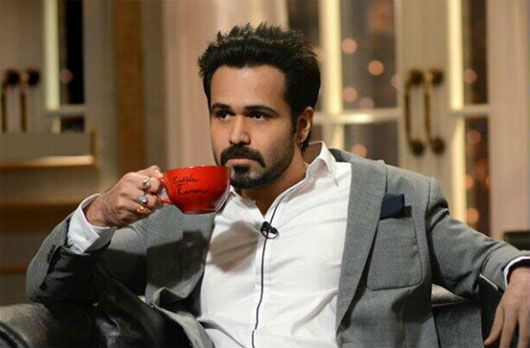 7) Emraan Hashmi's best on-screen kiss was Jacqueline
Emraan admitted that his best on-screen kiss was with Jacqueline Fernandez during Murder 2. As for the worst one? Mallika Sherawat!
If that weren't enough, in the next question, he was asked what he would find if he entered Mallika's bedroom. His answer? "An Idiot's Guide to Succeed in Hollywood." Vicious answer, as Mahesh Bhatt put it.
8) Emraan wants Katrina to dump Ranbir
When asked what advice he'd give to Ranbir Kapoor, Emraan said, "Stop playing the ladies' man stereotype. The press wants it more than you." Next, he was asked to give advice to Katrina Kaif, and he simply said, "Lose him." *Ouch*
He didn't stop there, though. When he had to give advice to Deepika Padukone, he said the same thing – "lose him." Now who is he referring to? Ranbir, as he was in Katrina's case? Or Deepika's current boyfriend, Ranveer Singh? Take your guesses.
(On a side note, Emraan would advise Shraddha Kapoor to eat. So brutal, this guy!)
9) Emraan has flirted with fans
When asked whether he's flirted with a fan, Emraan said yes, although he did specify that it was only innocent flirting. I know a few fans who wouldn't say no to some innocent flirting, Emraan, if you'd like me to send them your way…
10) Emraan thinks Aishwarya is plastic
Oh, snap. The plastic question is one that people mostly avoid when they come on Koffee With Karan, but Emraan didn't do so. He was asked who comes to mind when he hears the word 'plastic', and without any real hesitation, the actor named Aishwarya Rai Bachchan.
What was your favourite part of this episode?