The video will stream below starting 12pm! Stay tuned to watch and send us your questions and comments on Twitter, Facebook and G+ with the hashtag #MissMaliniHangouts.
Come hangout with Juhi Pande who has donned a new hat! She's gone and written a book about love (with a happy ending!) In the run up to Valentine's Day, join me in an exclusive LIVE MissMalini Google+ Hangout with Juhi Pande, Shruti Seth & VJ Manish Anand talking about all the Things Your Mother Never Told You About Love! AND solving YOUR love problems too!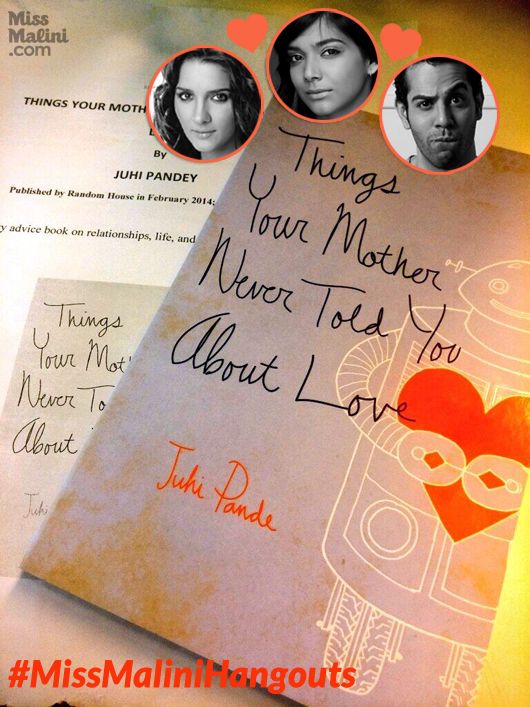 PLUS YOU CAN JOIN THE HANGOUT LIVE! JUST LEAVE A QUESTION FOR THEM ABOUT YOUR LOVE LIFE (OR LOVE IN GENERAL) IN THE COMMENTS BELOW!
If you're shy and just want to leave an anonymous question, that's fine too 🙂 post it in the comments below and you could win signed copies of her book!
RSVP HERE on GOOGLE+ (You'll be able to watch the LIVE stream here.) You can also rsvp on Facebook and don't forget to tell you friends to watch 🙂
Don't forget to hashtag #MissMaliniHangouts with your questions on Facebook, Twitter & Google+
The book launches Feb 14th but feel free to pre-order here on Flipkart! xoxo