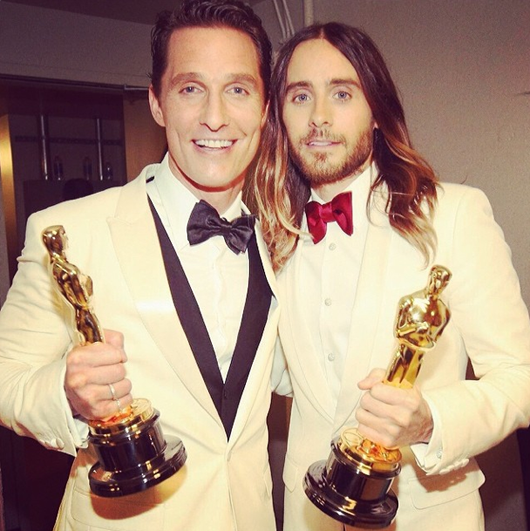 With eyes glued to our screens and fingers crossed for our favourites, we dedicate that one night every year to the films and their stars that left us in awe. While fans wait for the end of the show for the winners, the fashionistas follow the Oscar arrivals – looking for that glorious dress that will go down in red carpet history. Over time, actresses have held the pedestal in their custom couture. However, this year, the men outshone the starlets with their sartorial choices. We pick the best-dressed boys at the Academy Awards 2014.
Jared Leto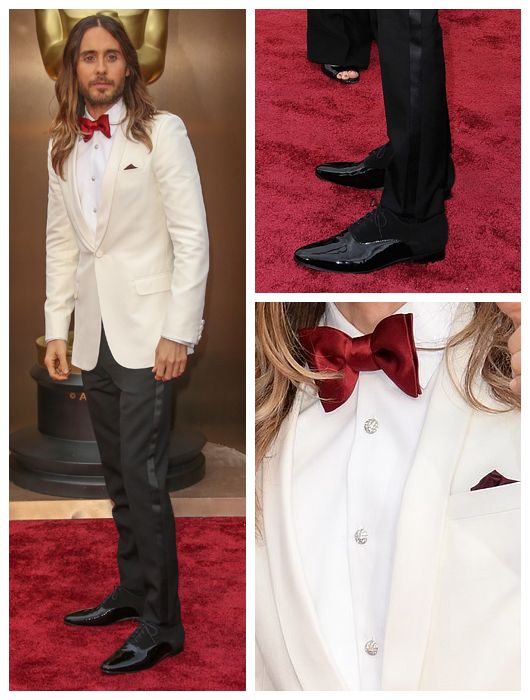 Rocker by day, actor by night – the beautiful Jared Leto, with Ryan Seacrest and Matthew McConaughey en suite, chose not to conform to the black tux uniform followed by their peers. Winner of the Oscar for Best Supporting Actor, Leto was dressed in Saint Laurent by Hedi Slimane. Like a true rockstar, he effortlessly paired an ivory shawl collar jacket and tuxedo trousers with burgundy accents of a silk bow tie and pocket square. He tied up the look with Neil Lane platinum and diamond shirt studs and cufflinks.
Michael B Jordan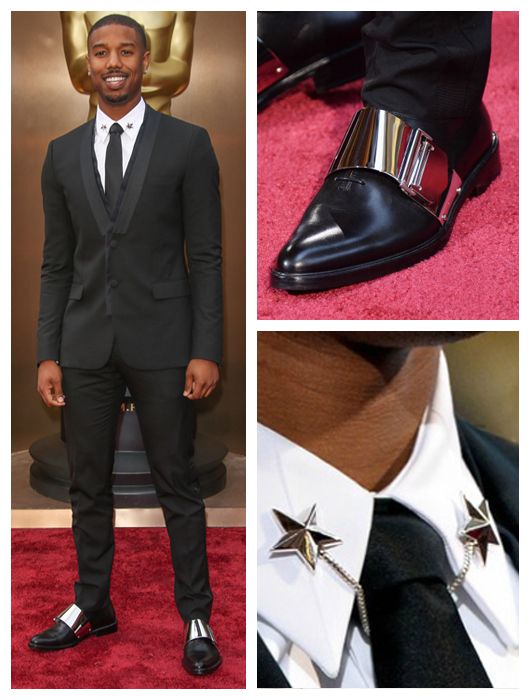 My love for Riccardo Tisci, scores Michael B. Jordan a spot on this list. He wore Givenchy head to toe – dressed in a custom wool tuxedo with satin details, white poplin shirt and a black tie. What caught my fancy were the chrome highlights in the star collar clips and black nappa shoes. I give him 4 stars for sharp twist on the traditional tuxedo (he loses one for buttoning all the way down!)
Joseph Gordon-Levitt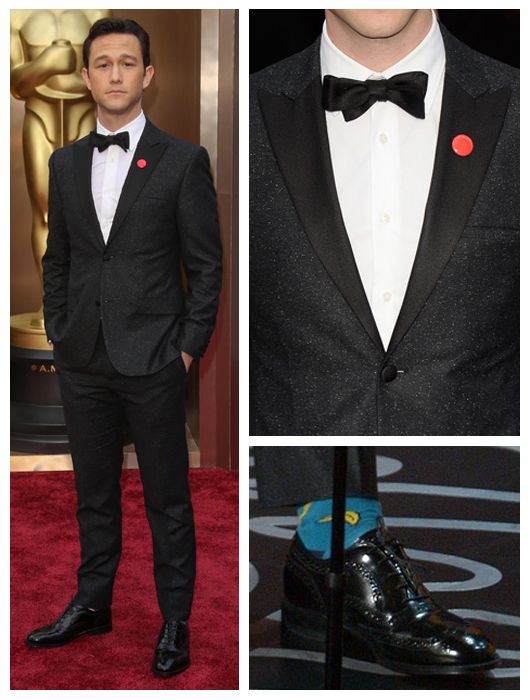 Joseph Gordon-Levitt's cute smirk makes it difficult for me to complain. I covered up that face and seriously scrutinised his outfit choice for the evening. A notch up from black – the clean-cut, flecked Calvin Klein dinner suit is a piece I think every man should add to his wardrobe. Levitt sported an interesting bow-tie with the red pin button that's been a staple in all his red carpet appearances. (To represent the 'record' button as his company is called Hit Record.) The dapper actor added a dash of fun with blue banana patterned socks that sat cheekily below his Johnston & Murphy shoes.
Kevin Spacey & Chris Hemsworth
This year, Kevin Spacey and Chris Hemsworth widened the palette at the Oscar arrivals with their suave suits. The House of Cards star, wore a sharply tailored navy tuxedo with contrasting peak lapels by Burberry Prosum. Spacey added height to his look by dressing in a single deep shade. Ozzie hunk, Chris Hemsworth wore a David August tux in a rich burgundy. The look had an old world charm that was offset with a MontBlanc watch and Fred Leighton cuff links. I have to admit, I love a man who isn't afraid of little colour!
Pharrell Williams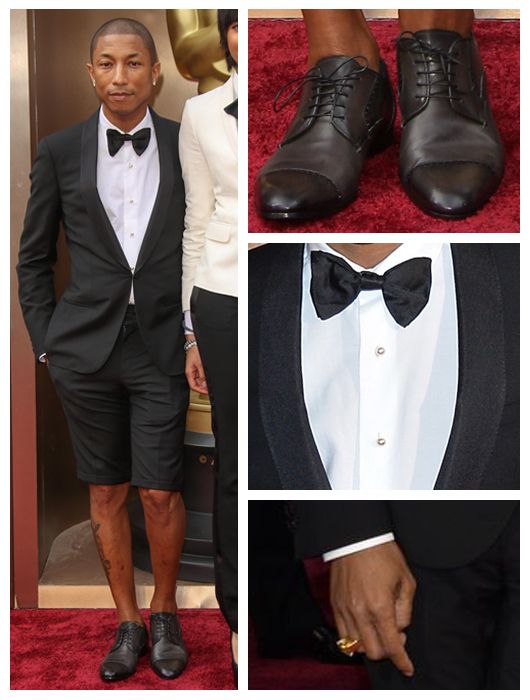 Hate it or love it, Pharrell's barely there trousers were the talk of cyber space the night of the Oscars. The 'Happy' singer wore a custom Lanvin 'shux' (short tux), with a black bow tie and grey calfskin lace ups. He donned signature bling with yellow diamond studs and Ofira Jewels bracelets with multi-colored diamonds. He ended the night performing "Happy," on the Oscars stage in a leather Adidas jacket, red glitter sneakers and a Vivienne Westwood Ranger Hat.
I'd give Pharrell Willams the golden statue for dressing out of norm – he definitely threw me off my seat!
In case you've missed what the women wore, take a look at our favourite looks.