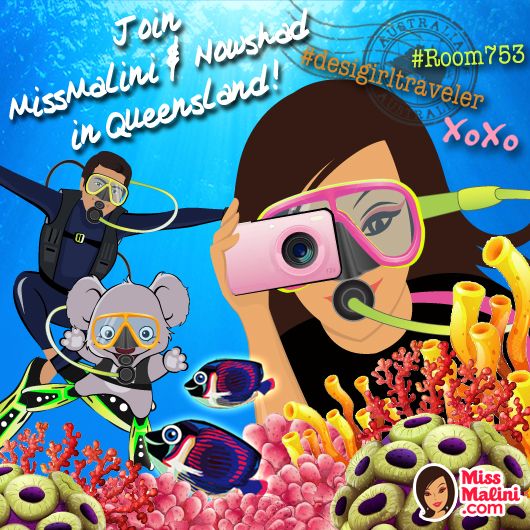 Somebody pinch me because I MUST be dreaming. The good people over at Tourism and Events Queensland have invited Nowshad & I over for the most unbelievable experience EVER! Australia has ALWAYS been on my bucket list of places to visit and it's all happening, like – TOMORROW! I'm so excited 🙂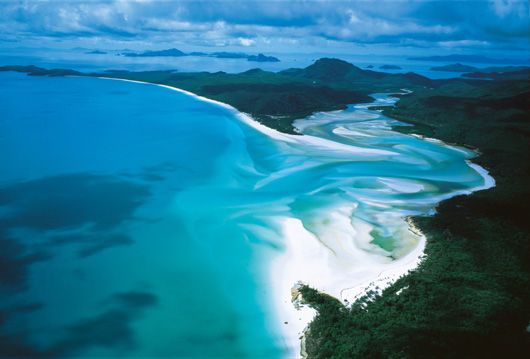 Make sure you follow along #DesiGirlTraveler, #thisisqueensland and #Room753 for ALL the action LIVE with bloggers from around the world! Now take a peek at my itinerary and tell me what you're most excited to see videos/pictures of… and OF COURSE I'll bring you back presents (just like I did from New Zeland!) I'm thinking a cute Koala bear, yes? 🙂 Comment below if you like that idea and start thinking of what you'll name him! (Nowshad has suggested "Kiki")
Itinerary!
Sydney to visit friends & family 🙂 Yo Sherief Razzaque and Shawn Fernandes I hope you're ready!
Monday 31th March
Arrive Hamilton Island
Afternoon activities
Overnight:  Reef View Hotel, Hamilton Island
Tuesday 1st April
Cruise Whitsunday reef cruise with an overnight at Reefsleep
Return late afternoon
Check in at quaila, Hamilton Island
Thursday 3 April
Spa day at quaila
quaila, Hamilton Island
Friday 4 April
Check out of quaila, Hamilton Island and transfer to Airlie Beach with Cruise Whitsunday.
Check in at Peppers Airlie Beach 4 – 7 April
Afternoon to check out Airlie Beach
Dinner – Fish D'Vine
Markets and free time
Afternoon stand up paddle boarding
Dinner – Degustation dinner at Peppers Airlie Beach
Sunday 6th April
Whistunday Crocodile Safari day tour
Dinner – at your leisure
Monday 7th April
Cruise Whitsunday transfer to Hamilton Island to connect with flight to Bribane
Limoso Limousines transfer to #Room753 Gold Coast Peppers Broadbeach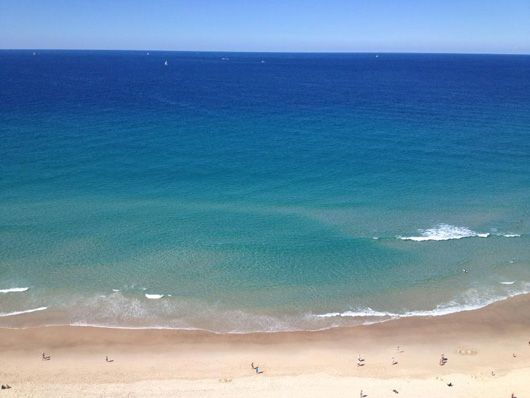 SO WHAT IS #ROOM753?
An amazing project to host the world's best bloggers (yay!) and invite them on some really amazing trips to Queensland, (double yay!) And because Queensland Tourism understands that travel-blogging can be as exhausting as it is fun, they're ending our trip with a week-long stay at an amazing location (Room 753) that's been designed with nomadic bloggers in mind! (Dear Queensland, have I told you I love you yet?) Check out some of my fellow world-bloggers and their Queensland experiences below!
youngadventuress.com – Queensland in Colour
stophavingaboringlife.com – Deep sea Fishing off the Sunshine Coast
timetravelturtle.com – Swimming with Turtles
gypsynester.com – Fear Conquering & Feeding Crocodiles
theplanetd.com – Queensland Captured on Instagram
The Instagrammers! @Croyable, @garry_norris & @zakshelhamer
Um.. #AWESOME! So psyched to be joining 25 of the world's best bloggers on this ride! And I can finally say I'm heading Somewhere Over the Rainbow to the magnificent land of Oz 🙂 xoxo