The Forbes India Trophy races took place in Mumbai at the Mahalaxmi racecourse on Monday and as one would expect, a number of Mumbai's well-heeled socialites attended the races in all their designer finery.
Sisters Aditi and Arzoo Govitrikar were a study in contrasts. While the former wore a green strapless maxi dress, the latter wore an orange strapless mini and accessorized it with a feathered fascinator.
Jewelry designer Queenie Singh showed off her enviable figure in a burgundy figure-hugging dress with a boat-neck collar. She too wore a fascinator which was perched on the right side of her head.
See what the other ladies wore:
junelia aguiar chandler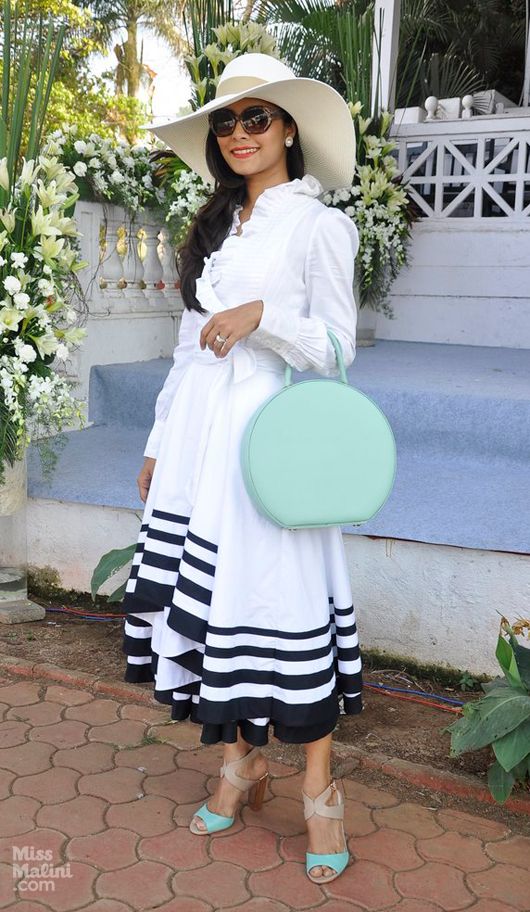 Designer Junelia Aguiar Chandler opted for a 1950's retro and romantic look by wearing a large sun hat, a frilly blouse and a full skirt. The key elements were her (almost) round bag and peep-toe heels.
kamal siddhu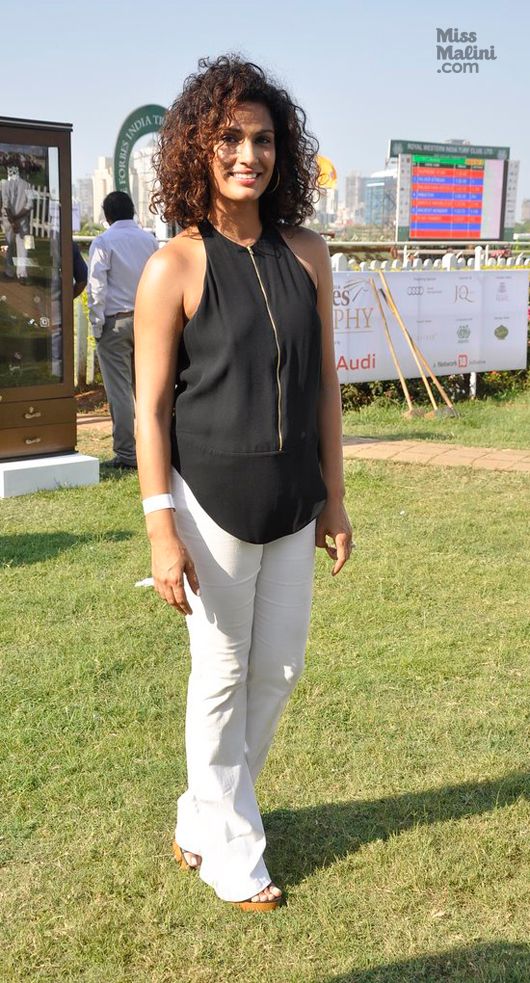 Former TV show host, Kamal Siddhu failed to impress us in her much-too-basic look. Her black zip-up blouse and white pants could have been accessorized better with some statement jewelry or a statement clutch.
michelle poonawalla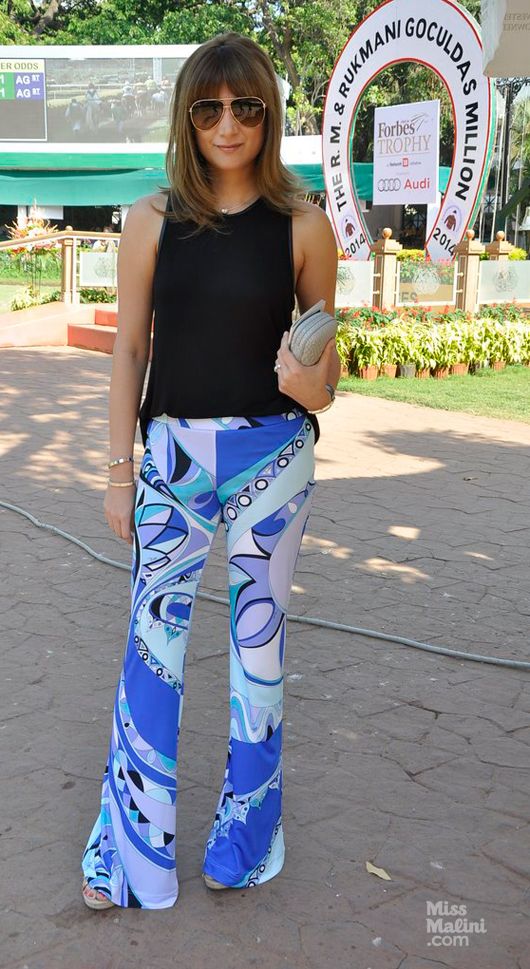 Michelle Poonawalla wore her bright pop-print Pucci pants with a demure black top and a Bottega Veneta knot clutch. A perfect balance between the colourful and the basic!
natasha poonawalla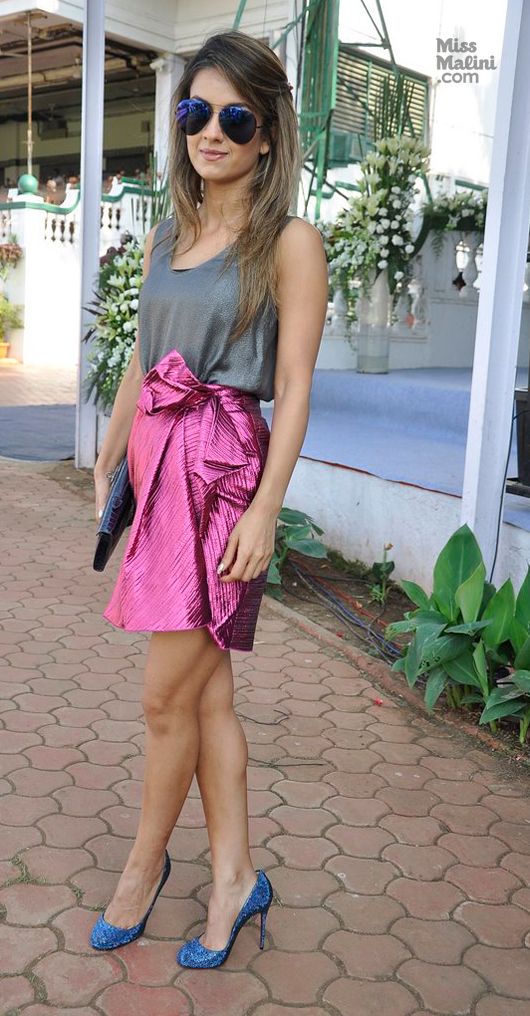 Natasha Poonawalla, on the other hand, enjoyed colour-blocking in a grey sleeveless top, pink pleated knotted-skirt, a purple clutch and glittery blue shoes. This is undoubtedly our favourite look.
shibani kashyap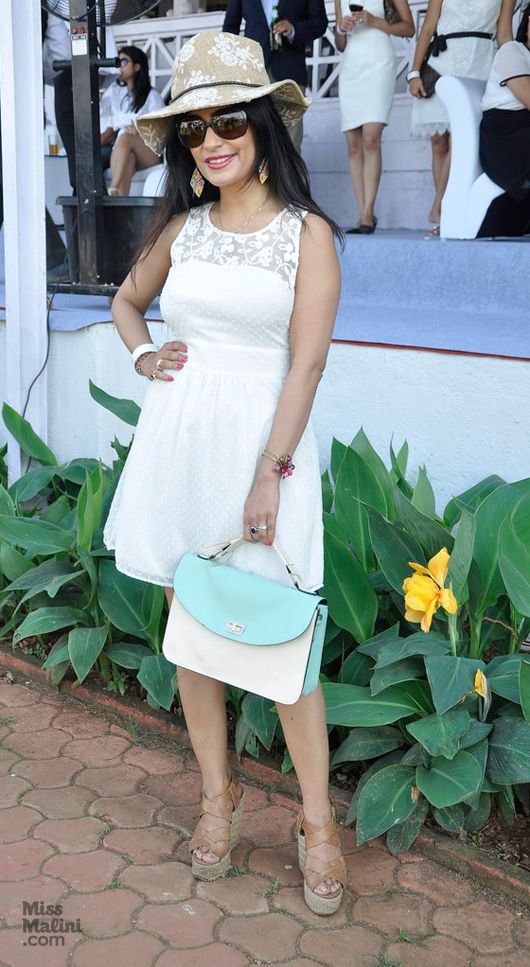 Songstress Shibani Kashyap was summer-ready in a white dress with a lace yoke and a hat with a floral print. But while we like her Tiffany blue and white bag, we think she could have ditched those clunky wedges. Agree?
madhoo shah & vidya malvade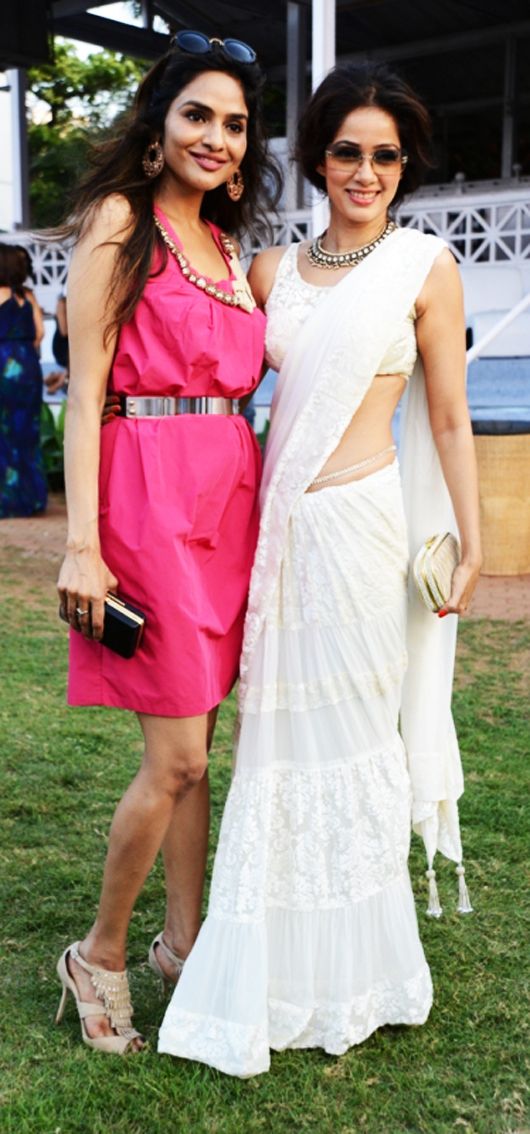 We also spotted actresses Madhoo Shah and Vidya Malvade. Again, the two ladies were a study of contrasts. While Madhoo opted to wear a bright pink dress with a gold metallic belt, Vidya looked like an apsara in a white Lucknowi chikan saree.
Whom do you think was the best dressed for the races? Give us your opinion in the comments section below.