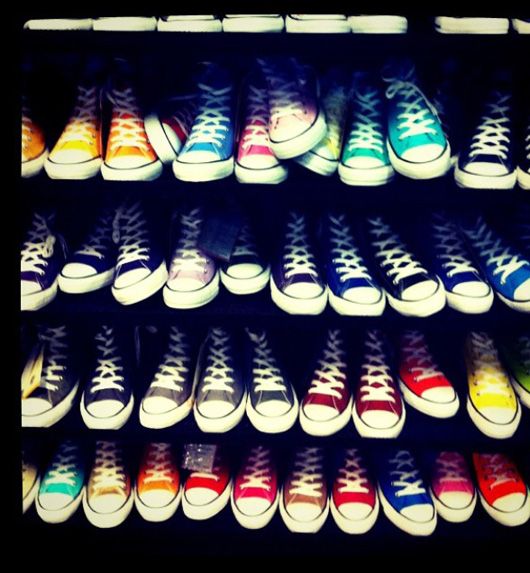 Converse is arguably one of the most popular cult shoe brands in the market today. They are versatile, adorable and can be worn by everyone, no matter what age.
Converse is a beautiful American story that has transcended across the world, and I can't say it better than they do themselves:
"Converse is Sneakers. And Converse is Change. We started on the court and got adopted on the street. We began as a rubber company to make sneakers and boots, and then we found basketball and reinvented the sport. The Converse Chuck Taylor All Star sneaker became the court sneaker; it stood for the game. From there we moved into other sports with new sneaker silhouettes like the Pro Leather, the Star Player, and the Weapon. The Star Chevron showed up and became another Converse symbol. And just when we seemed to be destined for athletes only – something happened.
Converse sneakers showed up in rock clubs, on the streets, on rappers, on icons, on rebels and originals. It became the sneaker of choice for individuals. From All Star to Jack Purcell to CONS, Converse doesn't confine itself to one style or definition. Be who you want to be in Converse sneakers or clothes. An artist, rebel, rapper, thinker, gamer, skater, smoke jumper, freelance dentist, whatever. If you're wearing Converse, you know who you are."
The Converse Chuck Taylor All Star – formerly just the All Star – has been in constant production since 1917, and has gone virtually unchanged since 1949.
It's gone from one of the world's most known basketball sneakers to a lifestyle staple. They come in all kinds of colors and cuts, but the most beloved colors for me are the black, white, and navy blue. The high-top Converse will forever have a place in my heart.
I bought my first pair of Chucks (street name for the Chuck Taylor All Star sneakers) when I was 14, and subsequently drew emo-licious pictures and lyrics all over them (broken hearts, stars, Bon Jovi and Kurt Cobain lyrics… I was cool – at least I thought so, haha). I wore them to death and eventually had to lay my first, beloved pair to rest.  Since then, I've never not had a pair or two of Chucks in my closet.
Styling your Chucks:
Styling wise, Chucks go with almost anything, so don't over think your styling options and try them with whatever makes you feel good.  They're a casual shoe that can add edge and element of grunge to any look.  Dressed up, they are a statement of irony, or independence or comfort before fashion. Dressed Down, they are the perfect touch to almost anything – skirts, dresses, skinny jeans or shorts.  I have worn my Converse with almost all of my outfits at one time or another.  They are my go to sneakers. I reach for them more than my Vans, Keds, or other casual shoes.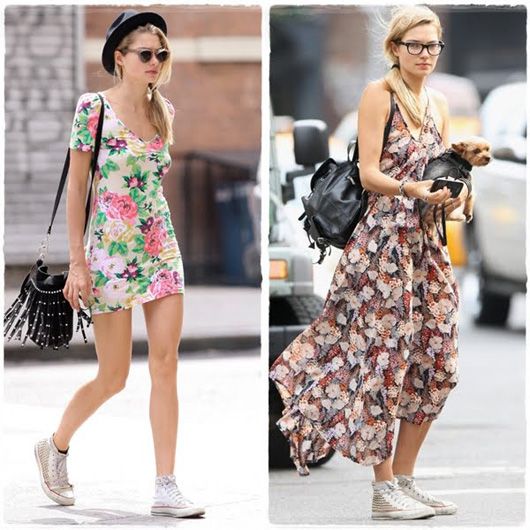 I absolutely adore wearing Converse with dresses and skirts; it's unexpected and it doesn't look like you've tried too hard.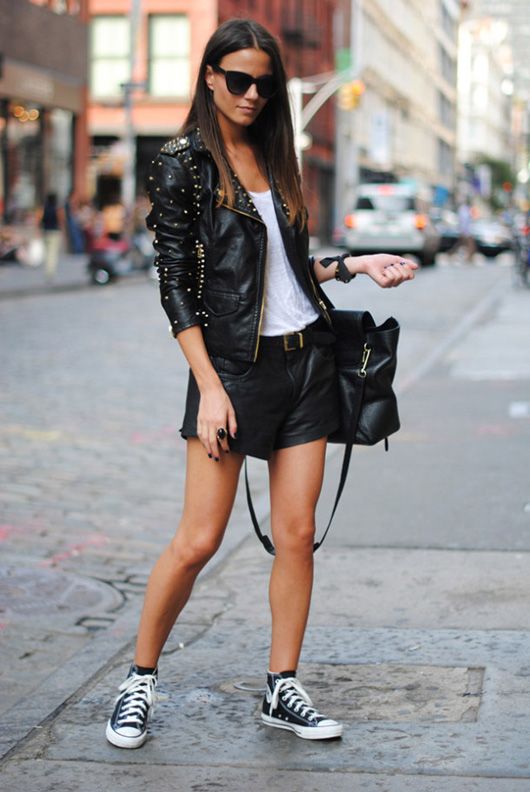 Here is the perfect example of taking the Converse + Shorts combo and making it a little dressier and more feminine.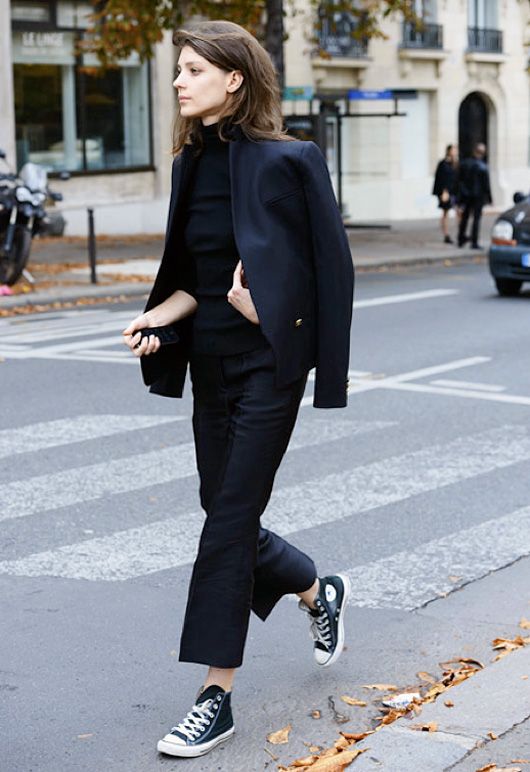 I love this look. This could be your everyday work outfit, but combining your trouser or work pants with a pair of converse adds a welcoming twist to your outfit.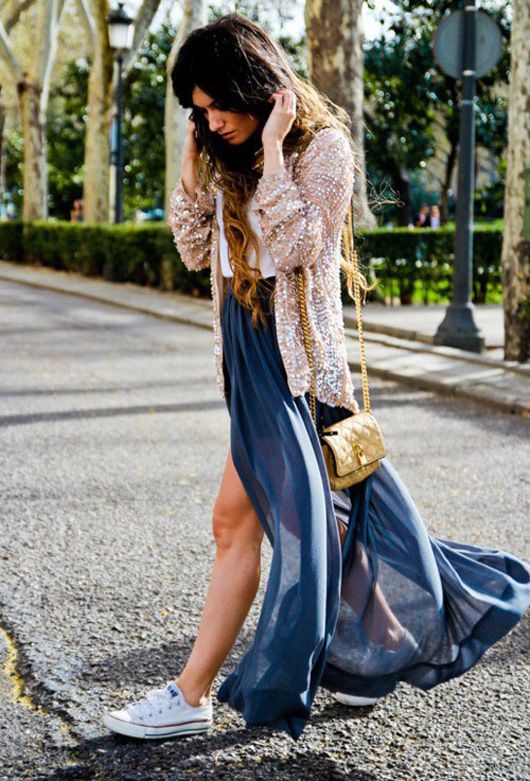 If you want the laid-back 'i just threw this on' vibe to your outfit,  pair your converse with a long layered skirt and a loose jacket and you're good to go.
Interestingly enough, the Converse Chuck Taylors are so iconic, that over the years, countless international brands have imitated the style, adding their own twist. For example, I love my light blue, studded "Chucks" that are actualIy from Bershka, which I picked up in Dubai. They are the perfect accessory to add a bit of "edge" to a simple pair of jeans and a t-shirt look.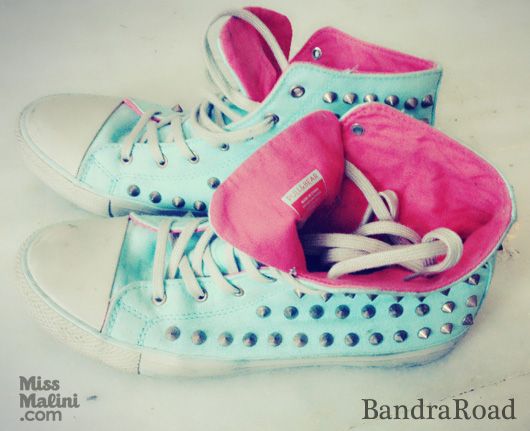 Whether you choose high-tops or low-tops, either look just as good with bare legs as they  do with tights and skinny jeans.
Funk them up – DIYs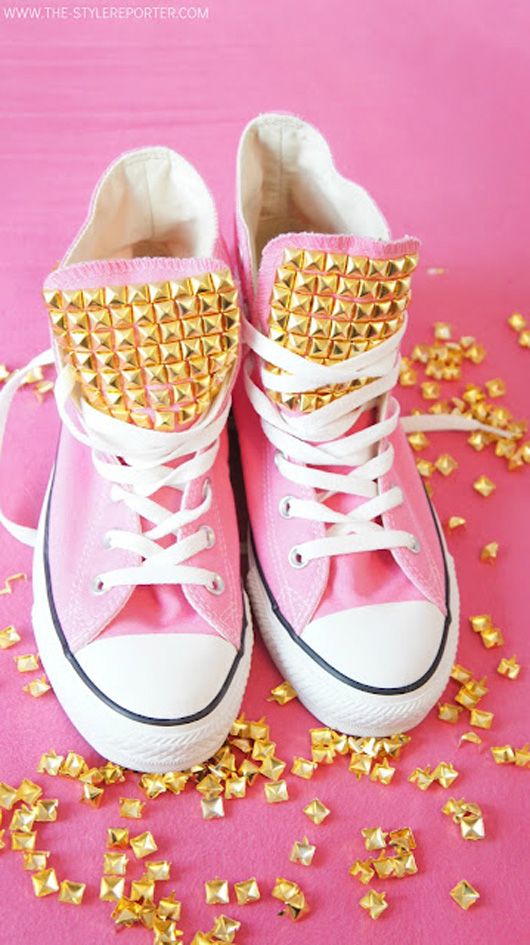 Go to your local arts and crafts store and buy gold, silver, or bronze studs. Insert the studs through the sides of your sneakers and firmly press the prongs down on the inside. This is a super cool DIY way of making your sneaks glam or rock!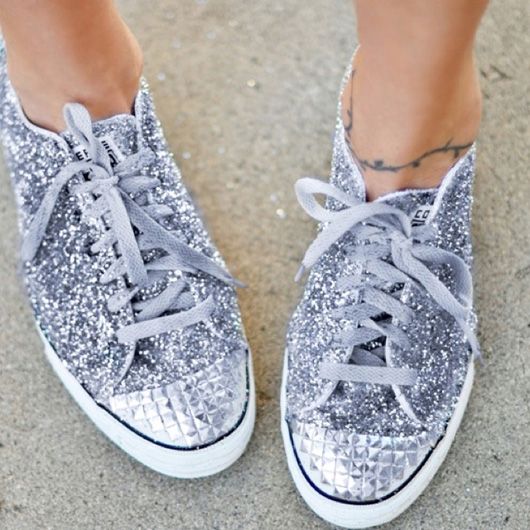 If you're a girl that loves to sparkle, try coating your sneakers with a layer of glue and glitter. In order to create a faux steel toe, add iron-on pyramid studs to the cap of the shoe.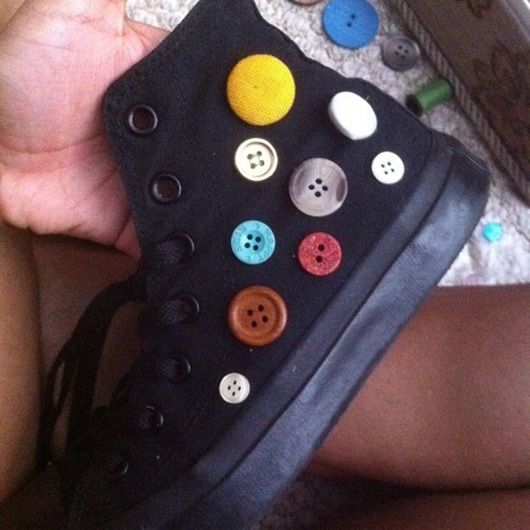 Sew a random collection of buttons through the fabric and see our old pair of converse come alive. You can use contrasting thread to add another element of detail.
By the way, guys look great in their Chucks as well – although without the glitter! 🙂 Check out this Converse Party hosted by Atul Kasbekar a while ago….from the Bollywood elite such as Deepika Padukone to other other Indian celebs like Siddarth Mallya, Jackky Bhagnani, and a bevy of models and actors – all came out in support of this iconic brand.  We would love to see the Chucks in their closet!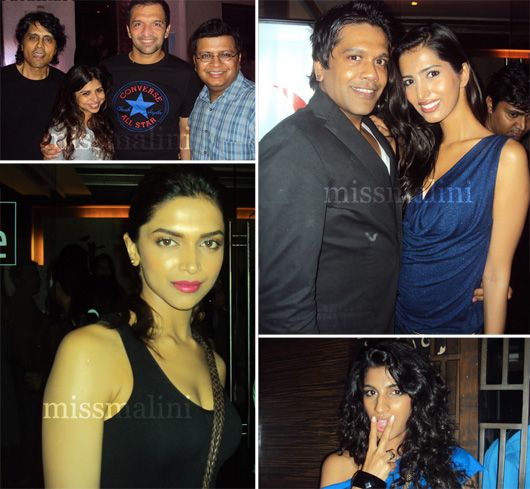 Whether high-top or low-top, neutral coloured or neon, simple or studded, there is a pair of Chucks out there for everyone.  Send us pics of your favourite pair of Chucks @BandraRoad or #BandraRoad on Twitter, Instagram and Facebook.