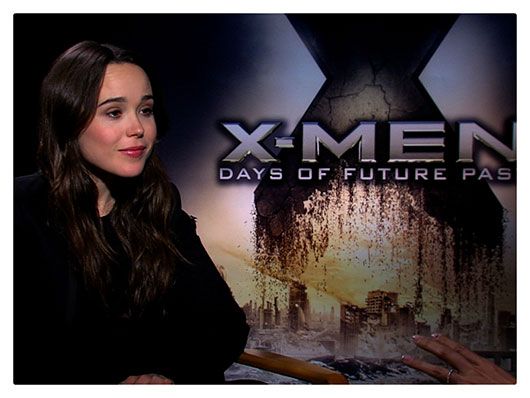 I love Ellen Page and I love when Anupama Chopra interviews some of my favourite celebrities on her show, The Front Row. Tonight, in a run-up to X-Men: Days of Future Past, Anupama speaks with Ellen on work with such a bunch of talented actors. Here's an excerpt from their conversation:
Anupama Chopra: When you are in a room with so many talented actors, what do you take away as an actor from that? Did you learn like specific things from watching Patrick Stewart or Ian McKellen?
Ellen Page: Honestly, I think you just feel inspired because you watch Patrick take after take, do like this amazing monologue like right in front of your eyes. Or you watch Ian just be so unbelievably in his character and present. I think if anything, you just feel super inspired to learn and to grow and hopefully get better.
Anupama Chopra: Is it intimidating at all?
Ellen Page: Yes, of course it can be. I think the thing with this though is not only are they so insanely talented, they are also just extraordinary people and so kind and so generous and funny and lovely and their warmth that immediately puts you at ease and they couldn't more humble and grounded and lovely. So it makes you very comfortable.
Watch "The Front Row with Anupama Chopra" today (Friday, May 16th) at 8:30 pm on Star World for the full conversation with actors Hugh Jackman, James McAvoy, Michael Fassbender, Peter Dinklage, Ellen Page and Patrick Stewart on The Front Row about their highly anticipated film, X-Men: Days of Future Past. For more details on the show, log on to their website: www.thefrontrow.tv, follow them on twitter: @tfr2014 and on Facebook: www.facebook.com/TheFrontRowWithAnupamaChopra