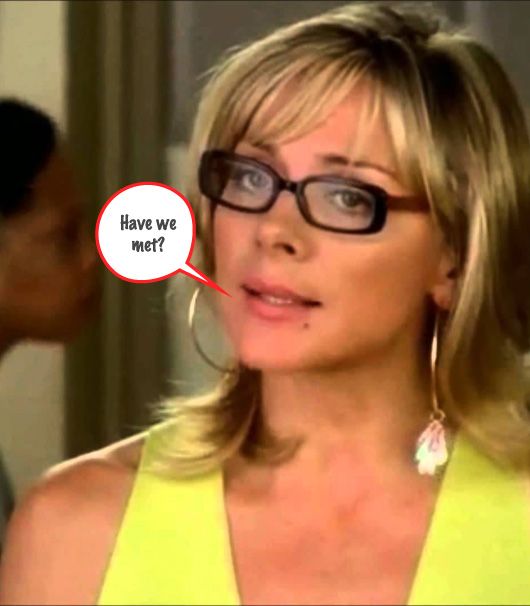 Her views on life, sometimes, can be too much to swallow. She is a bold and supremely confident woman, professionally and otherwise. While she is fictional, here are a 15 things we could learn from Samantha Jones from Sex And The City (played by Kim Cattral).
1. "Listen to me! The 'right guy' is an illusion. Start living your lives!"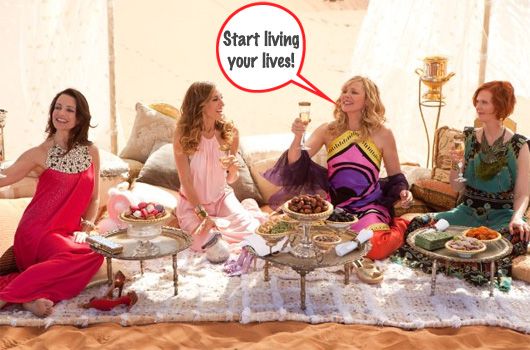 It's the harsh truth but a valid one. How many times have we dismissed a person on the basis of who we 'think' is the 'right person'? In effect, we've denied ourselves of an experience… What ever it may be, it could be a fun one!
2. When Carrie thought Samantha would judge her choices, Samantha said, "Not my style!"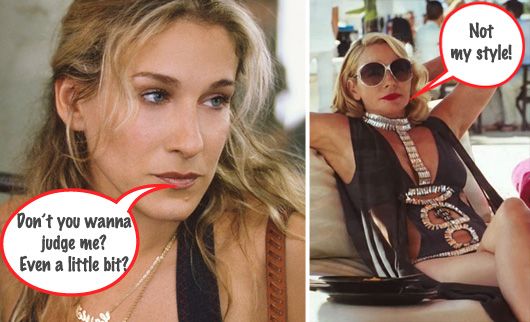 In difficult times, sometimes it's necessary to back off and just hear out your friend without any judgement (at least the "out loud" ones!). Especially when your best friend is already brewing in self-hate!
3. I'll support you and these bitches need to be put in place.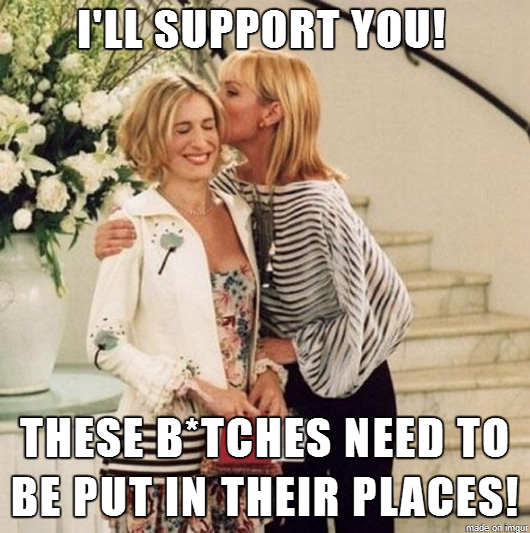 Specifically, when you know your friend's in trouble and the mean people around just won't stop the attacks. You step in and represent!
4. "I'm fifty f*cking two and I'll rock this dress!"
Hell yes, you will! You are as fabulous as you think you are. Embrace yourself, even if things don't particularly go your way!
5. "If you turn into one of those married a$$holes, I'll kill you"
It's true, when Carrie got married, Samantha stood besides her. But let's face it, when your friends get married and you're the single one, it's kinda annoying to constantly hear about their married issues. It's hard for some people and Samantha doesn't condemn her married friends; she just warns them against turning into those couples who obsessively can't stop talking about this part of their life.
6. "I went through a lot! People should reward me for not getting married."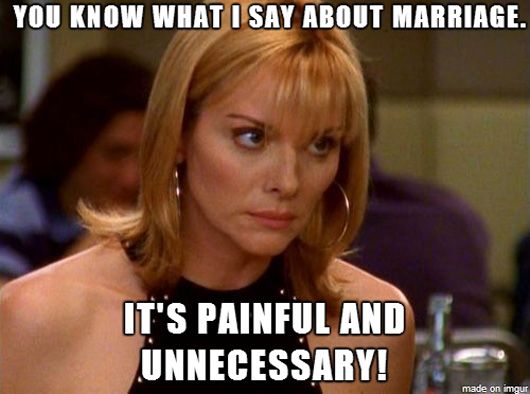 Like I said, it's hard for some people. Especially if you are a single and successful adult in a society where everyone automatically assumes that your next step would be towards marriage. It's not a bad assumption, but it shouldn't be the only assumption. Oh yes, and they look at you like a puppy!
7. "Let it go. If I worried about what every b*tch says about me, I would never leave my house"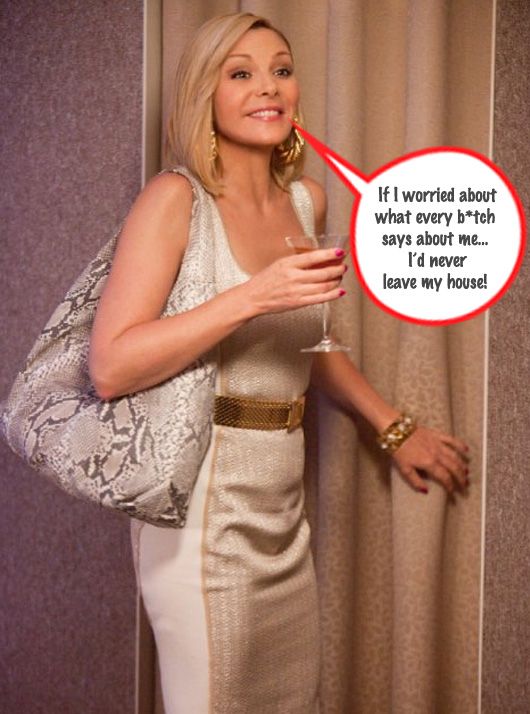 She knows her worth and knows the sh*t people say. Let haters hate. You have a life and you've got to live it!
8. "If he seems to be too good, He probably is."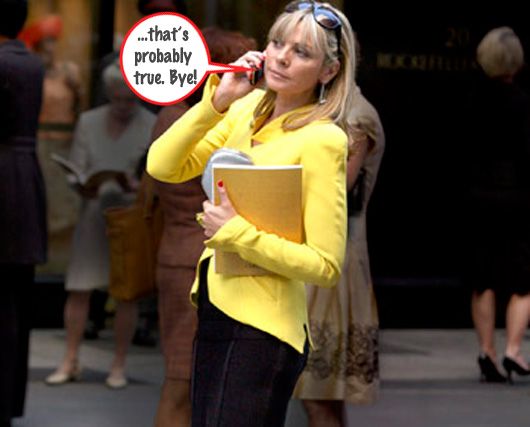 You spend a whole day finding excuses to back up the fact that your date might be too perfect to be true, and then you call Samantha. She has no time to beat around the bush and calls it as she sees it. Consider it. Stop being so negative!
9. "Yes, I am harsh. I am also demanding, stubborn, self-sufficient and always right – in bed, at the office and everywhere else!"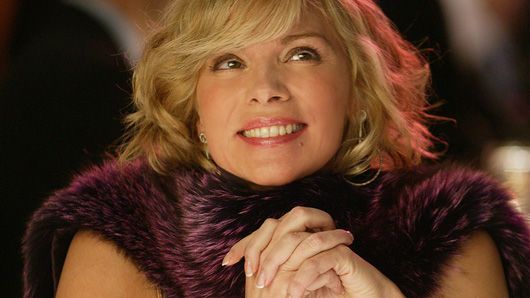 Own yourself!
9. She got diagnosed with cancer and didn't let it slow her down!
Well, life throws you lemons, you squeeze it in your drink and carry on!
10. She threw a "No Baby Shower" to let everyone know she's fabulous!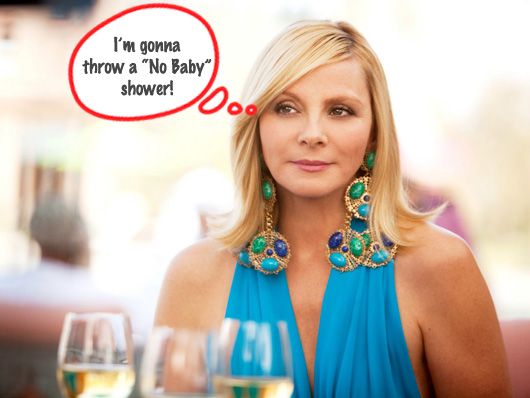 Okay, this one may be it a bit out there (who cares! it's Samantha)! But between the lines, it's the same story as numbers 5 and 6, in a different set-up.
11. The act of cheating is defined by the act of getting caught. One doesn't exist without the other!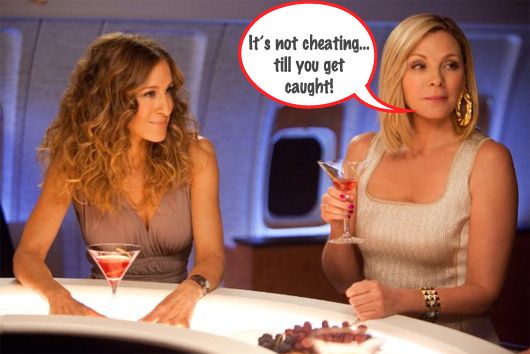 Even if you don't agree with the sentiment, you can't deny that this is technically a true statement.
12. "There is a contest with your ex. It's called who will die MISERABLY!"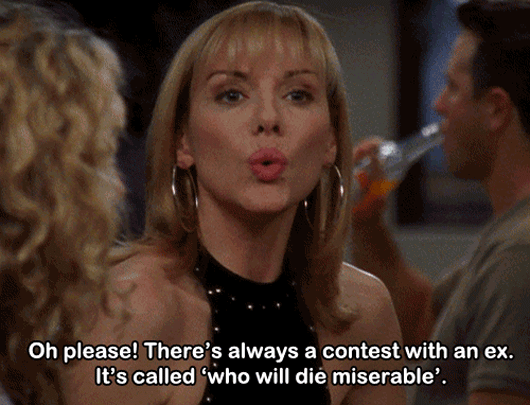 On a lighter note. She really knows how to get your mood up, especially at a time when you are having a b*tch fest picking on your ex.
13. She serves it to the man who's hurting you!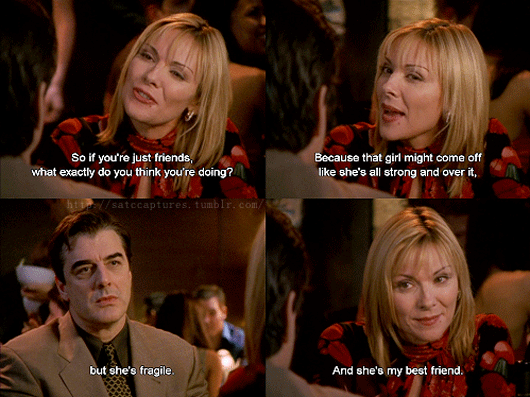 Not only does she manage to drill sense into the troubled boyfriend, she does it in a way that he'll understand!
14. If you want to say something about me, Say it to my face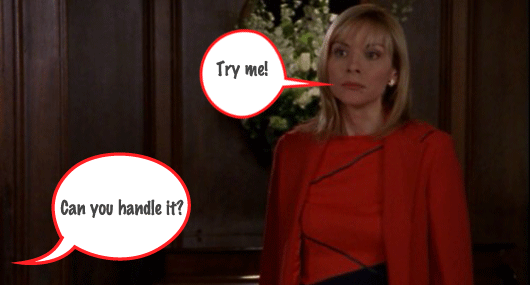 She can handle it. She may over-react but she can handle it!
15. I love you, but I love me more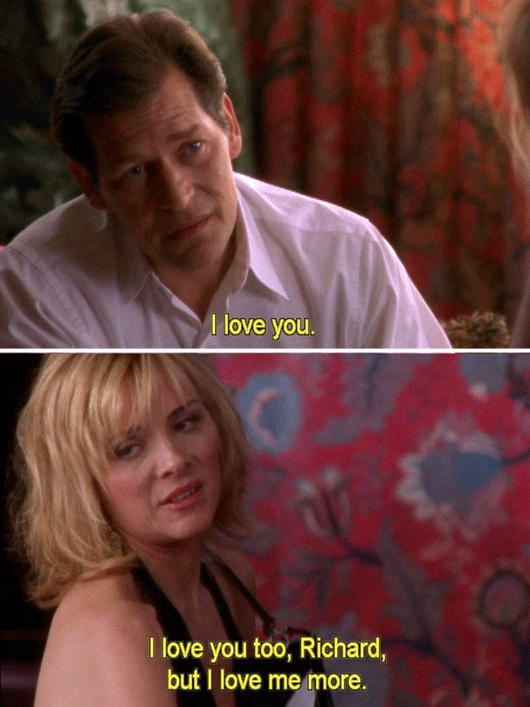 Enough said!
Do you have a favourite Sex And The City Samantha moment, or do you prefer one of the other girls? Tell us in the comments below!