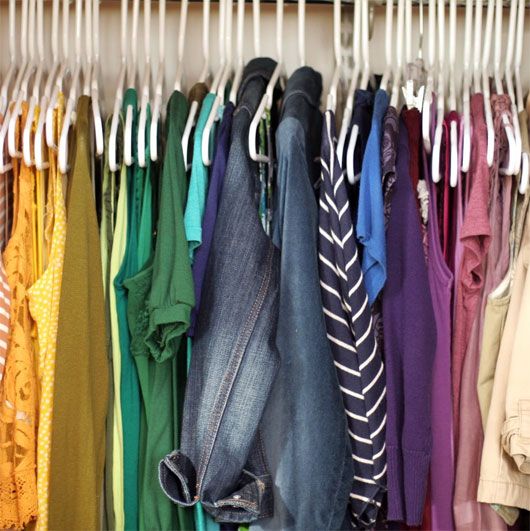 There is a real art to street shopping. And I've found that practice makes perfect! Even when I'm travelling, I always make it a point to scope out the local flea markets and side street boutiques or vintage stores.  I love digging around in a pile of clothes to find a treasure and I'm not shy of haggling for a better price. The best part about shopping on the street is that it helps keep the price down and you get to add some fun, unique pieces to your wardrobe. I've always been a fan of buying street wear and combining it with high street pieces.
Today I'm giving you a little sneak peek into my closet. I've picked out some of my favourite pieces that I've bought off the street and will show you different ways to put together a look using these street bought clothes.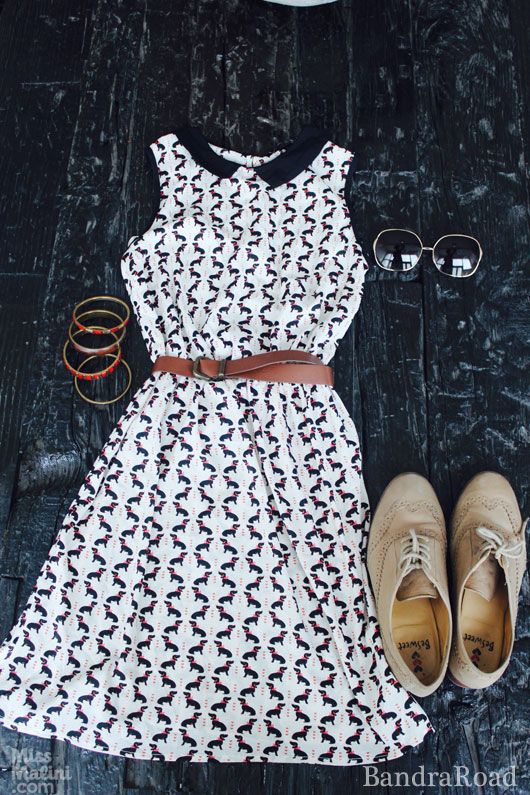 I picked up this dress over a year ago at Sarojini Nagar Market in Delhi, for just Rs. 250. I immediately fell in love with the quirky print and had to have it. The attached collar gives it a very vintage look, which I adore. I usually style this dress with a thin brown belt, a pair of oxford shoes, some fun bangles or wrist-bands and finally a pair of oversized shades. This outfit is perfect for a day out with friends or a Sunday brunch.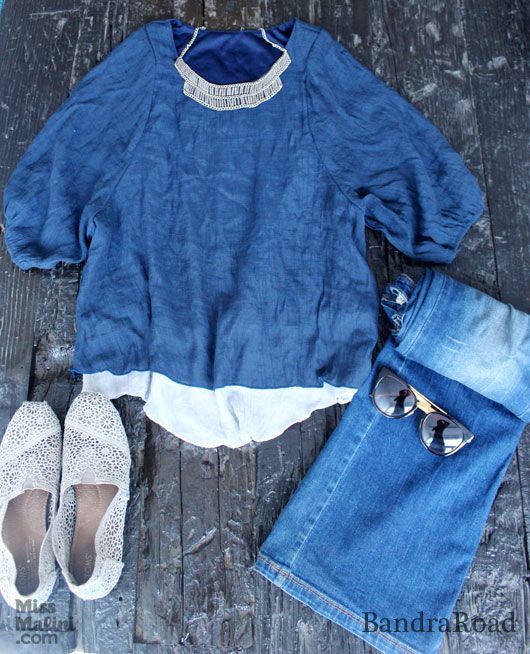 This top is perfect for the summer – it's loose, layered and, most importantly, cotton. I bought this top on one of my trips to Thailand – to be more specific, the island of Koh Tao. I don't remember exactly how much I paid for it, but I do know it was a steal. I love styling this top with my flared denims from Mango, a simple silver neck piece (which I bought at Sarojini Nagar market), a pair of grey see–through lace Toms and finally, my vintage sunglasses that I picked up from a flea market in New York. This is a really good day outfit, simple yet chic.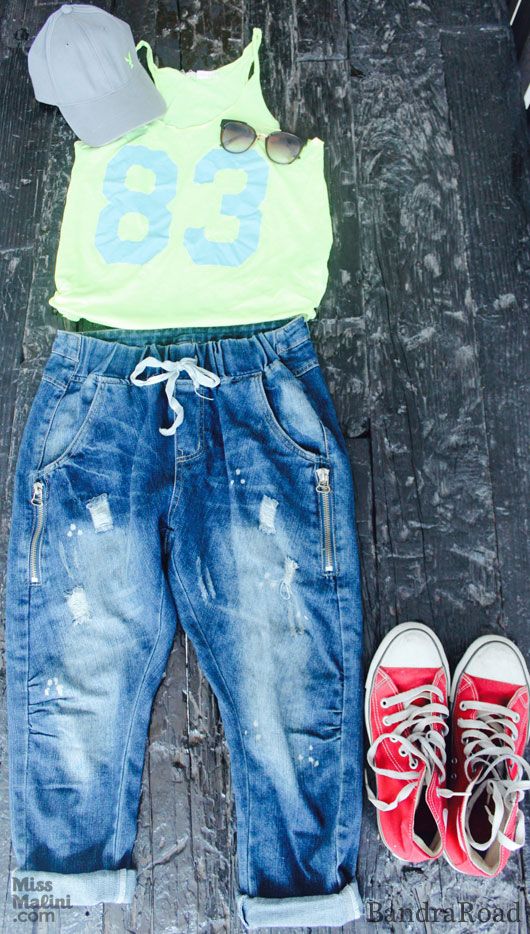 I love jeans; I have a ton of them and always feel like I need more. I like a variety of jeans to choose from in my closet, so when I saw this baby I had to buy it. I was on a work trip to Hong Kong and took some time out to check out Li Yuen Street, as it is one of the best streets to shop for clothes in Hong Kong. What I love most about it is the fit. It has an elastic waist-band with a draw string, so when I saw it I knew that size wouldn't be an issue. I also really like the zippers on the side and the distressed denim look.
I consider myself a bit of a tomboy and sometimes tend to dress the part. So on a day when I'm feeling a bit badass, I wear these jeans and style it with a colored or neon tank, a pair of red Converse Chucks, a baseball hat and sunglasses.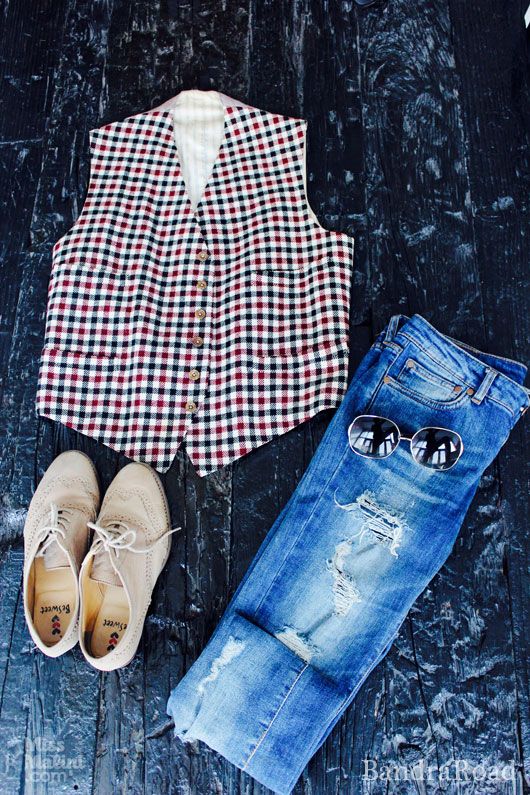 I've never been a big fan of waistcoats for women, but when I saw this little vintage beauty I had to have it. I bought this checkered waistcoat from a quaint little store on 23rd Street in Manhattan, New York. I love thrift stores in New York, you find these amazing one of a kind pieces that are unique and, most importantly, inexpensive. I love wearing this waistcoat with a pair of boyfriend jeans, oxford shoes and my vintage sunglasses. Sometimes I wear a black or white tank or tee inside the waistcoat, so that I can leave the buttons undone. But I prefer to wear it by itself, buttoned up. Again this is a fun day outfit, but you can definitely dress it up with earrings and a pair of ankle boots and wear it for a night out with friends.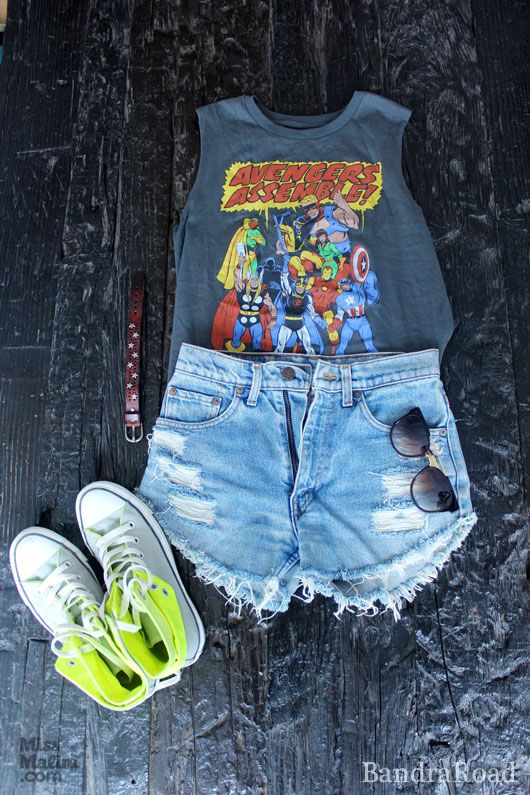 I used to see all my friends looking good wearing high waisted shorts.  I loved the concept, but I couldn't find a style that I liked or a pair that fit me well enough to buy. I had almost given up, but then I saw these shorts hanging in a small street store in Koh Phi Phi, Thailand. It's really not rocket science to style these shorts: I usually pair them with a fun printed tank (in this case my Avengers tank from Forever 21); a pair of grey – with a hint of neon – Converse Chucks to add a pop of colour; my favourite star studded wrist band, which my friend Chandni Nasir bought as a gift for me from Nepal; and sunglasses.
Now that I've showed you some of my favourite street finds and how I like to style them, we would love to see how you would style your unique street finds. Send us your pictures by #BandraRoad and follow us on Twitter, Instagram and Facebook.