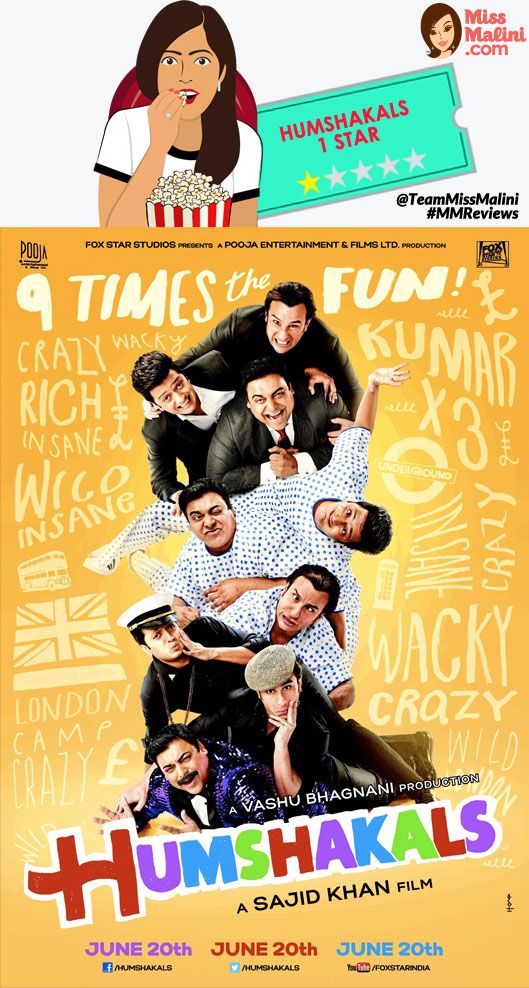 In a nutshell, Humshakals is about a group of 3 men with 2 lookalikes each, making them a gang of 9. I'm not going to give a more detailed summary of the plot, but what I will tell you is this: after watching the movie, it will become apparent that the lyrics of Caller Tune is the most sensible thing in the entire film. It is also the best thing in the film, but it's over in the first 10 minutes, meaning that it's all downhill from there. Downhill in the I-want-to-shoot-myself-in-the-face-right-now-if-it-means-I-will-be-spared-from-watching-the-rest-of-the-movie sort of way.
Since there are 9 ridiculous characters in this movie – because Sajid Khan didn't want to be so kind as to limit it to 3 – we're giving you 9 things about this movie that will make you want to shoot yourself in the face.
1. Hindi jokes. The film opens with Saif Ali Khan telling (really bad) jokes in Hindi, but the weirdest part is that the audience is mostly white, British folk. They acknowledge that the jokes are horrible, but we've got to wonder how they know enough Hindi to understand the humour (or lack thereof). That's not all, though – throughout the film, we have other white characters (including a supposed Prince Charles lookalike) speaking Hindi at random intervals.
2. MAD. The plot involves the use of a drug called MAD (made with the intention of making people… mad) and it stands for – wait for it – Mind Altering Drug.
3. The treatment of gay characters. It's practically hopeless to expect mainstream Bollywood to portray gay characters in a realistic manner, but Humshakals takes the insensitivity to another level entirely. It's been six years since the exaggerated Dostana, eleven since the whole Kantaben angle of Kal Ho Naa Ho, sixteen since the sadly stereotypical character in Pyar Kiya Toh Darna Kya… but clearly we've not evolved even one bit. In fact, if anything, we've gone a few notches down.
4. Ram Kapoor romancing Ram Kapoor. Khol De Dil Ki Khidki is a travesty, mostly because I really didn't need to see Ram Kapoor in a swimsuit. But since I'd already watched the promo, I had mentally prepared myself for that. However, I did not prepare myself for having to see a male Ram Kapoor romancing a female Ram Kapoor. Nor did I need to watch this supposedly sexy scene when aforementioned female Ram Kapoor falls back onto the bed… and breaks it.
5. A rape scene between a male Riteish Deshmukh and a female Saif Ali Khan. Just your daily reminder, Bollywood filmmakers, that rape is never funny. Especially not when you've made one of your lead actors dress up as as a female for it. (In fact, you would think that, by now, Bollywood would have evolved enough to stop relying on cross-dressing as an appropriate means of delivering laughs.)
6. Saif Ali Khan's jokes. I know they're intentionally bad, but when you're subject to something like, "If you don't come to my board meeting with me, it will become a bored meeting," within the first 30 minutes of the film, you already know you're in for a rather rough ride.
7. Saif Ali Khan and Riteish Deshmukh acting like dogs. In the literal sense – complete with barking and peeing on people's legs.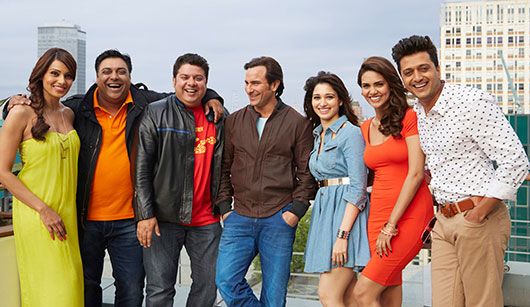 8. The dedication. Before the credits, Sajid Khan has inserted a dedication to the gurus of mad comedy: Kishore Kumar, Jim Carrey and Peter Sellers. By the end of the movie, while you're trying to rush out of the theatre as fast as your feet will possibly take you, you'll end up thinking back to this. And you will weep, on their behalf.
9. The use of little people. It's bad enough that they are still disparaged in some corners of the country, but Humshakals manages to make it even worse. There's a scene, in the climax, that features two little people trying to tackle Riteish and Saif. Bad enough, right? It gets worse: it was shot in a way that had them at crotch-level of the other two, so you can picture the scene. Offensive as hell… and not even slightly funny.
There's one only truly humorous scene in the film, and that's when Satish Shah (as the Hitler-worshiping jailer) decides to torture Riteish and Saif by making them watch "Sajid Khan's Himmatwala." I'd just like to put it out there, Sajid, that in your next film, you can reasonably use Humshakals in a similar context.