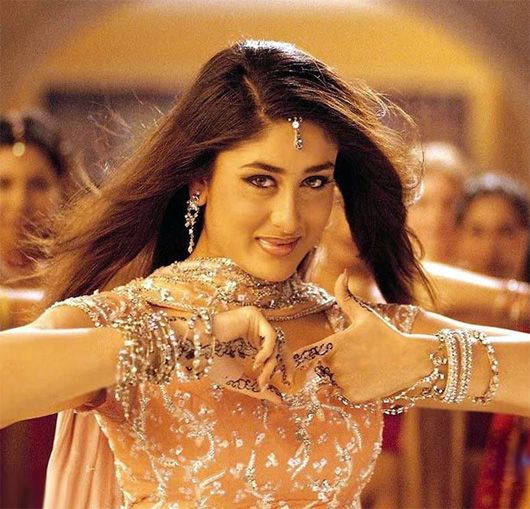 In Humpty Sharma Ki Dulhania, Alia Bhatt's character states, "Main shaadi karoongi, toh Kareena wala designer lehenga pehen ke karoongi. Varna dulhe ko tata bye bye kar do!" Any Kareena fan – and anyone who takes an interest in fashion – can agree that that is a valid statement to make! You should keep your standards high, and when it comes to lehengas, Kareena has indeed worn some of the best!
But there's a slight problem for those of you planning on going Alia's route: Kareena looks absolutely gorgeous in every lehenga she wears! Which one would you even choose? Here are 11 of the best "Kareena Wala Designer Lehengas" Kareena has worn throughout the years! Enjoy and admire and let us know which you would pick. 🙂
1) Bani Bani Bani Re Bani- Kareena ke Lehenga ki Deewani Bani!
2) Pretty in Pink!
3) Kareena, this green lehenga is also something that Dil Vich Lagya Ve!
4) This Dulhania can rock the blue lehenga too!
5) The Eiffel Tower's got nothing in comparison to Kareena's Lehenga!
6) After seeing this lehenga, you go speechless and just say "Om Mangalam Mangalam" over and over again!
7) Kareena's Tooh and this Lehenga = The Perfect Combo!
8) Just don't get any Chingam on this pretty lehenga!
9) Kareena's red lehenga matching with Salman's red shirt= Super Dabangg!
10) So many classic Bollywood songs, Hrithik is there, Rani is there- but Kareena's lehenga is on a whole other level!
Bonus: Kareena Ka Designer Wala…ummm Salwar?
It's still too cute of a wedding outfit to not include on the list! Besides, you're probably bawling your eyes out during the song anyway, so the tears will blur your vision and the salwar could look like a lehenga.
I don't know about you, but I know that whenever I get married, or for any other special occasion, I will definitely be looking for inspiration in the types of lehengas Kareena has worn!
Which "Kareena Wala Designer Lehenga" is your favorite? Are there any that are not on this list but that you really like? Be sure to share in the comments below. 🙂