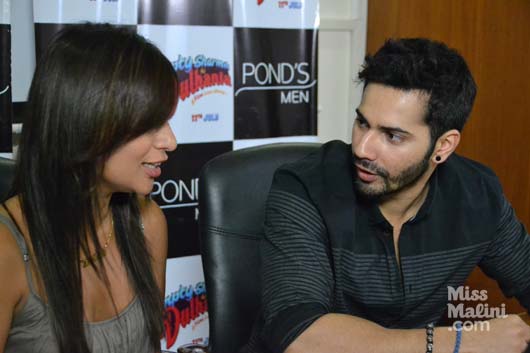 Did you tune in to the Pond's Men video chat with MissMalini and Varun Dhawan? If not, no worries – you can read all about the very fun and hilarious conversation here. From Varun's face care regimen to his flirting tips to the process of marrying him, Mr. Humpty Sharma shared it all with his fans. So, here are 5 memorable highlights from the chat!
Check out the YouTube link below for the entire conversation and then read on for our favrouite parts: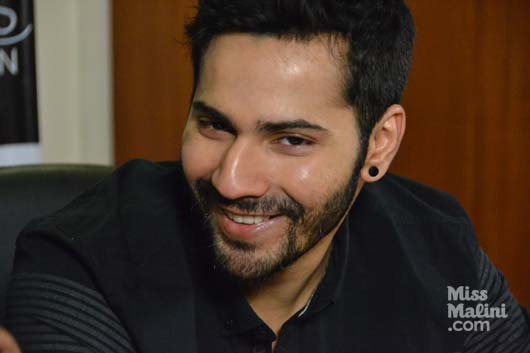 ON HIS CO-STARS
MissMalini asked Varun what he would do if a fellow male co-worker hit on him, such as Sidharth Malhotra or Siddharth Shukla, to which Varun coolly responded, "Uhh well they are both really tall and big… I don't mean that in a dirty way. If a male co-star hit on me, I would be flattered but decline obviously. Because I'm very, very straight."
He also mentioned that Nargis Fakhri has been his favorite actress to work with till date!
When a fan asked for Varun to describe Alia Bhatt in three words, he came up with "Diva. Baby. Sweetheart."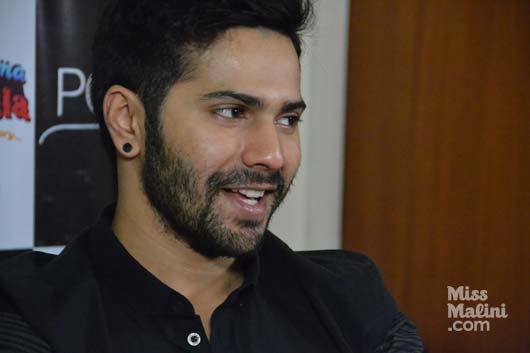 On His Dreams & Passionate Fans
When asked which actors or actresses he would most want to share screen space with, Varun excitedly said, "I think doing a film with Mr. Amitabh Bachchan would be cool."
And on his reaction to having very young fans, Varun stated, "I love it. Honestly if you ask me what fans I love the most, it is the kids. Trust me, when I go out and work, you guys are on my priority list."
ON his grooming regimen
Varun explained, "You do need a kick-start every morning. Because the face wash has coffee bean extract, it has everything to jagao your skin. Right now, I've had a very late night – I slept at 4, and honestly the face wash just wakes you up. Your face will feel so bright; it will just energize your whole body and mind. I'd definitely recommend it. He further went on to say, "Every day I take around 10 minutes where I just lie down on the bed and stare at the ceiling. I just think about me, how I used to be as a kid, and wherever my life journey has been till now."
Such great tips for all of his fans! Check out the Pond's Men India Facebook page for more of such hacks and tips.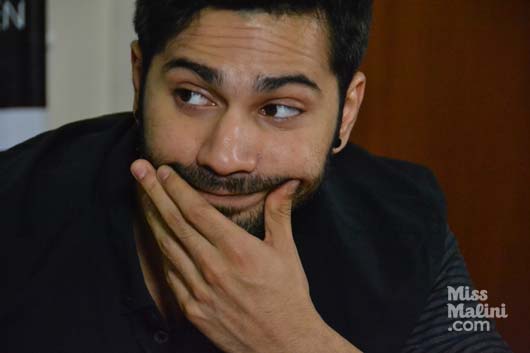 On Being a Boyfriend
Varun handled this question very well! He honestly said, "I've obviously had a girlfriend and have been in love. To protect my sanctity, I try not to answer. I don't want to be lame and lie by saying 'Noo, I'm a virgin, etc.'" Hint hint, Salman Khan? 😉
When asked whether he is a good boyfriend Varun added, "Not as good as I want to be. I wish I could be better." We like that you're honest, Varun!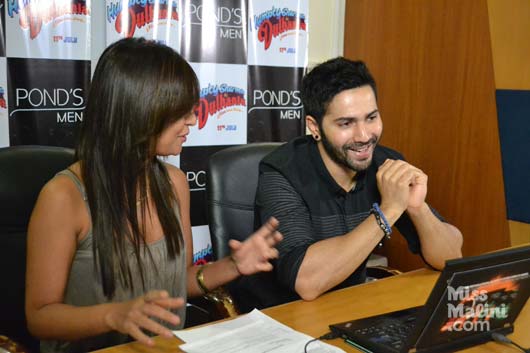 On The Process to Marry Him
Yes, a fan actually asked how she could marry Varun, and the Bollywood hero had an answer! Ladies, listen up.
"There's this website, www.marryvdx.com, and you go on there and fill out your credentials. You better be earning over Rs 20,000 and paying your taxes. Oh god, it sounds like a porn site," Varun hilariously explained.
LOL.
On Rapping & Singing
For the first time ever, Varun rapped in a movie! He even rapped a few lines of Lucky Tu Lucky Me and sang a part of Samjhawaan for his fans on the chat.
Make sure you see the gallery below for more pics:
Pix: Khyati Gandhi for MissMalini