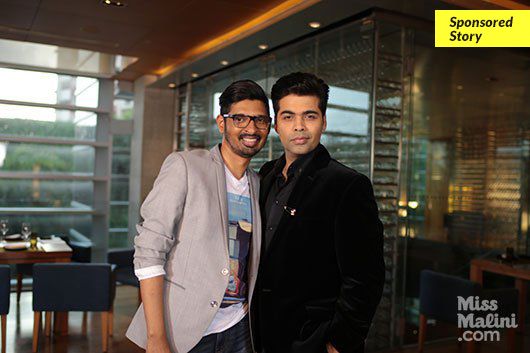 There has always been so much curiosity about Karan Johar's love life and speculation on who makes his heart skip a beat. It seems like Niranjan Iyengar, on his brand new show, Look Who's Talking on Zee Café manages to get Karan to part with some details on the subject.
From what we hear, for the first time, Karan speaks about his love life on the show. He even goes on to say, "I've tried everything to find that special someone but cannot put myself out there", suggesting his tryst with love.
Karan, who is usually upbeat, also speaks about how he has changed as a person, not striving to please his peers anymore. In fact, he spoke about the times he has appreciated the work of others and stood quietly for them to reciprocate, and perhaps, say good words, only in vain. Earlier, such an occurrence would have taken a toll on him, but he reveals that today, he won't give such a response much thought.
Also one to be caught in controversies, Karan clears the air on contemporaries, Ram Gopal Varma and Anurag Kashyap. Apparently, K Jo reports RGV as a last season problem! And we already know he has made amends with Anurag Kashyap, going on to star in his film. Looks like RGV will just have to wait!
Catch this interview, in which Niranjan is ready to unravel hidden chapters from buddy Karan's life, tonight at 9pm, only on Zee Café.