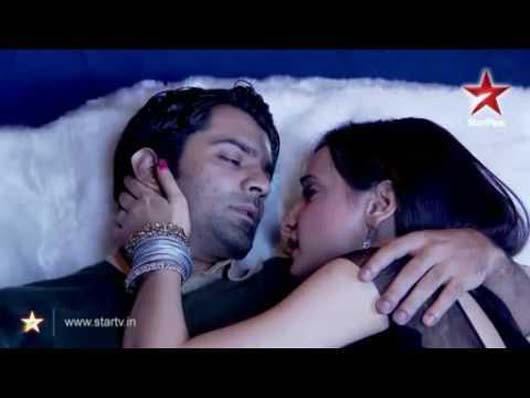 It looks like the Iss Pyaar Ko Kya Naam Doon fever is never going to die out! Even after 2 years of the show going off air, Arnav Singh Raizada and Khushi Kumari Gupta will always have a special place in their viewers' hearts. If you haven't already, check out this post about 7 ways you know if you're one crazy IPKKND fanatic too!
To reminisce over the wonderful show, I decided to choose 10 of my favorite scenes! Check them out below, and tell me if you agree.
1. The Almost Kiss
This scene gives me goosebumps every time I watch it! This scene just goes to show that two actors don't have to kiss onscreen to create an intimate scene. Their timing is perfect and their acting is beyond superb. Can two people ever look SO breath taking together?
P.S. Aman, I will never forgive you for calling ASR at that moment. 😉
2. Teri Meri
Sorry Salman Khan and Kareena Kapoor, ASR and Khushi stole the show. Sanaya Irani is absolutely stunning in this performance, and Barun Sobti is truly a hotwa LOL.
3. Arshi Celebrates Holi
Their cute innocence and the way Arnav looks at Khushi while she dances melts my heart. He finally realizes how gorgeous his wife is! Took you a while there, Arnav.
4. The Kiss
Uff it's not fair to be so cute! And Arnav, Khushi CAN do everything you can plus much more.
5. Because I Love You Damn It
Barun and Sanaya are genuinely the only two actors in this industry who could have pulled off this scene and that too with such power and élan.
6. Ooh La La
I can't stop laughing when I watch this! Hats off to Dadi, Manorama and Lavanya!
7. A in Mehendi
Khushi Kumaaari Guptaaa, it totally makes sense why you have an 'A' in your mehendi. 😉
8. Khushi's hilarious Dance
Khushi rocked this dance, and the lyrics to the song were so on point. Yes Payal, tere jeth ji deewane hai!
9. Too Many Kisses
Arnav you sly, sly boy. But I can't completely blame Khushi for thinking that Aman would call. Reference back to scene number 1.
10. The Suhaag Raat
This just makes me wish that Barun wasn't married and Sanaya wasn't dating Mohit Sehgal. I don't think any other television serial could do a "suhaag raat" scene with such oozing chemistry yet sophisticated class.
Choosing only 10 scenes was an extremely difficult process as Barun, Sanaya and the entire cast of IPKKND always nail each and every one of their scenes. This was my opinion, so make sure you leave comments below of your other favorite scenes and moments from the show!