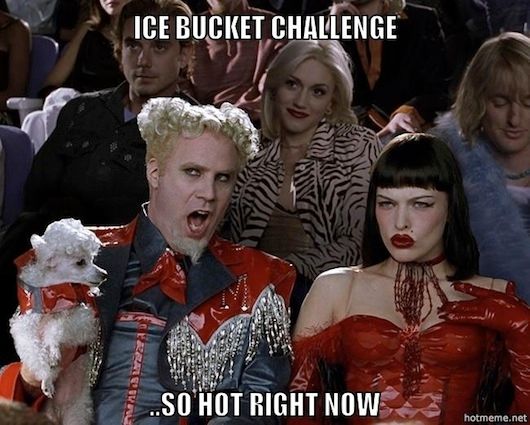 When the 'Ice Age' descended onto the fashion world with the ALS Ice Bucket Challenge, the fashionistas took it upon them to amaze the world with their chicest take on it and sent out nominations for a good cause (hey, they donated too!!). If you are unaware of what the social media ecosphere has been gabbing about for the past few weeks, ALS (Amyotrophic Lateral Sclerosis) also known as Lou Gehrig's disease is a lethal neurodegenerative disease. Individuals living with the disease become gradually paralysed due to erosion of the upper and lower motor neurons in the brain and spinal cord. Statistics say 80% of individuals with ALS die within two to five years of diagnosis.
On a more livelier note, watch some of the swankiest videos from the fashion race here:
1. Anna Wintour
All 'ICE' the Queen of Vogue!
2.Tom Ford
The Trendiest Man on earth, gets iced up, cowboy style!
3.Donatella Versace
Being fashionably ICY? This was truly a luscious affair.
4.Mario Testino
Fashions main photographer shoots some ICE!
5. The Beckham's
The famjam's modishness on an ICE ramp-age.
6. Cara Delevingne
It's an ICY treat for fashion's it-girl!
7. Stella McCartney
Stella feels a "rush of ICE to the head" along side Chris Martin
8. Kate Moss
It was all ICE on the beach for this supermodel.
9. Gisele Bundchen
Olá! Watch the Brazilian supermodel stage an ICE-Ecology at her best!
Although the Ice-Bucket Challenge has died down, the world is still digging these amusing videos from fashions side.
Oh wait! We just spotted Kim Kardashian take the ALS Ice Bucket Challenge on The Ellen Show. This might really be the best selfie that the diva has ever taken! Certainly cannot wait for this one.
What's your take on the #IceBucketChallenge ?
Did we happen to miss any? Shout out in the comments below!