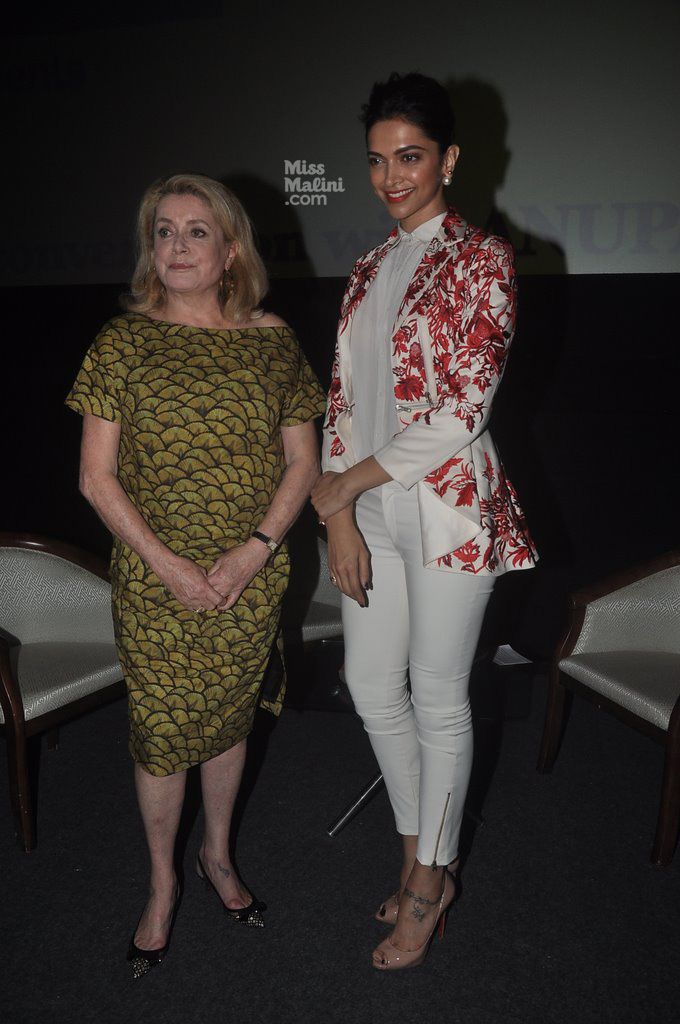 For the Mumbai Film Festival, Anupama Chopra is hosting a series of her Film Companion master classes. She kicked it off yesterday with an in-depth conversation with French actress Catherine Deneuve and Deepika Padukone, where they discussed – amongst other things – how to manage expectations, how they pick films, and what role the box office plays for them.
Right off the bat, you can imagine that there were those at the event who were very skeptical about having Deepika on the same stage as Catherine, claiming that the former hadn't yet done enough work to stand next to the latter. While it's a fair point, the contrast is what made the conversation interesting for us – here are two ladies, successful in their own way, from different industries, with distinct sensibilities and such varied experiences. It turns out that there are some things they disagree on, some glaring differences in their experiences as professionals, and other subjects that they're pretty much on the same page about.
On going out…
It turns out, things are very different for Catherine and Deepika when it comes to just going out and being a regular person. Catherine noted that in India, she feels like celebrities are treated as idols, whereas she's never experienced the same thing. According to her, she can go out and "live her life" if she feels like it, and she has walked the streets. While she admitted that she has people coming up to her, it is, for the most part, nothing too bad.
At this point, Deepika smiled and quietly said that this is why Bollywood stars sometimes go out of the country for short holidays, just so that they could walk the streets. She revealed that the chaos is sometimes more of a nuisance for the people around her than it is for her – for example, when she goes to Bangalore, she wants her parents to take her out. However, it gets difficult because people start crowding around her, and then her father naturally feels the need to protect her.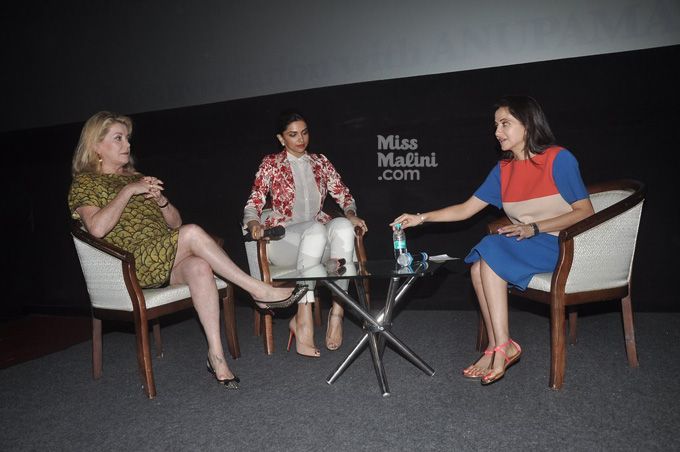 On picking films…
According to Deepika, she's picked every film from the start of her career instinctively, and hasn't worried about the end result when doing so. The actress said that choosing to do a film "isn't as complicated as it seems. There's no math or science to it, and it's not a game of chess."
Catherine, meanwhile, says that learning to say no can be a difficult process, but she's had to do that – at times, she's had to remind herself that she is a person and can decline offers if she feels like.
On the box office…
Deepika says she doesn't give too much thought to the end result, and Catherine agrees that sometimes it's good not to know. According to the French actress, if people knew the end result, then a lot of (good) films wouldn't get made in the first place. She called box office a game that you have to play, because sometimes films succeed when you don't expect them to do well.
On working equations with directors…
Catherine and Deepika seemed to have somewhat differing views on what kind of equation you need to have with a director on sets, but in both cases they acknowledged it was important. For Deepika,"The process itself has to be enjoyable, because you're dedicating some part of your life to it. That's sometimes why some of the simplest films can be so special."
To that statement, Catherine responded that she doesn't agree or disagree, because she's made good films with directors she's not really gotten along with. She did note that some people need that little bit of friction and opposition with a director to bring out their best work; however, she also acknowledged that if you need peace of mind while on a set, then you can't work with a director you dislike outright.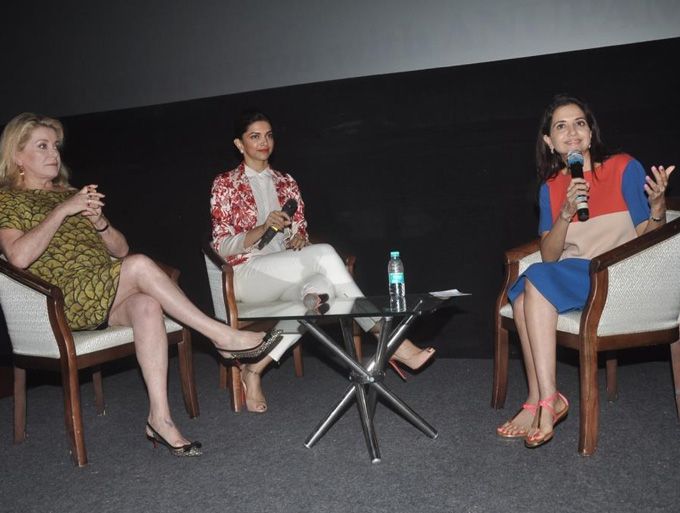 On finding a balance…
Both actresses acknowledged that ugly/bad days are real, but it becomes difficult for them as women in the spotlight since there are certain expectations as of them. "You have to be what people expect you to be and still try to be yourself," Catherine said, "It's a burden to have to make an effort when some people expect certain things of you."
Deepika echoed her feelings, saying, "There are days when you just want to be, you don't want to get ready. But you do realise there are expectations from fans, the audience and the media, and you don't want to let them down."
For both of them, it's tricky to find a balance. Catherine noted that it's not good to work with new people during your bad days, because they may not understand you, while those you've known for a while will get that it's just temporary. Deepika insists that, as an actor, it's her job to put aside her bad days and put on a happy front – "because, through our films, we give people the hope that life is good and love is real."
So, did Deepika Padukone deserve to be on the same stage as Catherine Deneuve? Does it matter (and when was it a competition anyway)? We're just glad for the opportunity to see these two women on the same stage, speaking about what we love most – films! – and finding both the similarities and differences between both of our industries.
I loved hearing them speak about the need to balance expectations with what they want to do at a particular time. It makes you realise that, while their situations are so different from ours, it's still something that many of us struggle with on a daily basis! What was the most interesting part of the conversation for you?