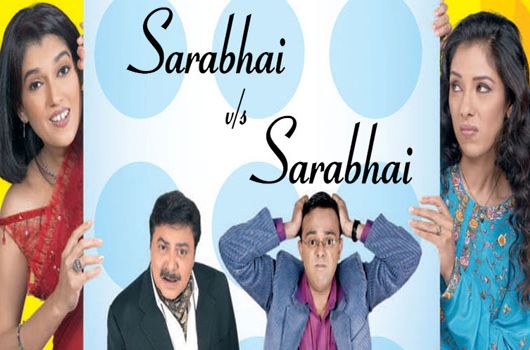 Back in 2004, Deven Bhojani, Jamnadas Majethia and Aatish Kapadia gave us the best Indian television show ever made – Sarabhai v/s Sarabhai, and it changed our lives forever. We realized the unthinkable – there can be shows without plastic surgeries, 20 year leaps and a 100 years old Baa (who would have thought?).
Personally, I realized that Indravadan Sarabhai is the man of my dreams. I will do anything to marry a person like him and make some cute babies! Imagine the coolness quotient of my kids. #WishfulThinking
Now because I love the show much and because I can't wait for the second season (which may finally happen!), I put on my headphones every night and watch one Sarabhai episode before I sleep.
Most people listen to songs, I watch Sarabhai! Yes, that's my lullaby… #AccidentalRhyme #ICouldBeRosesh.
Although everyone should watch every single episode from the 67 episodes of the first season, I have attempted the top 10 episodes that CANNOT be missed! Read on.
1. Sahil-Monisha Love Story
This is how the oh-so-naive Sahil and the loud mouth Monisha (who, by the way, was Manisha before marriage) first met! Please watch this one for Maya's reaction to Sahil's middle-class choice!
2. Kavi Sammelan!
If you truly love Rosesh's poems, this is the episode for you! Especially watch out for Kaccha Kela's award winning poetry 'Main Lukha Hoon' #MajorLOL
3. Monisha Becomes Baa!
Four words: Best. Indravadan. Prank. EVER!
4. Rosesh Kidnapped
This episode tells us how truly rich the Sarabhai family is. Rosesh is kidnapped and the kidnappers demand Rs 1 crore as ransom. This is when Maya tells her husband, 'Ek crore hi to hai Indu, we can afford it!' #JawDropped I will usually say a thing like this if someone asks for 100 rupees from me . Just saying.
5. Monisha's Sophisticated Act!
Middle-class madam Monisha Sarabhai leaves behind her carelessness, awful cooking skills and bargaining tactics and turns into a high-class socialite in this episode. So much so, that she even beats Maya! Don't believe me? Watch it and you'll know!
6. Maya Becomes Middle Class
Following Monisha's elitism, Maya thought, 'If Monisha can do it, so can I!' and turned middle-class! In this episode she forgets everything about her life (even Rosesh!) and becomes the mother-in-law of Monisha's dreams.
7. Popat Kaka
Just watch this one for all the shraddhanjali songs Indu sings for Popat Kaka and Rosesh's orbituary, which goes like 'Popat Kaka ki aatma ka popat, udd gaya, udd gaya, udd gaya re.' Enough said.
8. Indu Hypnotized
Indu's bullying behavior and sense of humor lands him into trouble when a 'vashikaran' (hypnotism) expert turns him into Maya. He even wears sarees and criticizes Monisha. You really don't wanna miss this one!
9. When Monisha Becomes Accidentally Rich!
Monisha's distant relative- Jaspal Mama leaves her a fortune after his death, making Maya insecure. She has nightmares about how Monisha will use the money to make a temple for Lakkad or Thappad baba. I'm laughing as I type this.
10. For The Love Of Madhusudan Fufa and Dushyant!
And now for my favourite episode of all times.
Imagine the kind of things that can happen when you have the Sarabhai family and their close relatives Dushyant and Madhusudan fufa in the same frame. Just the thought is making me beam with joy
Did your favourite episode make it to the list?