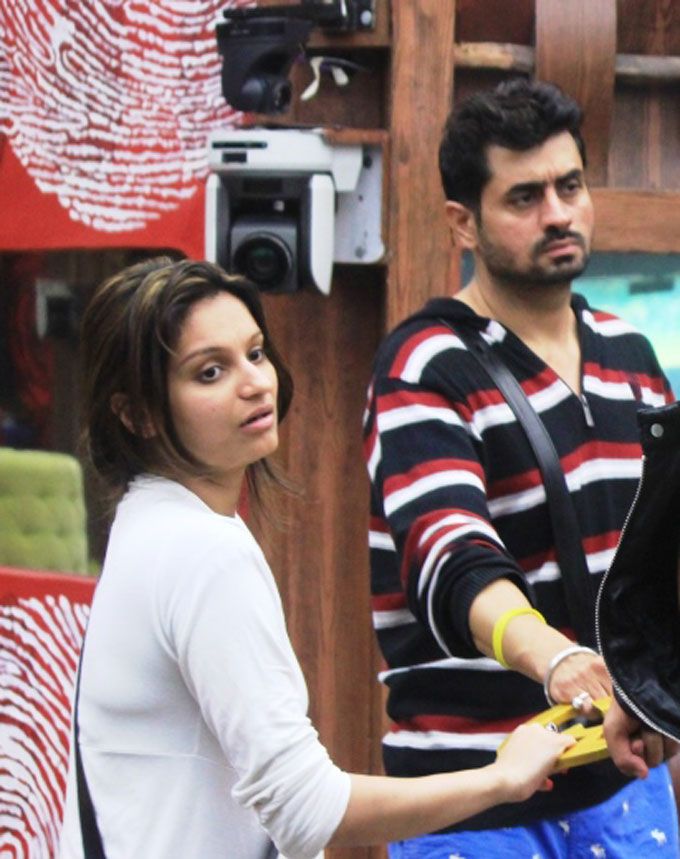 I'm sorry but I absolutely cannot take Bigg Boss 8 anymore. Seriously, guys! I am willing to announce prize money worth a considerable amount for anyone who can get Upen Patel to shut the f**k up. I'm annoyed. So annoyed that I am not even going to waste an entire post on him. However, I will tell you this… Upen has seemingly lost his marbles. For a quick update, Upen and Ali Quli Mirza had a huge fight but that I don't think was the highlight of last night's episode.
During the Hijack task, Dimpy Ganguly started to annoy Pritam for him to leave the task. She was jokingly poking his knee and Pritam was getting visibly more and more agitated and telling her to stop. One thing led to another and before you knew it, it all blew up in everyone's face. Pritam held Dimpy's hand really tightly to make her stop the poking. Dimpy cried about it and suddenly came out in the garden area and lost her shit. She dished out a wide gamut of abuses for Pritam, ranging from a***ole to be****od! This really irked Pritam and resulted in an ugly exchange of words and screaming all around.
The morning after, Bigg Boss called them both to the confession room and made them understand that they should really check how they express themselves on the show as a national audience watches this show. Moments later, Pritam and Dimpy apologized to each other in the kitchen.
Whose side are you on? Drop a comment!