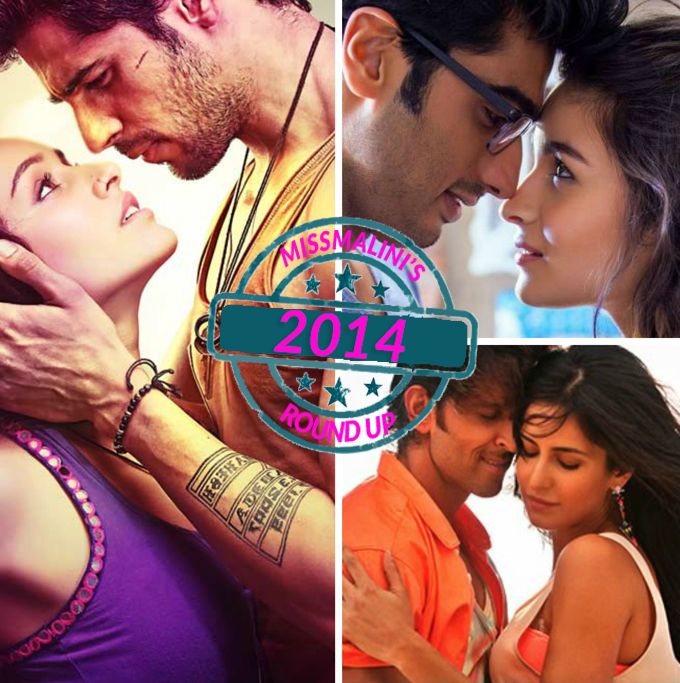 I am sure, like every year, the months gone by have marked the beginning of several fresh romances and witnessed quite a few heartbreaks too. While the love struck ones were busy conversing and canoodling with their respective partners, some were trying to nurse their broken hearts all alone. And if there's one common thing that accompanied all them, it's music. Some songs can ignite the fire of passion amongst two lovebirds and some can soothe a wounded soul. Thankfully, Bollywood dished out a generous dose of beautiful numbers for each of these kinds in 2014. Here's a low-down on 20 love tracks that everyone MUST have in their playlists.
1. Mast Magan – 2 States
Not just to Chetan Bhagat and his wife, this song featuring Arjun Kapoor and Alia Bhatt managed to give us all the feels too!
2. Galliyan – Ek Villain
This soulful rendition is definitely going to hit the nostalgia button and take you for a walk down memory lane. If not, listen to it while driving (or walking) through your lover's lane.
3. Baarish – Yaariyan
There's something about rains and romance, isn't it?
4. Main Tenu Samjhawan – Humpty Sharma Ki Dulhaniya
One of my most favourite tracks of the year, this one will leave you teary-eyed and smiling at the same time.
5. Zehanaseeb – Hasee Toh Phasee
Hua ameer, dil gareeb. That's what love can do to you!
6. Manwa Laage – Happy New Year
This one's crooned by Shreya Ghosal and Arijit Singh. If that doesn't give you a reason enough to listen to it, here's the synopsis of this music video – a gorgeous Deepika Padukone swooning over Shah Rukh Khan and his eight-pack abs.
7. Meherbaan – Bang Bang
Shot in the breathtaking locales of Greece and featuring the sizzling duo of Katrina Kaif and Hrithik Roshan, Meherbaan will make you feel like a bundle of mush.
8. Hangover – Kick
Not the quintessential romantic number, but it's Salman Khan's song! And our bhai seldom opts for anything regular and boring. We quite like this hat ke love song. What about you?
9. Naina – Khoobsurat
Sona Mahapatra's voice adds a dollops of charm to this sweet song. And how can I not mention FAWAD KHAN?
10. Banjaara – Ek Villain
The lyrics will stir your soul.
11. Ishq Bulaava – Hasee Toh Phasee
Sanam Puri's vocals are the USP of this number. Sidharth Malhotra and Parineeti Chopra's endearing chemistry in the video also adds to its beauty.
12. Chaandaniya – 2 States
This one wonderfully describes the bittersweet pain of separation.
13. Jaise Mera Tu – Happy Ending
I can't stop awwing to this one!
14. Aaj Phir Tumpe – Hate Story 2
Ahem ahem. A perfect track to play during one of those sensuous nights.
15. Khul Kabhi Toh – Haider
One more for the same purpose.
16. Suno Na Sangemarmar – Youngistaan
Sing this to any girl while asking her out and increase your chances of hearing a 'yes' from her.
17. Chaar Kadam – PK
Shaan and Shreya's vocals + Sushant Singh Rajput and Anushka Sharma's refreshing jodi = a perfect love song.
18. Sukoon Mila – Mary Kom
Oh so soothing!
19. Shayarana – Daawat-e-Ishq
Hum this track while thinking about that certain someone.
20. Aa Raat Bhar – Heropanti
Play this song and dance away to glory with your loved one.
As a New Year bonus, here are two more love songs from a couple of upcoming Bollywood releases:
Joganiyan – Tevar
Tu Hai Ki Nahi – Roy
Keep loving!