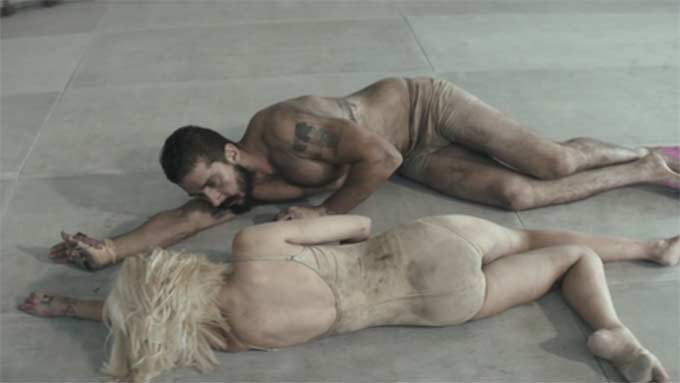 As you know, Sia's latest music video for her powerful song Elastic Heart has got a lot of attention. Featuring a nude leotard wearing Maddie Ziegler (who had earlier blew our minds away with her dance in Sia Furler's Chandelier) and Shia Labeouf wearing a skin toned brief, the video will make you feel a LOT of things. Some have called it art and some have found the undertones of this video to be pedophilic. There are arguments on both the sides, so have a look at what the Internet has to say about Elastic Heart!
1) Janine, who I think is that girl from Mean Girls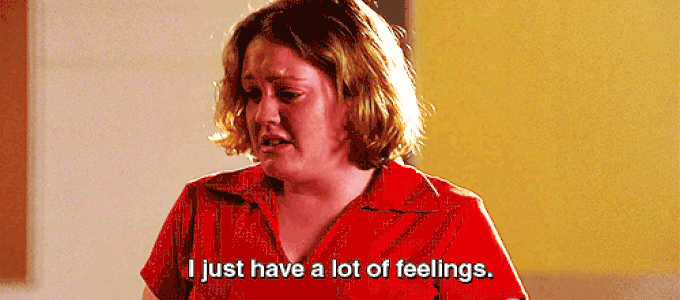 Yea, that one!
2) Dasia, who thinks the video is creepy but Shia is hot!

He is hot (and troubled), makes him the perfect one to fall head over heels in love with, only to be left broken hearted later eh?
3) Jane agrees with Dasia's sentiments

They should be friends!
4) Chad is one of the people who believes the video seems paedophilic

Hmm…
5) Polkabecky, whose name I think (and hope) is Becky too feels that a 12 year old girl and a grown man fighting in a cage is creepy.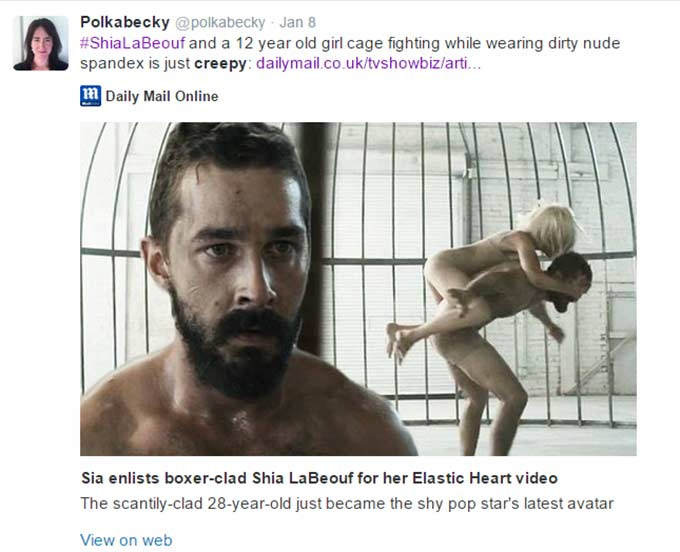 Art can really be interpreted in so many ways!
6) Savannah wants to ask what Shia Labeouf feels about dancing with Maddie

She worded it differently than I did though.
7) Lux (what is he? a soap?) thinks that Maddie could have worn something else

Something that doesn't have to be nude toned and skin tight… what strong sentiments.
8) This cat from Brooklyn who finds the video pretty!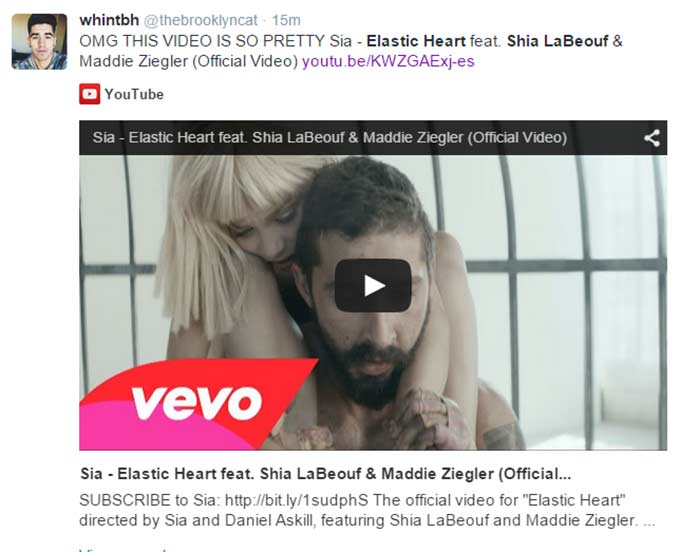 Umm it's lot of things, but pretty? I don't quite think so.
9) Tamar was sad that Sia had to defend her artistic expression

I agree!
10) Stephen who basically read my thoughts and tweeted them before I could!

Are you skilled in legilimency Stephen?
11) Sam, who also had a lot of feelings about Elastic Heart!

He also informed us what the video is all about. Good going!
12) MeMe understood what this video is about before we all could

Maybe Sia and MeMe are besties? Maybe MeMe made the video? So man maybes…
13) Hendrixluvchild (I don't even want to get there) was sad that talented people like Sia have to apologize for a beautiful video

She respects artists and their expressions, she is Jimi Hendrix's love child after all (or so she claims).
14) Jordyn found the video beautiful

And so should you.
15) Rugrat found NOTHING wrong with the video

It is pure art, I'll give her that.
16) Liz was sick with the pedophilia claims and she took to YouTube to talk about her feelings

Guess the 140 character limit of Twitter persuaded her to make YouTube her place to rage.
17) And Victoria and Katie gave us a beautiful interpretation of the video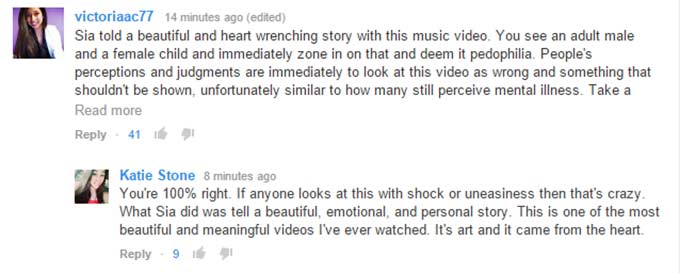 There are always two (or more) ways of looking at things…always.
Sia herself took to Twitter to clarify the controversy surrounding her video

And apologized to the people who thought this video was distasteful.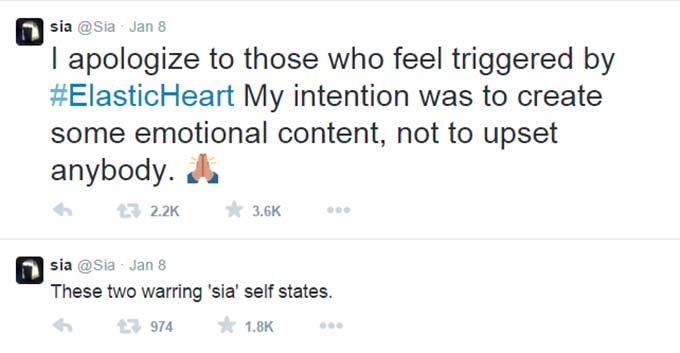 Have a look at the video.
What are your thoughts?