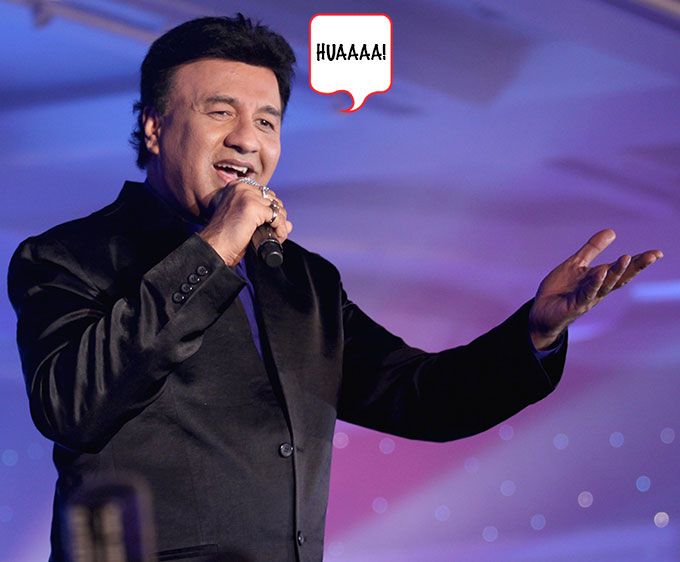 Who here has grown up dancing and singing along to Tan tana tan and Gharam chai ki pyaali not knowing the hidden (or not so hidden) meaning behind the lyrics? Show of hands! Okay, I can't see all the hands, but I'm sure there are a lot of you. I can't be alone… can I? I mean, my parents can't be the only ones who let me do all those Bollywood dance classes and watched me perform like I was Shilpa Shetty or Madhuri Dixit! Now that I think about it … Mom? Dad? Why would you let me do that? But I digress, let's get back to the point here: Anu Malik's many buttons. No, I don't mean shirt buttons. If you listen real close to his music in the '90s and well through the turn of the century, you'll notice the use of futuristic noises that have been carefully weaved into his compositions. Sometimes they're animal noises, sometimes they're just random human noises recorded onto music devices that re-occur time and again throughout a song. I don't know how exactly he did it, but if you still don't believe me, here's proof.
Also, if you already know what I'm talking about – here's a virtual high-five!
1) Proof 1: Jaanam Samjha Karo
I'm not talking about the bells in the start. Right at about 1:10, which is B-T-W a long time to wait to get the main beat of a song, there's a man's voice screaming 'huaa.' I don't know how else to put it, but it keeps happening throughout the song from there on forward. That is what I refer to as button number one. Get it? No? Jaanam samjha karo, yaar.
2) Proof 2: Tan Tana Tan
Okay, with this one it's a little tricky because it may not occur as often as the button above, BUT … it does exist. It's sounds somewhat like a cat died because that's the best way I can describe it. You won't miss it at around 0:04 and again around 3:52.
3) Proof 3: Jungle Hai Aadhi Raat Hai
This one's obvious: it's the animal sounds. Although, if you listen close enough, at around 2:00 there's another button that sounds a lot like some kind of dying animal. What is it with all these dying animal sounds? Hey, I ain't complaining. I still love this song.
4) Proof 4: Oonchi Hai Building
It's all over this one, right from the start. You know, that sound, the one where someone's screaming 'oyyyeee.'
5) Proof 5: Ek Garam Chai Ki Pyali Ho
No points for guessing this one! It's of course the shaking tea cups a.k.a garam chai ki pyali. There is also an 'ayyoo' in this song, which sounds like the inverse of 'oyee,' doesn't it?
6) Proof 6: Yeh Kaali Kaali Aankehn
Okay dude, that 'ooooohooooh' is not women singing. It just can't be. That has got to be some sort of button.
7) Proof 7: Sailaru Sailare
Hear it?! Hear it?! Check out 0:34, once again, sounds like someone's falling off a cliff! It happens again in the song. Give it a good listen.
8) Proof 8: Baadshah O Baadshah
Okay, the 'HO HO' is definitely some kind of dog barking, no? Plus, towards the end, there's a little button that gets played with Amrish Puri's laughter. You can't miss that one.
9) Proof 9: Churake Dil Mera
Okay, I have to admit, this one was a little difficult, but I did find me my buttons! They're mostly in the 4:50s, like the opera-singer-voice button and the villain-just-made-an-enterance button.
10) Proof 10: Raat Ka Nasha
Thought I couldn't prove it with Asoka? What does the song start out with? Some sort of creepy-whisper button!
There, 10 songs to prove my thesis. Want to challenge it? Send me any Anu Malik song and I will find you a button. Also, do stay tuned for my interview with the legend himself, coming soon!