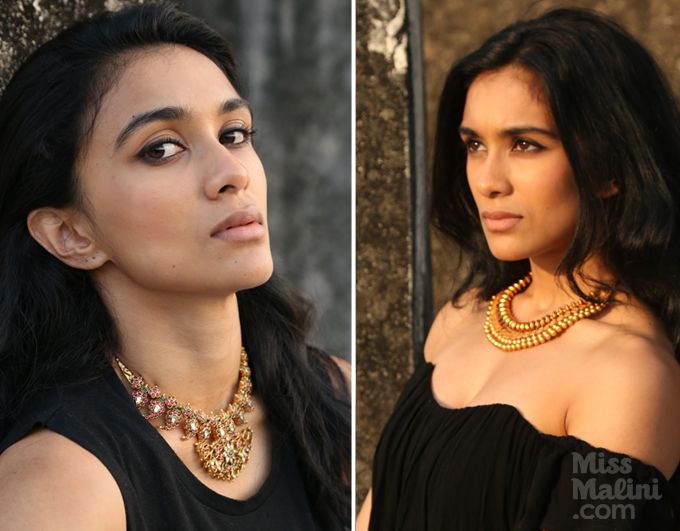 Did you know that the oldest golden treasure in the world dates back over 6,000 years ago?! It was discovered at Varna Necropolis, an ancient burial site in Bulgaria. We can only wonder about all people and places that jewellery has seen, and the stories it can tell before the cache was accidentally discovered in 1972.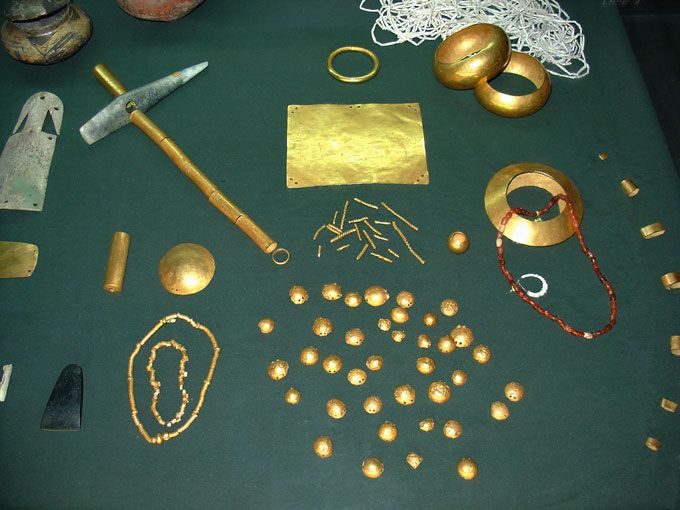 In this post, we'll be talking about several gorgeous heritage gold jewellery pieces, each with a fascinating history (though not quite as old as the ancient Bulgaria bling!) We tracked down Jay Sagar, a fourth generation jeweller who specializes in vintage estate jewellery sourced from private families, trade, and from auction. To understand the unique nature of each heritage piece, we sat him down to dish out the romance behind some of his favourite 22k gold jewellery.
Obviously as a stylist, I have sticky hands, and Jay saw that! Not only did he let Team MissMalini into his world of heritage tales, but he also let me play dress up with our very own Nityaami Shirke (who I have crowned as our own in-house fashion model) in some of his all-time favorites. Take a look!
1. 22k Gold Neckpiece from Old Tribal India
The necklace is inspired from tribal India, and this particular design is from the Deccan region. The design element is nature at its best, incorporating twigs, fruits and branches to make an ornate necklace.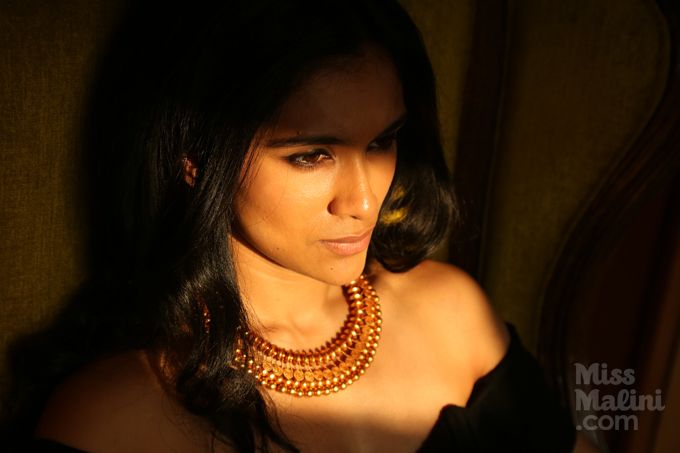 Though inspired by a time that bares no resemblance to the iPhone age, the piece still holds its own strength against modern times. We styled it with a sexy little off-shoulder black dress, which gave the neckpiece prominence, unobstructed by fabric. The result: classy with a certain sensuality.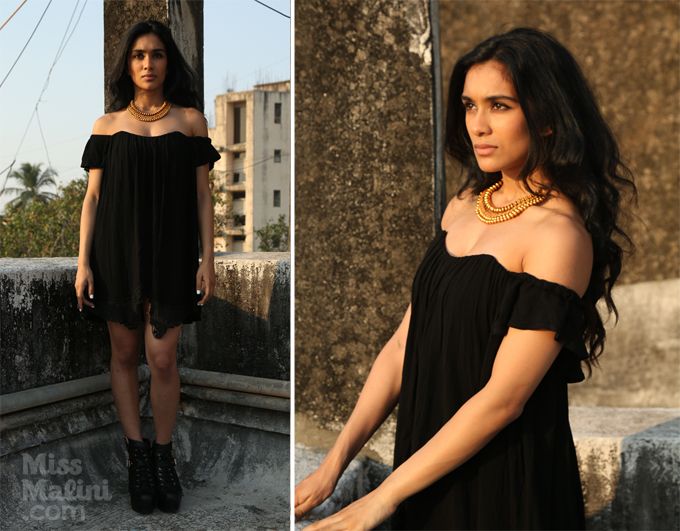 2. The maang tikka
This piece is absolutely stunning. We (Jay Sagar) bought it from a Royal Family. It's mounted with flat table cut diamonds, and has a fringe of Basra Pearls. This small, delicate piece has so much character, the simplicity of design is so understated, but still extremely impactful. I like to fuse traditional Indian jewellery with western clothes as I once discovered on a European friend who is deeply inspired by everything Indian and very effortlessly carries off wearing a Jadav pendant or a gold tribal necklace with a white linen shirt and jeans.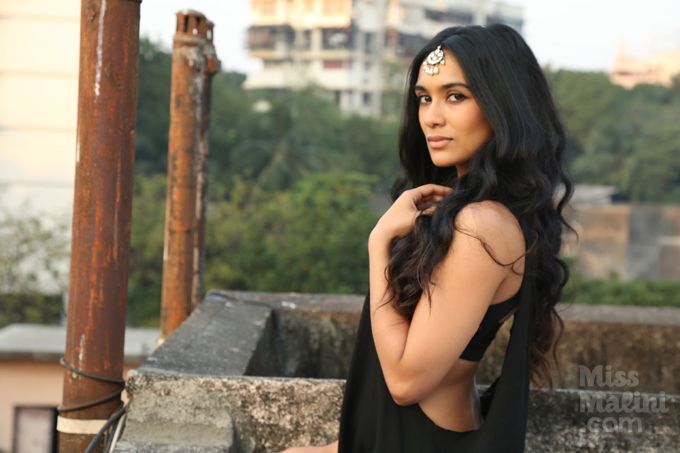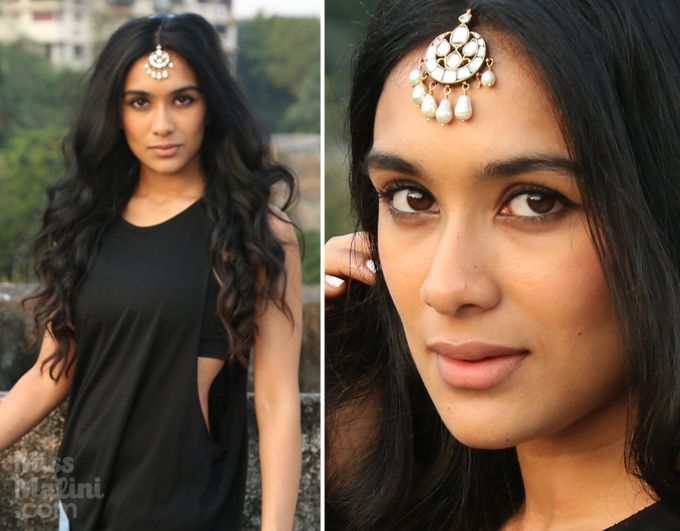 I was a bit nervous handling this beautiful maang tikka that carries such a rich history. I took inspiration from Sagar's European friend and styled the look with my own street twist. I decide to play this piece in a setting far away from its origin. I wanted all the elements around this piece of 22k gold base to be presented in a contemporary mood. Nityaami dressed in a black cut off tank and a sports bra, a pair of ripped jeans, and sneakers. I doubt the original creators of this stunning piece could have ever envisioned a sassy look like this!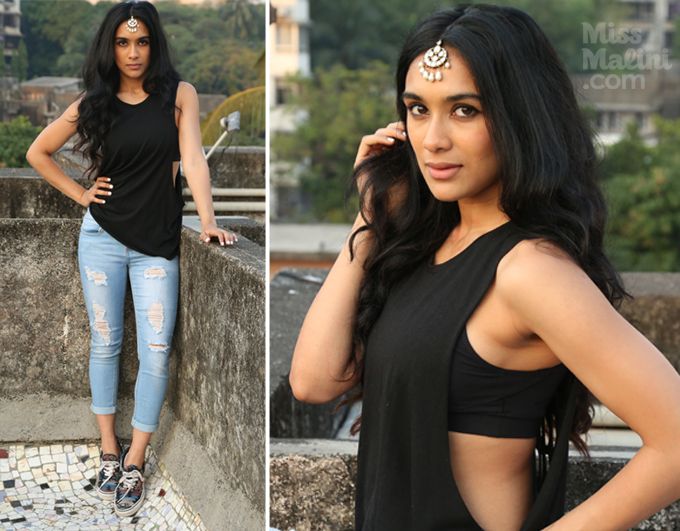 3. The traditional Keri Haar
This necklace is of an age-old South Indian design. It is set with rubies, emeralds and diamonds over a base of 22k gold. It's traditionally a bridal necklace. As its name suggests, it's called a Keri (raw mango) haar (garland or necklace), as each piece is shaped like a mango and with the addition of the precious stones it adds a talismanic effect for the wearer protecting them always from any sort of misfortune and paving the way to a happy married life.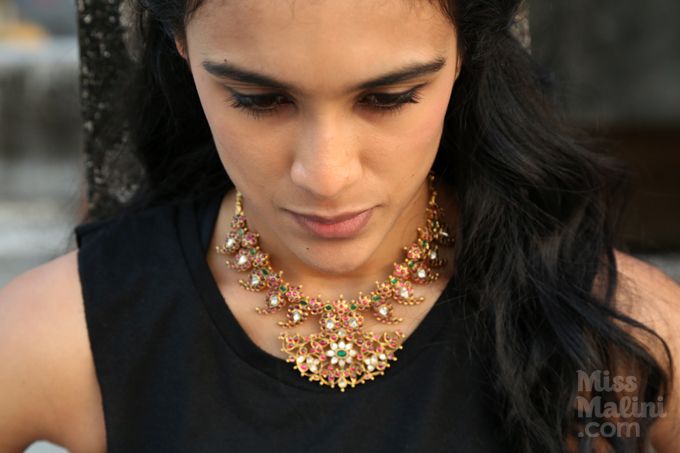 I told Jay we would be adding my own style twist on this auspicious piece which would traditionally go for a bridal look. To bring out the gold hue and the colour of the stones. I dressed Nityaami in a dark structured top to achieve this rocker-bohemian look.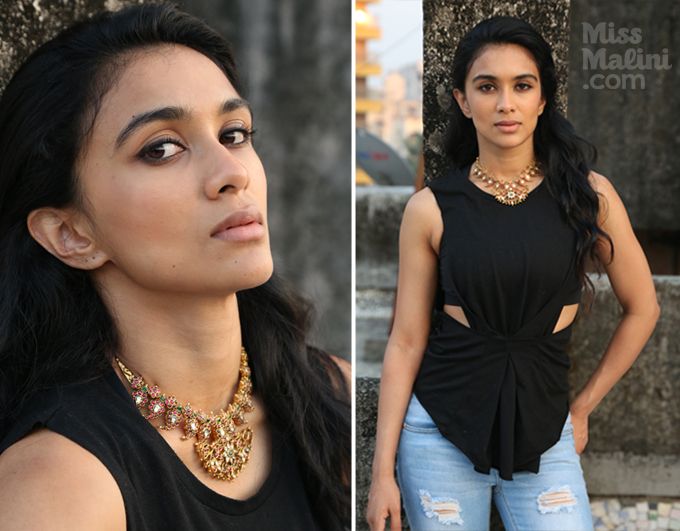 Through history and time a lot of jewellery gets lost, so it's always exciting to bring some pieces back to life in a new way. We found this gorgeous piece of temple jewelry from Gehna and had to share it with you.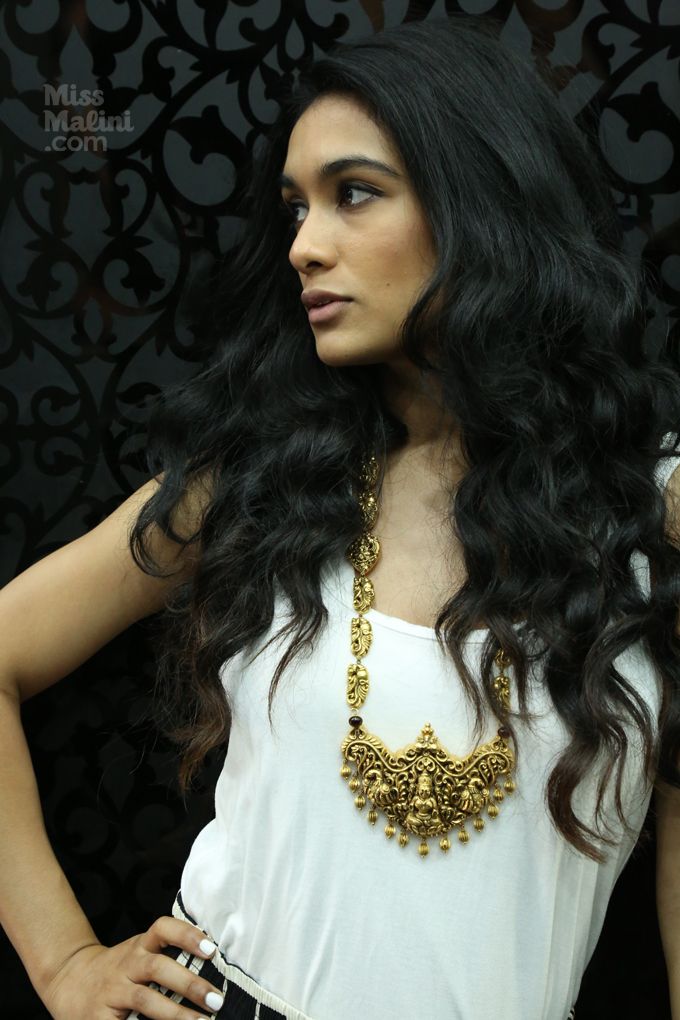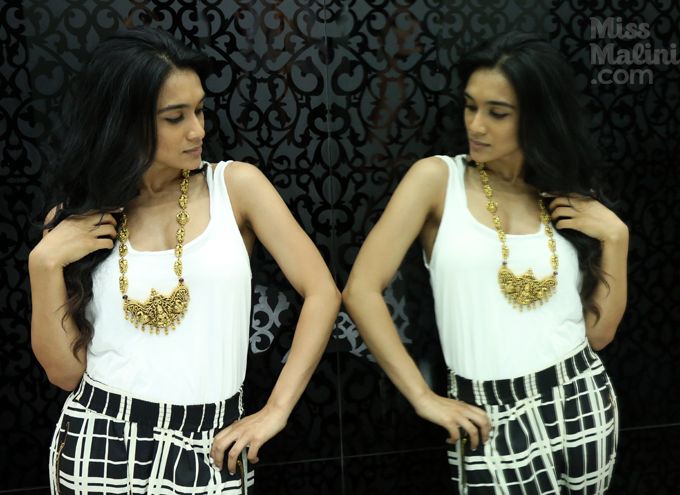 Stay tuned for the styling of this look an others in our ongoing #LoveGold fest as we teach you about the hottest trends in 22k gold and new, innovative ways to have style them! Special thanks to Jay Sagar and Gehna for letting us into their world of fabulous heritage jewelry. What did you think of our #LoveGold shoot?!
Model: Nityaami Shirke from Team MissMalini
Pics: Devraj Pandey Photography
Styling: Marv D'Souza from Team MissMalini
Jewellery: Jay Sagar and Gehna