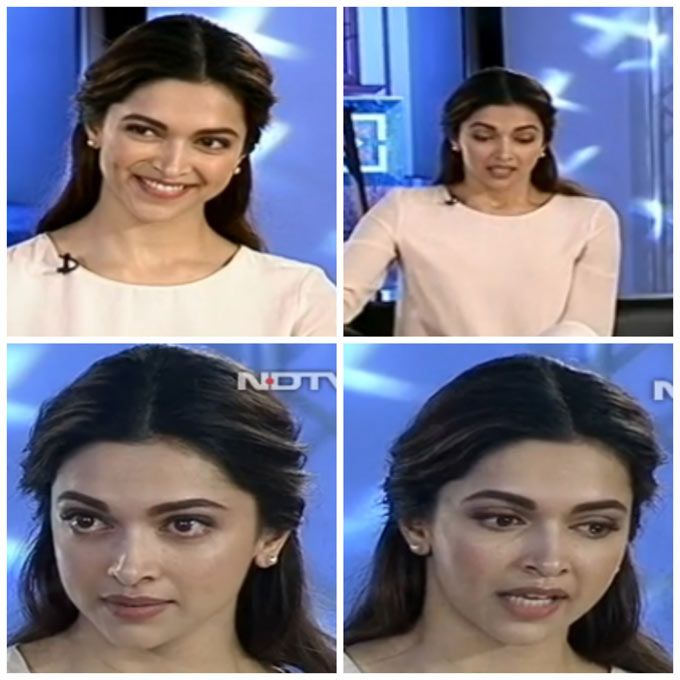 Deepika Padukone had recently visited the NDTV headquarters to talk about her battle with depression with Barkha Dutt on television. This is the first time a celebrity has opened up about her mental condition, first, by writing a column in a newspaper and then, talking about it on television. Here are the most impactful quotes said by the wonderful actress in the hour long chat which also had her mother, her counsellor and her psychiatrist in it.
1) During the time I was suffering, I woke up feeling empty, directionless. There were times I'd feel so low, I'd start crying at the drop of a hat.
2) Once when my family was leaving, I just kept crying, they first thought that I was crying because they were going back to Bangalore, but my mother sensed something was wrong and decided to stay back.
3) Last year, I was invited to a Conclave, ironically to talk about being the number one actress in Bollywood. I'd sit and cry in the hotel room and then go down and give a speech on being successful.
4) That time was very confusing for me, if I'd go out and about with people I liked, I'd be alright, but later I'd go back in my room and become upset. There were times I just wanted to sleep and not wake up!
5) This interview is not about me, it's about people going through depression, its about families trying to deal with this ailment.
6) The media needs to become a little sensitive while writing on issues like this, a publication carried a news item about me being depressed because Ranveer was depressed as his friend had committed suicide. They didn't even pick up the phone to cross-check before carrying an article like that.
7) If someone is breaking down repeatedly, don't say they're doing it for attention. There's a huge difference between being sad and being depressed.
8) The biggest step for me was to accept what my counsellor was telling me.
9) Depression is a lonely, isolated condition where no one can talk about in the family – if this stigma will remain, we will soon have an epidemic.
10) The Live Love Laugh foundation is basically built to impact lives and save people. The main focus is to create awareness and try to remove the stigma associated with depression. Depression is still regarded as a luxury disease.
11) The scariest thing for me was trying to find out where this was coming from, it was this heaviness… this burden I was carrying. Every minute was exhausting.
Watch the entire interview here.
I really didn't think I could love and respect Deepika Padukone more and yet this interview proved me wrong.