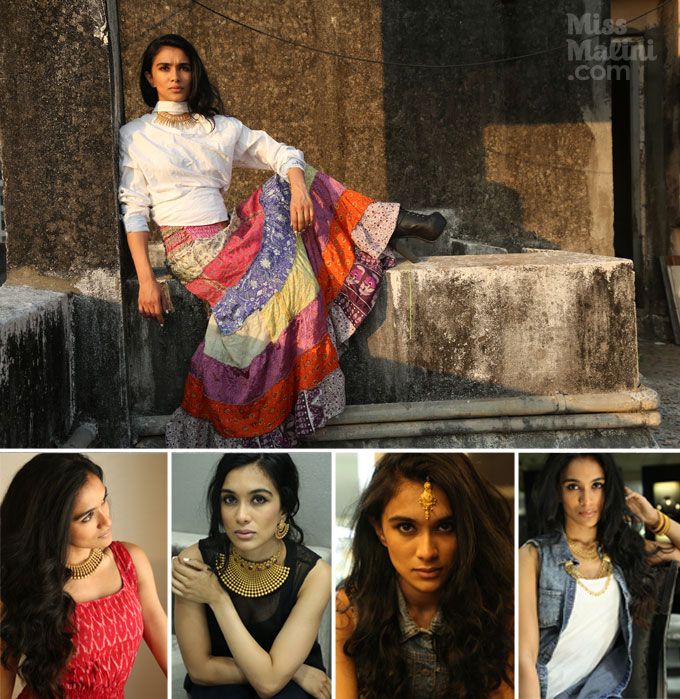 Gold can be fun to style! Especially after you've had a taste of its rich heritage and figured trends that are making waves. The key to styling a look to perfection lies in the attention to detail and the way you bring a style balance. Don't worry, we have 5 examples to show how styling gold can be a fun and you don't necessary have to follow rules! I never follow rules. So with LoveGold, let me shower you with 5 versatile tricks to style your gold.
Art-house chic
India's rich reserve of organic textiles and weaves is no secret. I love seeing them used in many ways apart from the traditional contexts they usually fall into. Similarly, I see desi gold jewellery with potential to be interpreted distinctly in different settings.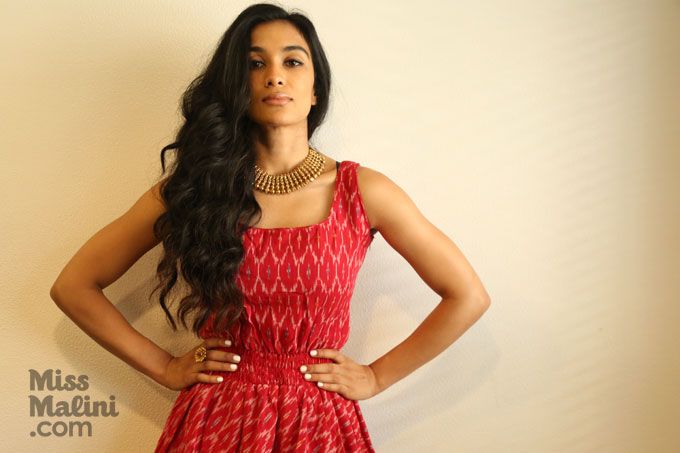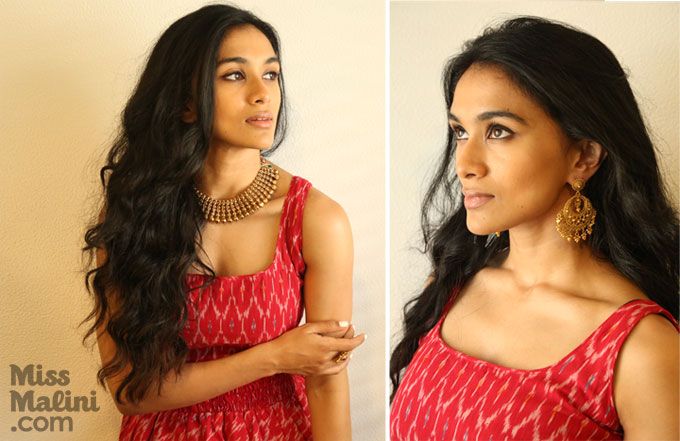 I sourced the dress from Priyanjoli, a label that creates contemporary garments using handmade woven textiles. I styled the look with a tribal neck piece and alternatively played the same look with an ornate pair of chand balis. I see the fabric of the garments and the jewellery are similar in their Indian aesthetics and yet look globally appealing.
Rock chick
Layering necklaces is an '80s punk and underground pop style trick. Remember the raccoon eyed Madonna and her layered chains with pearls and crucifix pendants? I've applied the same thought here, but with gorgeous 22k gold neck-pieces.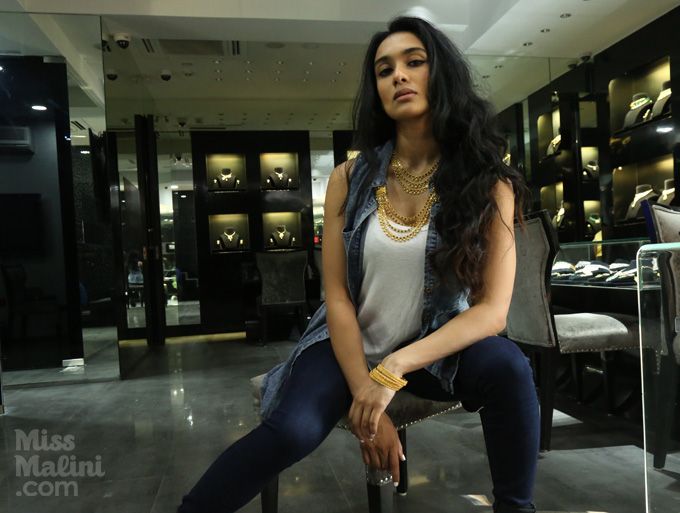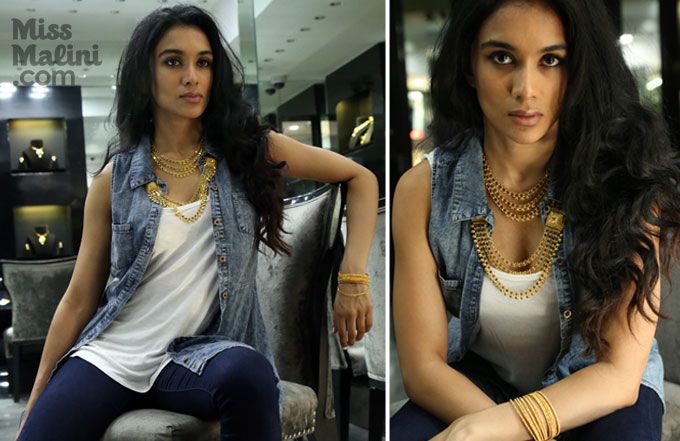 In a plain white tank and jeans, I had Nityaami, from Team MissMalini, wear her own denim shirt-dress as a jacket. I layered two 22k gold necklaces with intricate details to give the look a boast. The rich yellow of the gold juxtaposed against the raw blue denim seemed to work in perfect style harmony.
Coachella Girl
For all you concert and music festival princesses, this one's a treat.  I took a page off the style files from Coachella last year and vibes from artists like Grimes and London Grammar. We bring you a look that fuses a desi vibe with a dash of folk chic.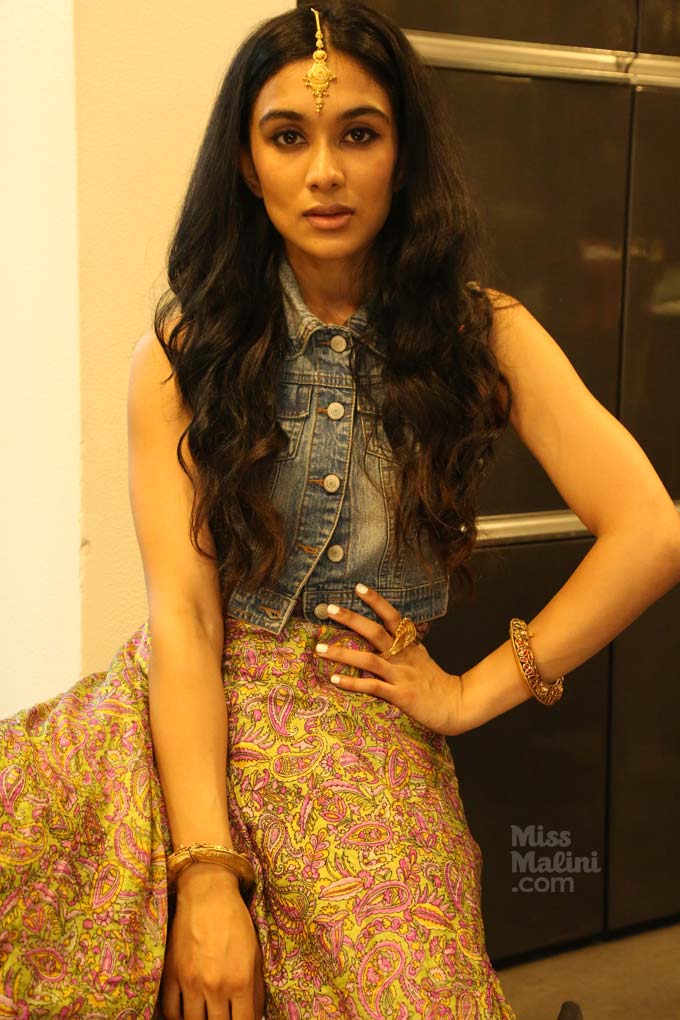 A denim cut-off jacket with a fine paisley printed chiffon wrap shirt and boots defines the Coachella mode with the 22k gold maang tikka,  double rings and an ornate bracelet with coloured stones.
The Temptress
Now to bring in some sexiness, we have a bridal set in a new avatar. You know you have that elaborate neck-piece but can't seem to wear it enough. Indian functions or wedding aren't the only place for these to work. Here's a trick for you to turn something simple into a foxy red carpet look.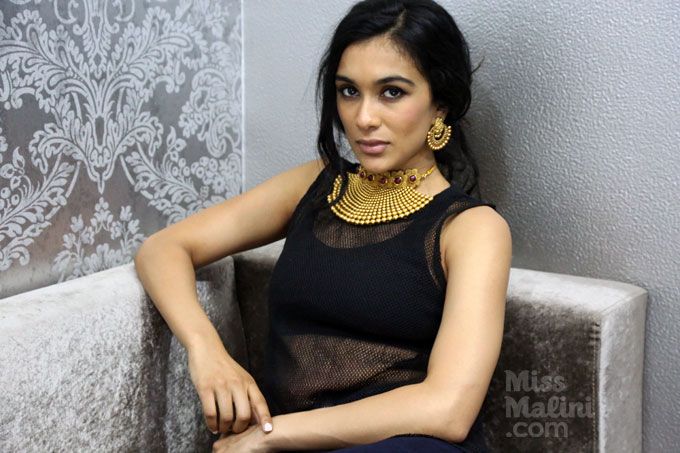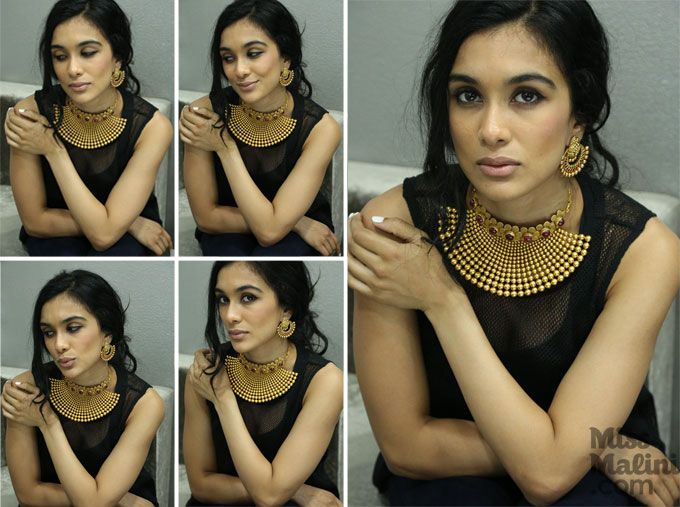 I used this mesh tank top (you can work it with a plain tee in a good quality fabric too) and dressed it up with his decadent neck-piece and matching earrings. Against the mesh tank top, the neck-piece looked like an embroidered collar and that's how the look works once the earrings come in.
The Boho look
I pulled out all stops on this look and was inspired by the bohemian way of life. No rules and the anything-goes idea, fuelled the style-story here. And it was all built around one gorgeous piece of Indian tribal jewellery sourced from Jay Sagar.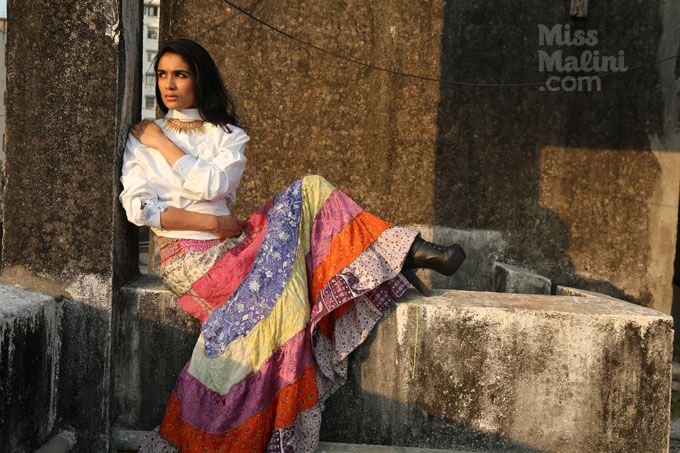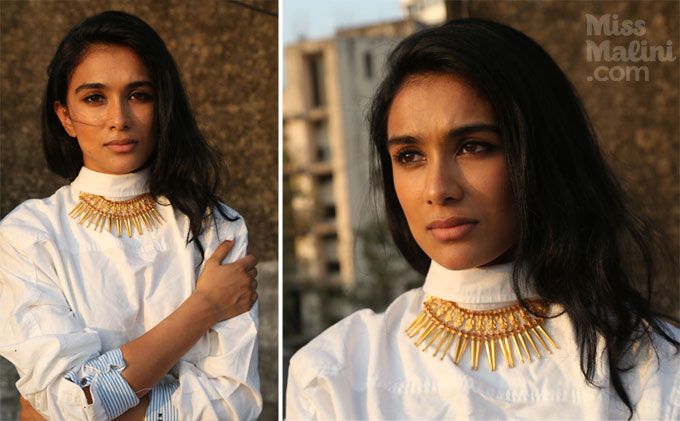 I made Nityaami wear my white shirt backwards to create that high collar fold for the neck-piece to rest. To play up the drama of the neck-piece, I worked in this patched chiffon lehenga skirt I bought from a flea market in Goa. And we finished this look with a pair of boots.
See! Gold, traditional or contemporary, can be styled in so many cool ways. So experiment and discover new ways with them. For more on the gold, follow #LoveGold on Twitter, Facebook and Instagram. And for tips, tricks and trends, we at MissMalini will keep bringing the dish, so you won't miss a beat!
Now tell me about the lookout of these that you think suits your style?
Model: Nityaami Shirke from Team MissMalini
Pics: Devraj Pandey Photography
Styling: Marv D'Souza from Team MissMalini
Jewellery: Jay Sagar and Gehna