Kangana Ranaut
Kangana Ranaut
Anupama Chopra
Anupama Chopra
Kangana Ranaut
Tisca Chopra
Kangana Ranaut
Anupama Chopra
Tisca Chopra
Kangana Ranaut
Anupama Chopra, Kangana Ranaut, Rajeev Masand
Kangana Ranaut
Anupama Chopra and Vidhu Vinod Chopra
Anupama Chopra
AnupamaAnupama Chopra and Vidhu Vinod Chopra Chopra
Kangana Ranaut
Anupama Chopra, Kangana Ranaut, Rajeev Masand, Arunabh Kumar
Kangana Ranaut
It was the day film critic Anupama Chopra was launching her book based on her popular TV show The Front Row; a book that is a compilation of all the conversations Chopra had on her show. The evening started with an engaging conversation between Anupama Chopra, Film Critic Rajeev Masand and Founder and CEO of The Viral Fever, Arunabh Kumar.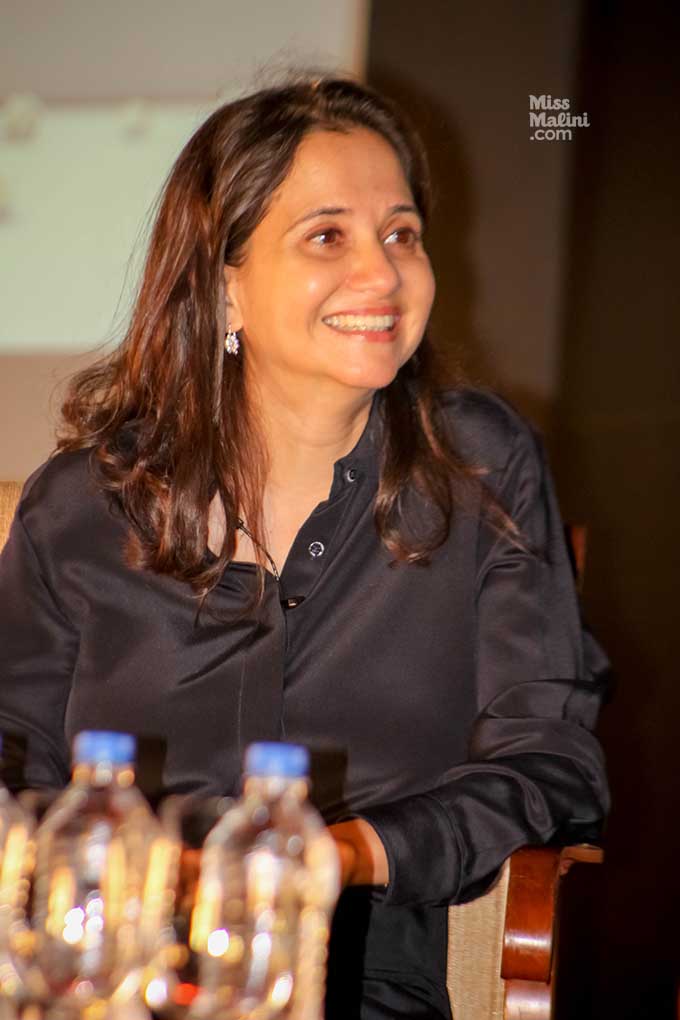 It began with the three of them confessing to the troubles of being a film critic when one day you're interviewing a celebrity and the next you're giving their movie 1 star for being so bad. Well, of course since every action has an opposite and equal reaction, these critcs are bound to make more enemies as opposed to friends. And one such example given was Akshay Kumar – who doesn't talk to Anupama Chopra AND Rajeev Masand. *Uh Oh!*
BUT, there are also those who play it well – someone like Prabhu Deva who took it in his stride and asked Chopra to dance for him while he reviewed her as a revenge for giving Rowdy Rathore one star. Not just that, at an event Rajeev ignored Prabhu Deva thinking that he was going to ignore him, the director-choreographer came up to him and said, "You saw me! Hello!" *LOL* (We get the drift!)
The trio was then joined by Kangana Ranaut whose TFR interview BTW had gone viral! Remember?
Critics love honesty, hence the special guest!
Obviously, all eyes were on Kangana. The conversation turned to the viral interview the actress had given, to which the actress confessed:
These people definitely don't have an impression of me that I have of me!… After the interview messages started to come in, I was confused about which interview, they were like oh, we saw this and the depth of your personality. But when the phone calls and messages became very serious – hundred messages a day – I was like 'what did I say?' I went through it again and I was like she (Anupama) is the first interviewer who wants to know ME, REALLY ME! Not the person, or the perspective people have of me. She was interested in exploring the human being I was. I had so much fun talking about it. I am usually very agitated when I'm on stage or in an interview. I'm happy to talk about things that people usually don't talk about.
The conversation then moulded into a huge discussion on how a celebrity is just "required" – they are an entity! Arunabh made a noteworthy point of how they are constantly asked off-topic questions just so journalists have something to write about; they are put on magazine covers to sell all things from architecture to iron ores! After all his father said some wise, wise words:
India mein sirf teen tarah ke log jaane jaate hain – neta, abhineta aur cricketer! (Only three kinds of people are known in India – the politician, the actor and the cricketer!)
Roger that!
Although, Masand seemed to think that when it comes to interviews, things are changing. He said that when you go with great questions, and you go prepared to take a good interview, they will come. (Exactly what Vidhu Vinod Chopra once told me!) The actors and the Bollywood talent are actually hungry to have intelligent conversations now.
However, the problem sustains – the access to celebrities is so critical to all film journalists – one CANNOT afford to piss them off! And Arunabh has the perfect answer to this. Now celebrities know the power of TV and viral videos – they have a million viewers. Celebs tend to agree to come onto such platforms because they need to promote themselves or their work – "no science, no secret"! It's a two-way thing!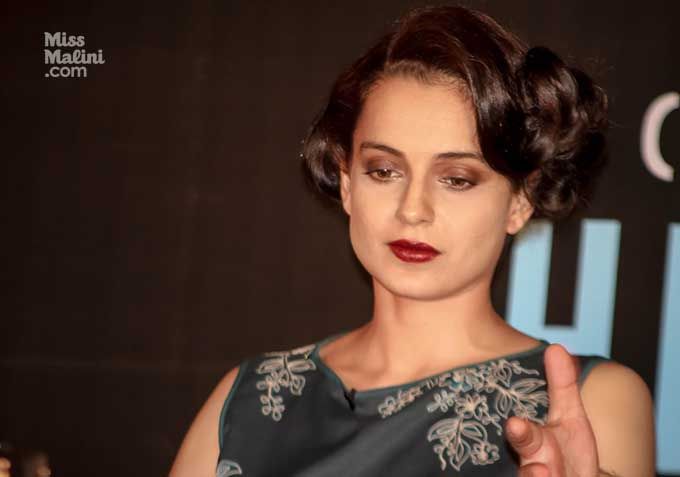 Back to Kangna and her views on interviews:
What do you look for in an interview?
I don't go with expectations because I feel that I've been here for a while now and I've been to interviews where they don't even allow you to complete your answer. They ask you and then they're like – 'acha ok, usko chodiye (ok, forget that!) So, I just go with the flow. I like talking to someone who genuinely wants to know who you are, how you got here, talk about the craft I have developed over the years. I am so happy to talk about such stuff and Anupama values it!
What's the one thing that really pisses you off?
Ah… it depends on what kind of a day it is but usually the shallow conversations, the repetitive questions – people recording and taking your interview just because they are asked to?! And they have to go back with that interview and you're just one of those people – it's a job! You have to just give those repetitive lines. They also cut you off because THEY have to go. Also, what drives you mad is when they ask you to say a dialogue from your film. Like it took me three days to prepare my dialogues and now you want me to just say one of them. If not that, then dance – ek thumka – I am very shy, I get panic attacks every time and I'm not very comfortable. I have f@#ked up too many times *laughs*. I respect my craft. Some people might dance for you, they have a different approach but I can't. We're not all the same!
All in all, the conversation was a lesson learnt for film critics, journalists and those trying to understand the psyche of a celebrity who is just one of us!