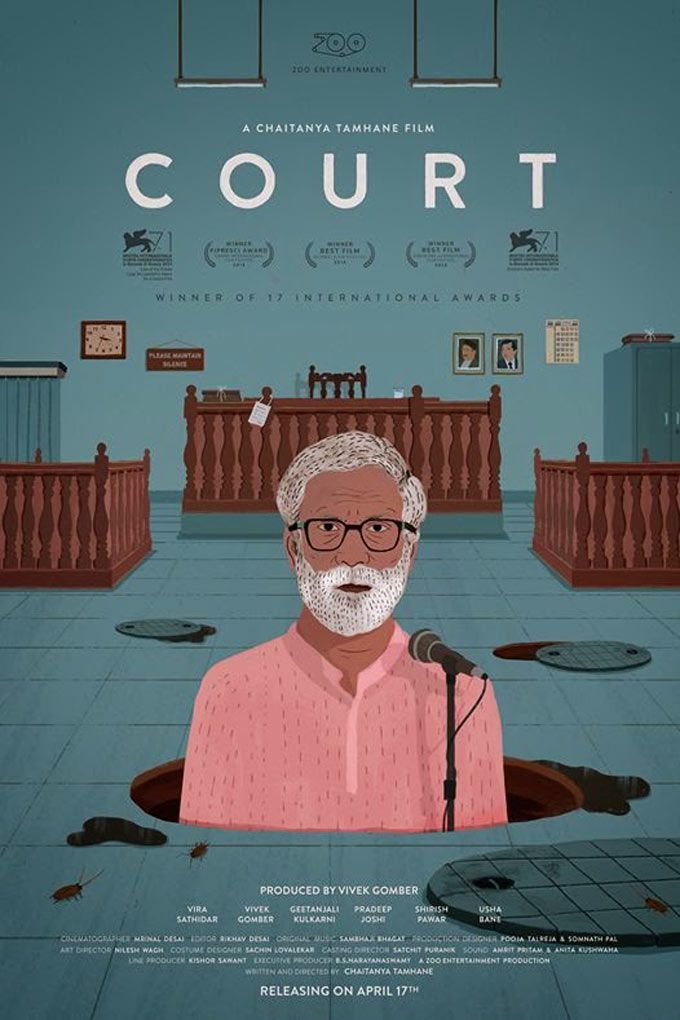 After having spent 5 years studying law and 3 years interning at various law firms and NGOs, the trailer of Court (which I saw before Furious 7) made all those memories come back. I was sitting with a friend who is a practising lawyer and both of us started laughing uncontrollably at the end of the trailer, when the judge (Pradeep Joshi ) refuses to hear a matter because the lady in question is wearing a sleeveless top. In case you didn't know, wearing sleeveless clothes and 'loud colours' is against the rules in court. Obviously, I had to watch this internationally acclaimed movie as soon as I got the opportunity and trust me, Court definitely lived up to the trailer I saw before watching Vin Diesel and Paul Walker making cars fly out of buildings.
The premise is simple. A folk artist – Narayan Kamble (played by Vira Sathidar) – has been charged for abetment of suicide (under the Indian Penal Code) of a sewage cleaner. His 'inflammatory' songs and poems apparently drove the said labourer to kill himself. Narayan's defence counsel in this matter is Vinay Vora, a rational, modern and well meaning human rights lawyer (played by the producer of the film, Vivek Gomber). His quiet frustration with our judiciary system mirrored every young lawyer's feelings when Acts dating back to 1887 are applied to current cases, making no sense whatsoever. The public prosecutor Nutan (Gitanjali Kularni) is bored of seeing the same faces every day and really wants a menace like Narayan Kamble to be put in jail for 20 years.
In between, we see glimpses of the lawyers' and the judge's personal lives, giving an insight to the kind of people they really are. While Vinay is a normal upper middle-class Bombay boy who enjoys his drinks, jazz music and facials, Nutan is a regular middle class woman who, after a long day at court, cooks for her family, serves them dinner, gossips on the phone and watches plays where North Indians are ridiculed. The judge is the man you see at water resorts like Kumar Resort Lonavala; the type of man who thinks a stammering child can be cured if his name is changed seeks the advice of a numerologist (instead of a therapist).
The best thing about Court is the lack of impressive arguments, savvy lawyers and dramatic victims. Court shows the stark reality of Small Courts and Sessions Courts of India. The arguments are mechanical, the proceedings are mundane and even the court stenographer seems more interested in her phone than the judgment being passed. Everything the director Chaitanya Tamhane has tried to say hits the bulls eye. Nothing about this movie seems staged or fake or 'acted out' and that's exactly what makes it so special! Seriously, go watch it, a movie like this is as rare as speedy justice in India.