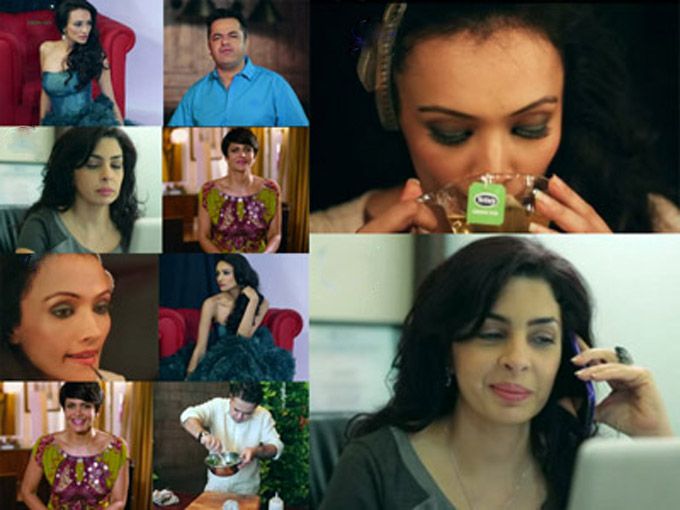 Celebrities Dipannita Sharma, Vicky Ratnani, Mandira Bedi and Nawaz Singhania have one thing in common: they all look to green tea as one of the many things they do to take care of their health and maintain their fitness. After all, if you listen closely, you'll realise that all of them (rightly!) believe just working out isn't the key to being healthy. In fact, they all agree that it's okay to indulge now and again – once you're taking care of yourself overall. In these series of vignettes for Tetley Green Tea, the four celebrities share their personal thoughts on fitness and tell you what they to do to remain fit and healthy. Here's what they have to say:
1) "It looks easy to look perfect all the time. But first, you have to feel perfect." – Dipannita Sharma
Dipannita Sharma stresses in her video that it's not just about how you look on the outside, but how you're feeling on the inside. She recommends slowing down (which isn't easy in this fast-paced world!), which is one thing that'll help you feel more at peace.
2) "Eating healthy is the best karma." – Vicky Ratnani
Vicky Ratnani is known for his fancy dishes, but like he says – "when you cook fancy, you eat healthy!" He makes it a point to take care of what he eats and ensures there's enough variety in there. Psst – you'll want to check out his recipe for citrus-infused iced tea.
3) "Where there's will and an intent, there's a way." – Mandira Bedi
Mandira Bedi juggles many different roles, but she still finds time to work out. In fact, even after becoming a mum, she found time to hit the gym once again and get in shape. She started lifting weights, did circuit training, and listened to her body – and, of course, lost all her pregnancy weight. 🙂
4) "Fitness is about having lots and lots of energy to achieve and get whatever you want out of life." – Nawaz Singhania
According to Nawaz Singhania, your body is your temple and the key to taking care of it is to nourish it with the right intake and the right form of physical activity. Despite the stress of everyday life, it's important to do something to take care of yourself – so that you have enough energy to get through your day!
What do YOU do to maintain a fit and healthy lifestyle?