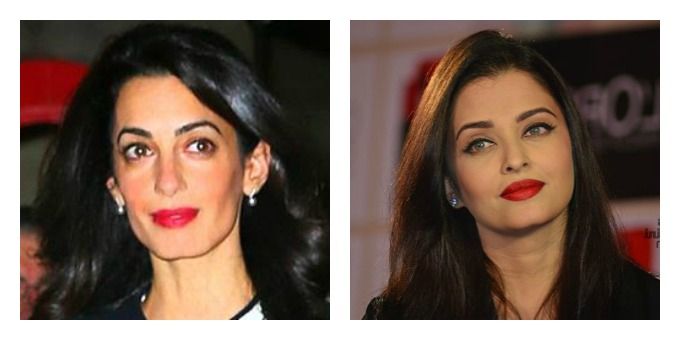 After her green affair with an Elie Saab gown, Aishwarya Rai Bachchan made a grand entrance for the Jazbaa press conference at the Cannes Film Festival 2015. We just received her first look from the highly-anticipated, upcoming release, where the filmmakers have given her a de-glam avatar, but this red Oscar De La Renta gown is just the opposite.
It's just that… someone's done it before, a very famous someone. George Clooney's better half Amal Clooney wore a similar Martin Margiela creation to the MET Gala 2015, China: Through The Looking Glass. While we failed to see the "Chinese black tie" reference in her outfit, she looked nothing short of beeyoootiful! The big question is: Who wore it better?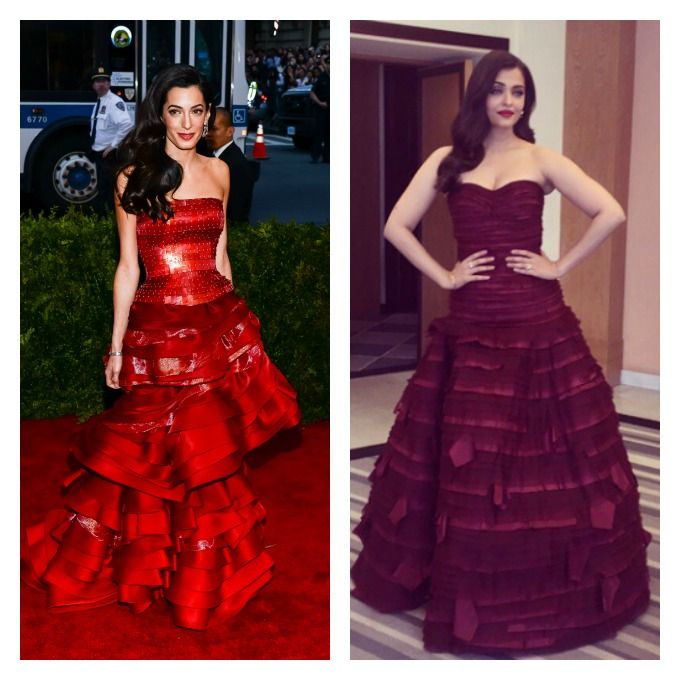 Okay, wait… they look so damn similar. Even their hair falls the same way and they're working that red lip. Amal's dress is like a brighter, shinier version of Aishwarya's maroon number. And if you can't decide which one of these flawless women wore the look better, I've got the answer.
Yup, it's the dancing lady emoji! Crazy, right? And she's rocking some side swept hair too! If you're wondering why there's three of them, it's because last month we drew the same comparison to Blake Lively's sexy red dress. I just think the comparison with Amal & Aish's ruffled dresses are much more fitting.
Do you think designers are maybe drawing inspiration from emojis :P? Let us know in the comments below.