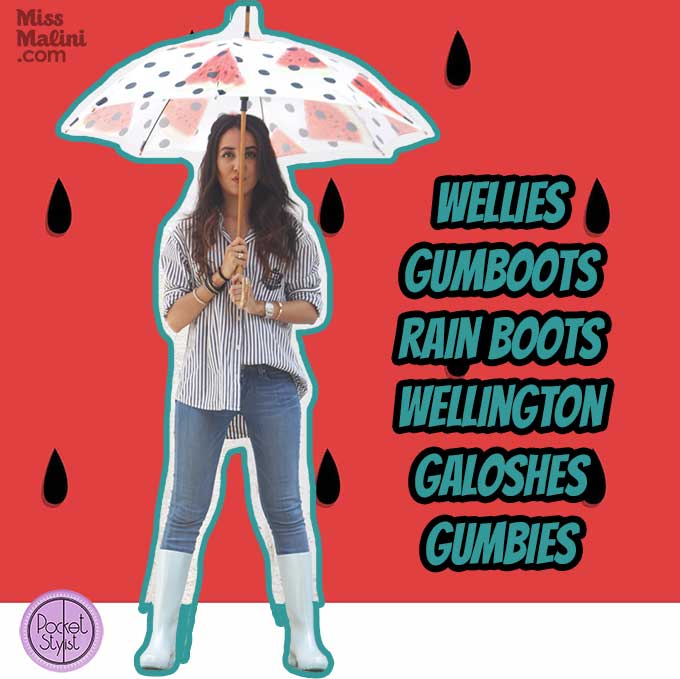 All these years I've lived in Mumbai, I've never owned a pair of gumboots until now. If you lived in a city like London or New York, you'd own boots and jackets because it's cold and you need it. But here, when it rains enough to drown the city, not a lot of people wear gumboots. So after contemplating it for years, I finally went ahead and KASH girl Sheefa and I bought identical pairs of wellies – yep, they have a lot of names! I picked a minty blue shade, because you need something cheerful in the dreadful storms. They magically matched with all my favourite rain clothes too, take a look…
When it rains, the first piece of clothing I run to is a pair of jeans. Now that I have my gumboots, they fit inside perfectly. A half-tucked stripy shirt keeps the rain off your body and really, you can't go wrong with the look.
The funnest look to pair with gumbies is a dress. Keep it a neutral shade with a vest added for layers and that's it. You don't need too many accessories because people will be looking at your shoes all through. I added some pins from Péro and Bhane to my jacket to add a little colour.
Sometimes you've got to let your inner sporty girl out. Don't worry, your galoshes match with those outfits too! Instead of tying a shirt around your waist, tie a rain jacket instead, functional and super cool! I got my white one from Besos and they're giving all MissMalini readers a cool 20% off with the code MMxBesos!
Now for the fun part, you can buy the same ASOS boots here and the umbrellas here! And don't forget, I'll be posting all my rain looks on my Facebook and Instagram pages too. Make sure you follow for outfit inspirations 🙂