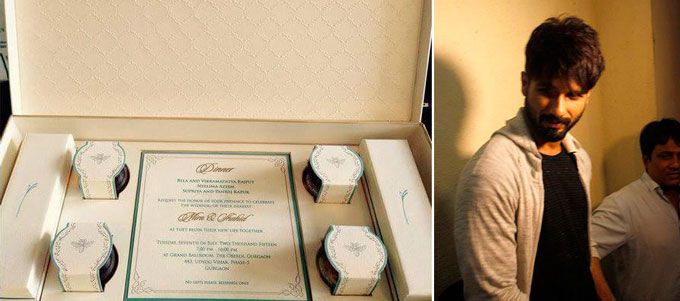 We've already shown you Shahid Kapoor and Mira Rajput's wedding card and boy, it's beautiful. But little do you know how the card came along. Earlier there were rumours about no wedding cards being made, but like they say, best things take time to come along.
According to a leading daily, the card has been designed by Ravish Kapoor. He is the same designer who designed the invitations for IIFA this year. Ravish revealed how he met Shahid at IIFA and that's when they started talking about the wedding card. And guess what? He also revealed some really sweet details about how Sasha contributed to designing the card.
He said:
Shahid was very particular about everything – font, colour. He doesn't like Gold and he had told us to use minimum of Gold. So if you notice, we have written only his and Mira's names in Gold. Then, he was the one who suggested us to keep tea in the box. His father Pankaj ji is like a connoiseur of tea, so we discussed with him too. When we were designing the card, that day only he told us. 'Both are my mothers and both names should be there.' He also said Neelima ji's name should be above and then Supriya ji and then Pankaj ji. In fact, earlier we had planned to design a logo and place it near peacock on the front cover. So I kept "S" above "M". He didn't like it. He said, "Either 'S' and 'M' should be at the same level, or 'M' should be above.
Aww!
Need a reminder of what the card looks like? Here:
I'm sure Mira can't thank her stars enough 🙂 We wish you all the luck for your wedding!