Yup, it has happened! We told you earlier that Shahid Kapoor and Mira Rajput tied the knot this morning, and now a picture has made its way online from their wedding ceremony. Take a look below: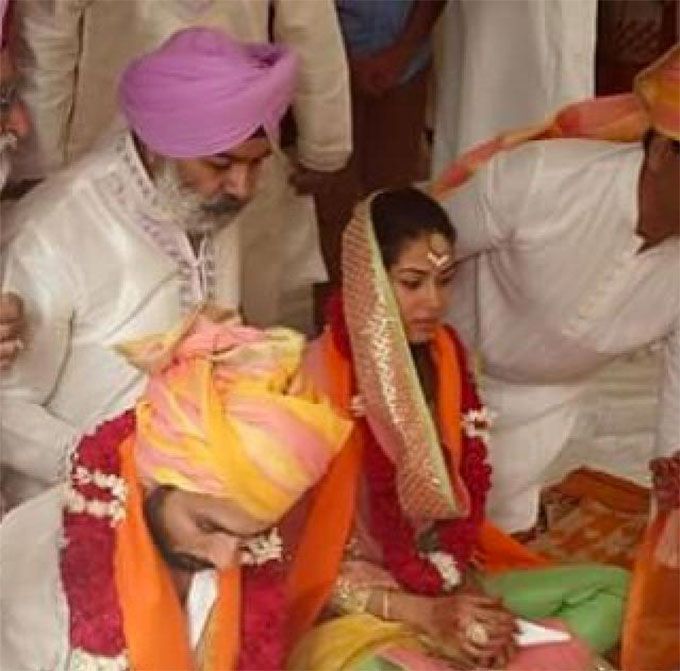 And yesterday, we saw a photo from their Sangeet ceremony. There are very few photos out from their functions (see some pictures here), so it's clear they're keeping it all under wraps. Hopefully, we'll see more during their reception tonight.
Here's congratulating the couple and wishing them a happy married life!
More Shahid and Mira stories!
Just In: Shahid Kapoor & Mira Rajput Are Now Married. Here Are The Details!
Photo Diary: Shahid Kapoor & Mira Rajput's Haldi And Kaleera Ceremony!
WOAH! You Have To See Shahid Kapoor And Mira Rajput's Wedding Venue Because It's Beautiful!
Airport Spotting: Shahid Kapoor Leaves For Delhi For His Wedding
Aww! THIS Is How Shahid Kapoor Designed His Own Wedding Card
10 Very Real, Very Depressing Thoughts Every Fangirl Has Had About Shahid Kapoor's Upcoming Wedding
Can You Guess Mira Rajput's Adorable Name For Shahid Kapoor? Hint: It Rhymes With Ladoo!
Here's What Shahid Kapoor & Mira Rajput Will Be Wearing On Their Wedding Day!