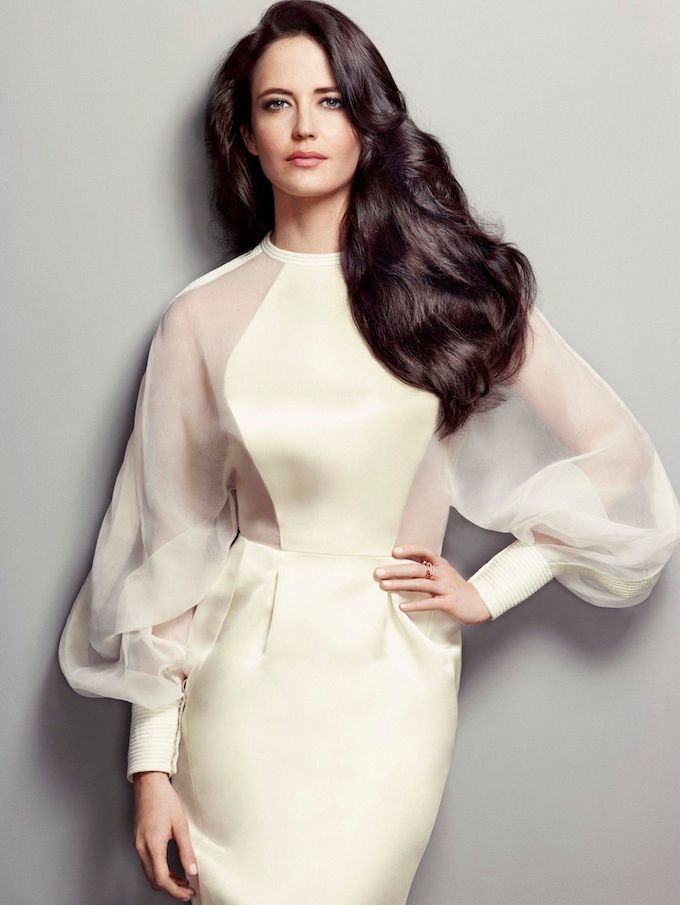 She's got dark hair and mesmerizing blue eyes: Eva Green know how to captivate an audience, whether she's playing a Bond girl, a dark Tim Burton character, or a very gloomy Vanessa Ives on Penny Dreadful. There's a sense of mystery to her beauty, an essence I try to decode in this candid chat with L'Oréal Professionnel's new international spokesperson.
1) How important is the hair to an overall look?
Everything. I mean, skin, of course, is important, but a hairdo can define who you are and what you look like. For me, as an actor… it's major. It defines the character. It helps you define the role. In everyday life, I'm terrible with my hair. I can't do anything, so I let it down. It's very straight, so a side-parting is all. If you go to the hairdresser, it makes you feel confident. Good hair makes you feel confident.
2) How does it feel to represent a brand like L'Oréal Professionnel?
It's such a cool, iconic brand. Since I was very little I've seen L'Oréal Professionnel products at hair salons. It's quite a weird feeling, but I'm happy that I'm now on board!
3) Could you describe you style in one word?
Everything.
(I've got to say, I've never received an answer like that before and it just goes to show how versatile the actress really is.)
4) Why did you choose to go from being blonde to black at a young age?
I wasn't exactly blonde. I was in the middle and I don't like being in the middle. I feel like my mom had dark hair, pale skin, and blue eyes, so I thought let's try that. I didn't tell my mother. I went to the hairdresser when I was 15 and dyed my hair. It was a strong statement.
5) What is your favorite feature?
Oh god, I don't know. My hands.
5) Three beauty essentials that you always have in your bag?
Contact lenses, because I'm completely blind, a fragrance (Santa Maria Novella), and red lipstick.
6) Have you ever been to India?
My god, no! It's my dream to go there. I was in Sri Lanka last year, but I couldn't make it to India.
7) Is there something you'd like to do when you're here?
I need 3 months to explore your country. But yeah, I want to go to Rajasthan. There are so many places… it's another world: the spices, the colors. It's a whole other world. It's magical.
8) What is your favorite red carpet hairdo?
I would say the safest for me would be side-parting and hair on one side. It's always a safe option.
Eva leaves us wanting more! We're excited to see what she and L'Oréal Professionnel are going to do together.