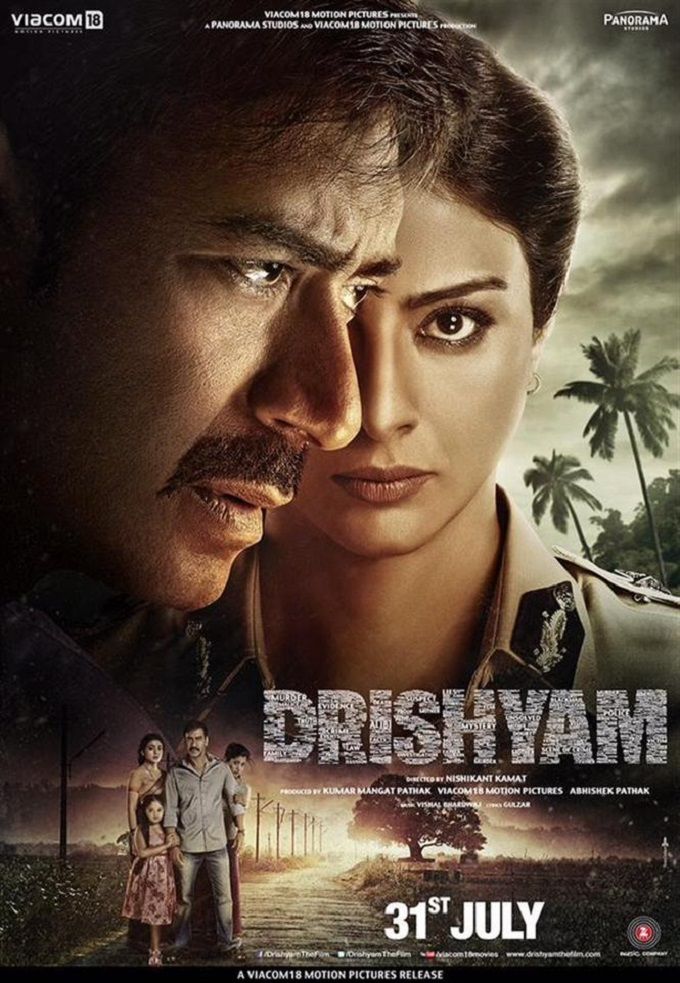 Remember the good old days when Bollywood movies would totally grip you in the first half and slowly undo every great thing they've done after the interval? I can slowly but surely see the trend change with films like Baahubali and now, Drishyam, having okay-ish beginnings but gripping endings and I'm all for it! Drishyam is a Hindi remake of the successful Malyalam movie with the same name featuring Ajay Degvn in the role played originally by Mohanlal. It's his performance that totally makes the movie worth your popcorn (hey, popcorn is expensive okay).
The premise is interesting- an orphaned and uneducated Vijay (played by Ajay) runs a simple cable TV business, frequents the same local restaurant and helps people out with free legal advice he has seen on television. Vijay watches everything, from Sunny Leone's songs to CID and often stays the night at his office instead of coming home. That doesn't mar the fact that he loves his family to death and it's obvious that his wife and daughters have him tied around their little fingers. The trouble begins when Vijay and Nandini's (Shriya Saran) elder daughter start getting harrassed by a boy from an influental family. The boy is Inspector General Meera Deshmukh's (Tabu) only son and the story picks up pace when a freak accident involving her son changes everything.
Drishyam is not a suspense, the audience is completely aware of everything that is happening, it's more of a thriller, because the audience doesn't know how the protagonists will get away with the things they've done. No one is really the bad guy here (except that Inspector Gaitonde, he's horrible). Everyone, including Vijay and Nandini's younger daughter have shades of grey, some darker than the others. All the actors have done a decent job, but as expected, it's Ajay and Tabu who shine bright in meaty roles like this. It's a refreshing change to see Ajay do a movie that is not Singham or *gasp* Action Jackson and Tabu's glorious streak continues (we have conviniently forgotten Jai Ho!). The first half, as I've said before is strictly okay but seeing how the story goes, I understand it was important for director Nishikant Kamat to establish a few core points. My favourite moments begin as Tabu enters the frame and hungrily begins the investigation regarding her son's whereabouts, the climax is brilliant and the ending will bring a smile to your face. I won't deny that the plot borrows heavily from Kiego Higashino's The Devotion of Suspect X, but that is something Ekta Kapoor and the director of the Malyalam Drishyam Jeethu Joseph have to talk about.
The background score is quite jarring. Every 'funny' interaction between Vijay and his office boy has that standard 'comedy' background music so that the viewers understand how hilarious the scene is. Same with the dramatic moments, when we see Tabu for the first time, the score goes many notches higher. Maybe the maker is trying to tell us that Tabu's sheer presence can give us a hearing disability, I really don't know. Thankfully, the songs are played in the background and a token item number is not put in to interrupt the taut screenplay, the soothing cinematography makes Goa come alive on screen.
This family obviously does not consist of Sooraj Barjatya's happy, shiny people, nor is it as dysfunctional as Zoya Akhtar's characters. It's a simple middle-class family who stick together through thick and thin with their father, Vijay as the anchor that keeps them from sinking. Vijay is a righteous, street smart and an intelligent man who puts his family above everything else. Don Vito Corleone rightly said – A man who doesn't spend time with his family can never be a real man; in this case – Vijay Salgaonkar is definitely a real man.
Rating: ***