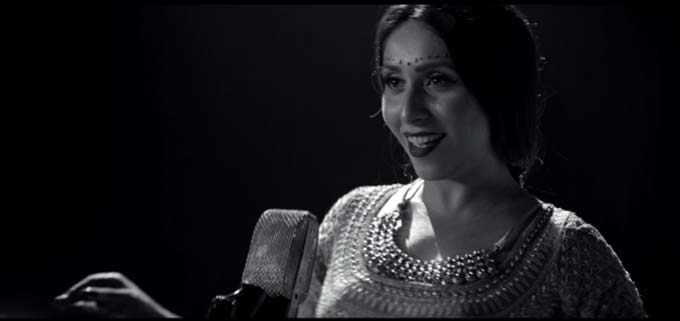 Singer Neha Bhasin is not a regular girl, she's a cool girl. She has never followed the norm and often takes pride in taking the road less travelled. That's what her soon to be released single Akh Kashni is all about. Find out what she wants to share.
Dear Fans,
I'm writing this to share my thoughts on how society is extremely judgemental and how it's harming the individual persona in every sense because the true identity of a person is lost in the process of pleasing everyone else. This has also lead to our thought process on the video of my song ''Akh Kashni''. My Parents often worried about me since I was the girl who followed her heart and hence was called 'fast' by people around me. Even my teachers didn't spare me and often targeted me because I was never afraid to speak my mind. My individuality got me in trouble all the time. I am the girl who wore orange pants and Dalmatian shoes to my Viva audition, I wore leather pants to college, I paired yellow with orange, I wear branded clothes with street wear. I refused to succumb to what's in what's out even on the Red Carpet. Till date, fashion blogs think I am a fashion Faux Paus. But the truth is maybe I am. And maybe I am ok with that. The point is, being so courageous I still got bullied by norms of society and of my industry and went in a shell for four years as I felt I was not good enough. All I heard was, Neha you aren't sexy enough, not skinny enough, and voice is different but not good enough. Nothing was enough till that little dying voice inside me silenced the noises and stopped this circus of humanity.
To be yourself must one pay a price? Today, as much as it irks my family and some fans, I still continue to colour my hair the colours I want and I sing what I like while I accept my hour glass body and more often than not celebrate it and flaunt it. I do what I do because I like it and not because it will make me more popular, controversial or because I want attention, but because that is the expression of my true self and I'm not going to suppress it for anyone because wearing shorts or bikini is not an Indian cultural abomination to me. Less clothes or more clothes, it is a choice not a benchmark for right or wrong.
Many sisters of mine were asked to leave their jobs post marriage. They had to become the accepted bahu rani in salwaar kameez, cook meals and look "MARRIED" from the morning after their doli. To sacrifice self is not tradition and those who say it are clearly bullies or know no better. Love and non-judgement are the only tradition I practice and promote!
I would like to end this letter by saying that I want all my fans to be truly free to express themselves in whichever way they feel comfortable while also keeping in mind that you cannot be judgemental about someone else's choice.
P.S I love all of my fans and supporters for which I am grateful and for the support I have received which has helped me reach where I am today, so do watch my video "Akh Kashni", it's giving out a message similar to this letter.