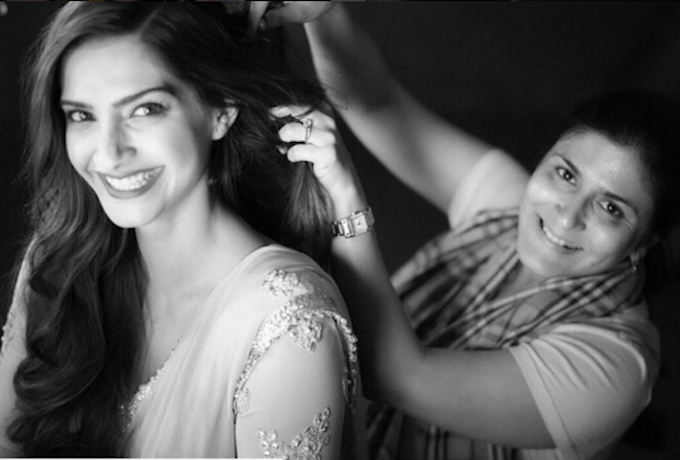 1) Prem Ratan Dhan Payo is on the verge of release and you've worked with Sonam Kapoor for the promotions, as well as the movie. So, what can you tell us about her character?
She's playing a princess in the film, so her look is very beautiful. It was so much fun for me, because I got to play with a lot of looks. We've done these gorgeous vintage eyeliners paired with almost every shade of lipstick from nude to pink to red and orange. It's stunning and she looks ethereal in the film. I'm getting good feedback.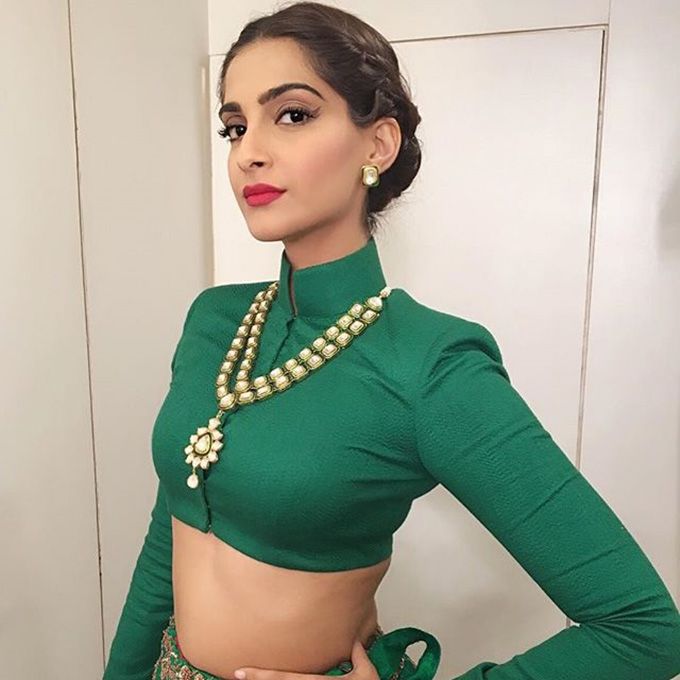 2) So, you would say it has an old-world charm?
Yes, very Maharani Gayatri Devi.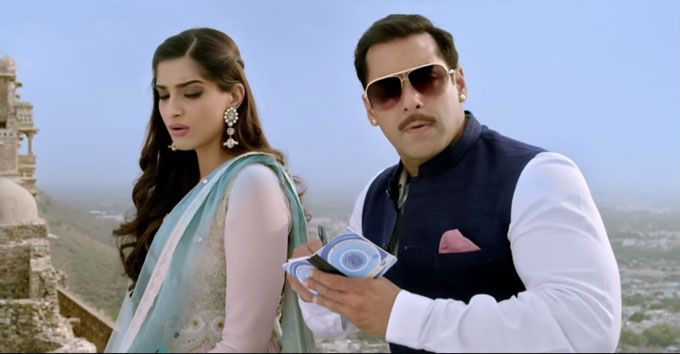 3) But you also said orange lip? How does a princess do bright orange lips and still make it look elegant?
If you see the song, she's wearing a lovely lime green lehenga. It would have done normal to do dark eyes and a liner, but we wanted to play with the look more, so we did a clean face with stunning lips! We wanted to show every Indian girl that she can do that too and it's normal.
4) Would you say Sonam is open to experimentation?
Yes, she's very experimental. She's a dream-come-true for a makeup artist.
5) What about the promotions? Her clothes seem very princess-like and royal!
I think she wants to stay in character for promos. She is playing a princess and her promo-look need to live up to that standard, including her hair and makeup.
6) Do you think other Bollywood stars are getting experimental too? I feel makeup has started to play a bigger role when it comes to film characters, as well.
Oh yeah, when I started 13 years ago it wasn't so big. It was just about looking glamorous and spectacular on skin. People didn't understand that much color on the face of the herione. It was more dark eyes, contouring, and nude lips. But today, a lot of actresses and actors are experimenting with color and makeup.
7) You started 13 years ago! How was the journey?
It's been a long journey and it makes me happy to look back. I used to study Economics and Commerce at Jai Hind college and I was pretty free, so my mom was bored of seeing me at home all the time. She asked me to go out and do something. I was good at studies, but I decided that since I knew how to cut hair a little bit without training and I loved it, why not try that out. Coleen Khan was a good friend of my Maasi's, so I would assist her after college. She groomed me and recommended a course with Marvie Ann Beck. That's where I fell in love with makeup. I went to London and New York to study it further. When I came back, I started with films straight away. My first project was doing hair for Main Hoon Na. I've been lucky with amazing work ever since.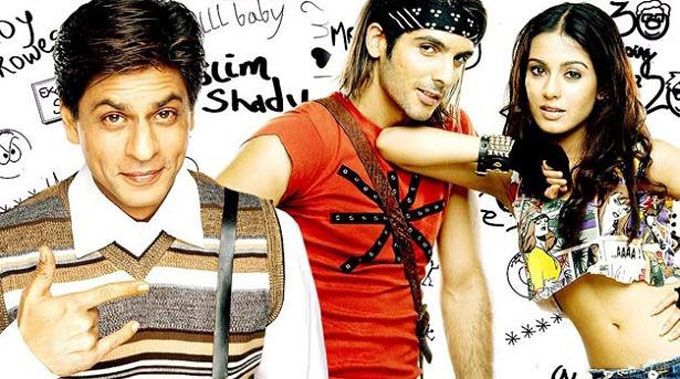 8) People know you as Sonam Kapoor's makeup artist, but I know you've worked with other stars. Tell us about that.
Yes, I've worked with a lot of stars: Preity Zinta, Sameera Reddy, Deepika Padukone, Anushka Sharma, Athiya Shetty, Alia Bhatt. I've been fortunate enough to work with so many stars. I've also worked with Kajol and Twinkle Khanna. For me, they're so different and I like finding their unique features and making them look beautiful as who they are.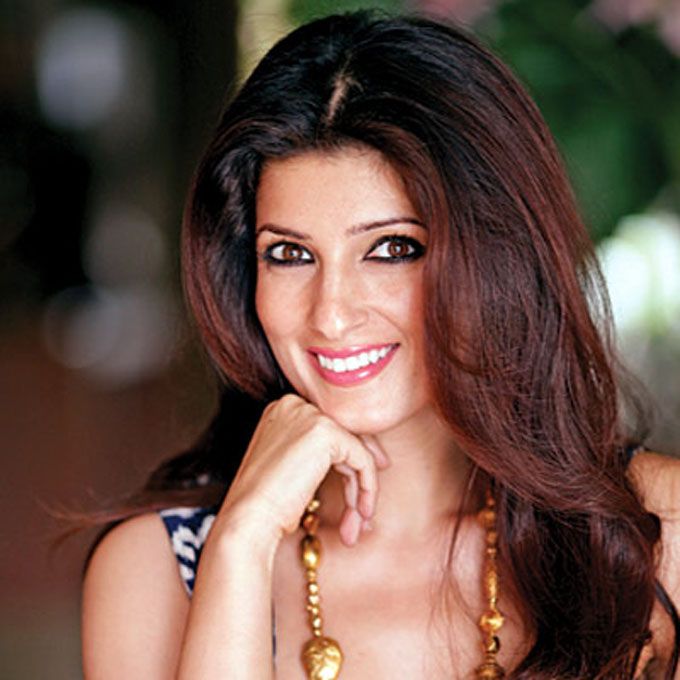 9) People are opening up to so many different kinds of looks, right? It's not that they all just want a contoured face!
Not at all, they're very open. There's so many types of makeup, but there are so many different application methods too! There's foundation applied with hands, airbrush foundation, cream foundation, you name it and it's there in India already. We're growing so fast as a country that as an artist, I need to be on my A game.
10) Sometimes, people recommend products and it doesn't always hold true to everyone. Some products may be really bad, but then a lot of products vary and have different results from person to person. Do you believe that?
Yes, it's really about figuring out what suits you. It's the same with skincare and makeup. Like, some colors suit certain skin tones, so you need to experiment and try. Good skin is 90% of the battle won.
11) Is that why actresses that you work with can be so experimental?
Yes, they're giving us a wonderful canvas to work with. It's easier to create art on a clean, blank canvas that is looked after. It's best when just a little foundation goes a long way.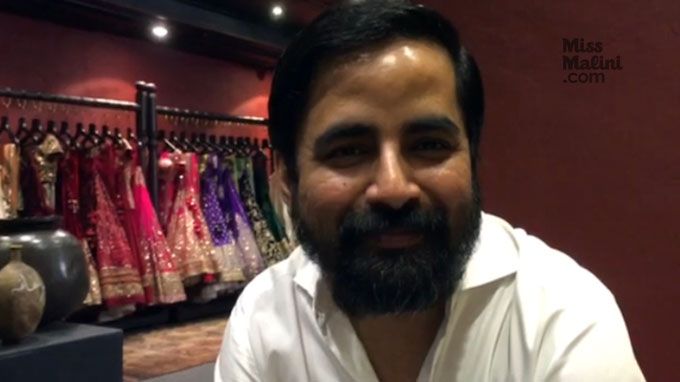 12) Sabyasachi told me in a recent interview that this free child trend, the '70s thought-process is really coming back with fashion, hair, and makeup. Do you agree?
Yes, you have to be yourself. That's beautiful. Find what works for you because trends come and go and you can experiment, but be happy with what you like and what suits you.
13) Doesn't that make it a great time to be in this industry?
It is! It is. Ten years ago, if I was doing a shoot the eyebrows had to be so clean. Today, it's all about au natural. It's about not being predictable.
14) That being said, if you could go back in time, which era would you go back to? Which era has your favorite hair and makeup?
Oh my god, the '50s, of course! It was a dream. Everyone had those beautiful curls, bobs, and nobody does that in daily life anymore, unless it's a shoot. Every woman would put extra effort into putting rollers in their hair at night. It was flawless!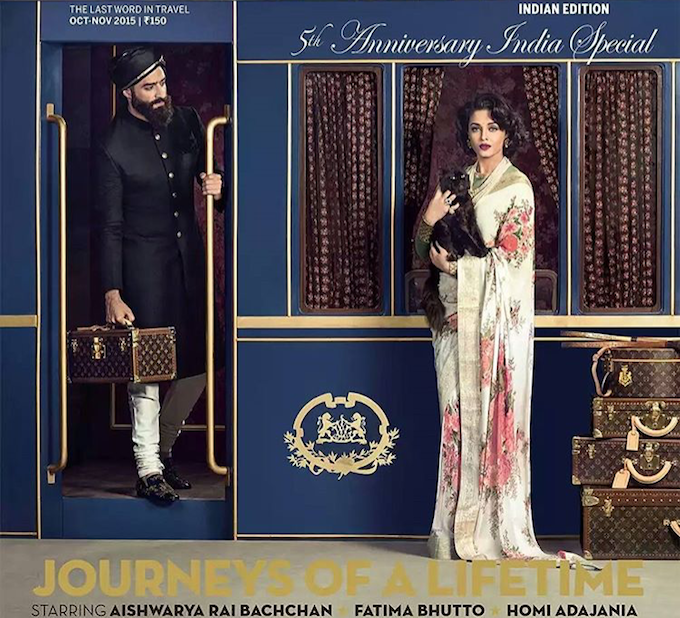 15) Not the filter kind?
Not the filter kind!
16) When is the last time you did that kind of makeup?
I did a more Indian version of it for Prem Ratan Dhan Payo.
17) Let's close with some advice. If someone is starting out their makeup vanity and building it fresh… what brushes are absolutely necessary for someone who is clueless?
One really good foundation brush, a buffing powder brush – this makes the foundation look better when you buff it in. You need a fan brush, when you're doing eye makeup and there is excess falling on your face… just brush it off lightly. For the eyes, you need a flat brush to pack on the color. You need a round-tip brush for smudging kajal or liner. Then, you need a small angle brush that's fluffy to contour your eyelid. You also need an eyeliner brush, a lip brush to make lipstick more precise. Then there's a soft highlighter brush, and a blush brush. These are the key brushes to have.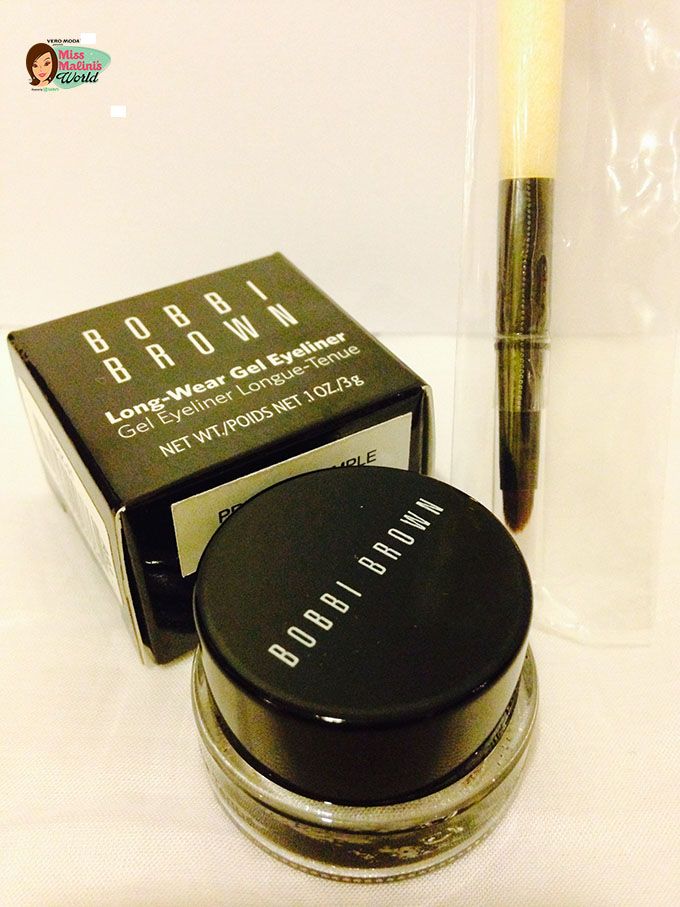 18) Last question, how do you get the eyeliner right? It takes forever!
You know, it's about the right product. It's not about the cheapest or most expensive product… just the right product. I'm a fan of gel liner. I start on three-fourths of the eyelid and go inside later. The inside should be thin and more delicate. Put your finger on your brow bone and lift up for a dramatic wing, if you pull outwards, you get a long line. Also, you can always use a cotton bud to clean the mess.