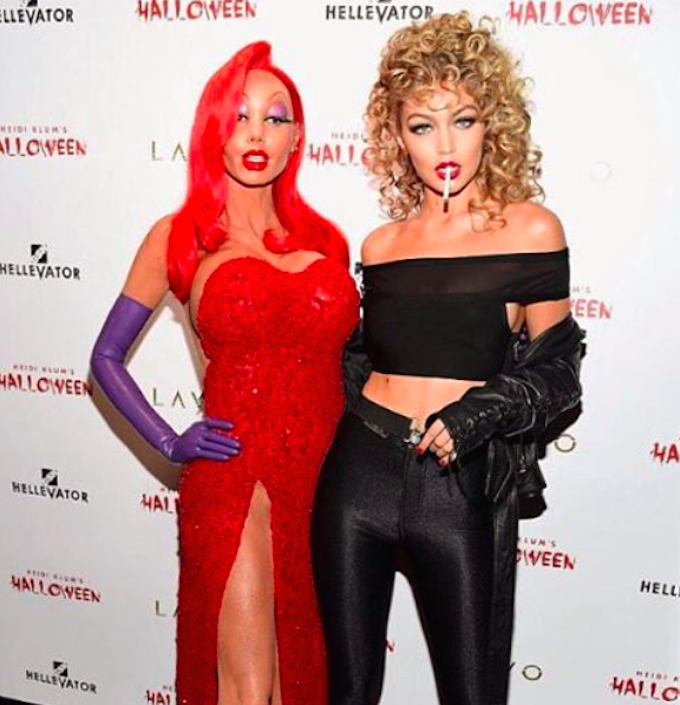 We told you how Sonam Kapoor and Jacqueline Fernandez dressed up this Halloween. I mean, what's Halloween if there are no insane/over-the-top costumes? This year, not only did our Bollywood stars get out in their creepiest and most memorable outfits, but Hollywood threw some amazing parties where our favourite A-listers dressed as Hollywood icons, fashion icons, scary villains and so much more! Scroll down to see a few that got our attention.
1. Heidi Klum
Heidi Klum hands down won the prize for the best costume! With all her sneak peak Instagram images we'd have never thought she'd dress up as Jessica Rabbit!
2. Kendall Jenner
How did Karl Lagerfeld get so sexy? Oops, it's only Kendall Jenner!
3. Gigi Hadid
Gigi channeled Sandy from Grease perfectly! And looked super hot while doing so.
4. Fergie & Josh Duhamel
Josh looked amazing while channeling Chanel mastermind, Karl Lagerfeld while wifey, Fergie dressed up as his beloved cat, Choupette! How cute is that?!
5. Alessandra Ambrosio
If I'm going to hell, I'd want to look like that! Wouldn't you?
6. Kylie Jenner
King Kylie? Nah, more like Ninja Kylie!
7. Beyoncé & Jay Z
Queen, King and adorable Blue Ivy. This picture is perfection!
8. Jennifer Lopez & Casper Smart
How hot are these skeletons?!
9. Channing Tatum
We welcome, Channing The Pooh!
10. Kim Kardashian
Mrs West re-wore her Met Gala costume for Halloween. And it was amazing!
Halloween may be over, but these celebrity costumes will forever be etched in our memory.
Which one's your favourite? Pick a costume and dress up to show some love. Or you know… let us know in the comments below.