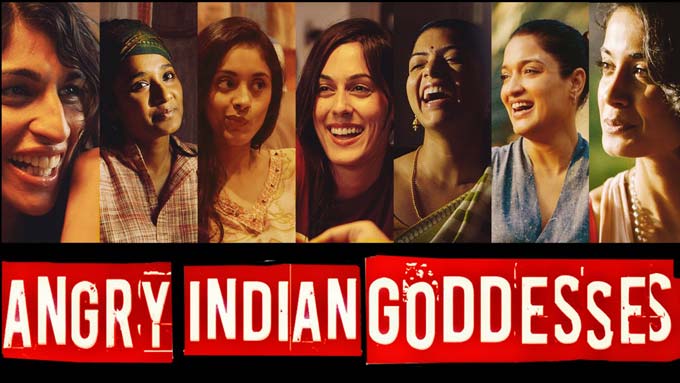 Listen to this while you read:
I am writing this review with Angry Indian Goddesses' song Kattey blasting from the speakers. One, because it's an amazing song and two, because I don't want to shake off the impact of the film just yet. I cried in a film after really long – not teared up – cried. You know why? Because Angry Indian Goddess is not only about the women who essayed the lead roles fabulously – it's about about you, it's about me, it's about all of us.
The film opens with 6 women combating misogyny in their respective lives (in ways that all of us want to, might I add!) and moves into a scenario where all of them meet in Goa for their friend Freida's wedding. The wedding announcement is a surprise and the mystery continues as Freida refuses to reveal who she is marrying till much later in the film.
It seemed like Sarah Jane Dias, Sandhya Mridul, Anushka Manchada, Pavleen Gujral, Rajshri Deshpande, Amit Magera, Tannishtha Chatterjee and Sandhya Mridul were born to play these parts. I don't know, maybe they are these parts – like I said, it's about all of us. It celebrates female friendship (a first in Bollywood) in a way that will literally remind you of every single conversation you've had with your friends. The movie depicts and reverses the male gaze with as much ease as it subtly points out the fact that (these) women, in fact, are not man haters.
There is genuine warmth in these women and in the relationship they share with each other. The chemistry is supported by poignant storytelling by Pan Nalin and that's what gets you to emotionally invest in these characters almost immediately.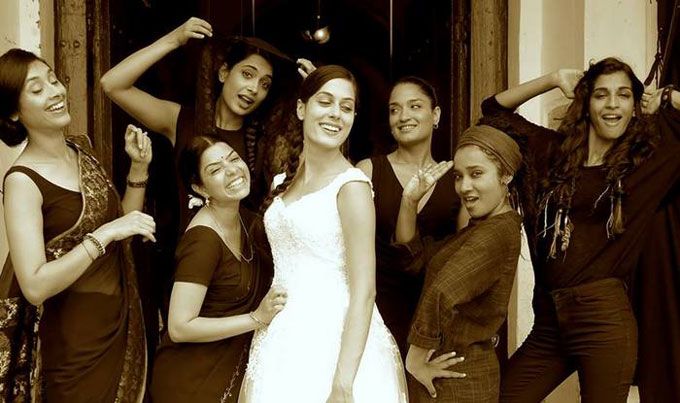 My problems with the film? The f*cking censorship! Random "bad words" were muted and a painting of Goddess Kali was blurred. Other than that: the climax. It's not like it didn't manage to evoke the desired emotion from the audience. It's just that it was too much of cliche. Nalin wouldn't have gotten away with it if he hadn't scripted the characters as robustly as he has. But in his defense, maybe he went OTT to highlight the problem of our mindset. And you know what the problem with our mindset is? That I almost wrote "Nalin understands women, despite being a man."
AIG is one of the very few movies of the year that really pulled at my heartstrings. I just want to take this moment to individually celebrate the acting prowess and screen presence of all the women in the film. I tried over and over to pick a favourite with zero success. Add to that, amazing music, some breathtaking shots and crisp direction – you have a winner!
All in all, I don't think it's the kind of film I'll like to rate at all. But if I have to, I will give it 5 stars any day of the week. And I feel the reason for that is that AIG depicts women as they are – fun, fierce, flawed but fabulous!
Rating *****