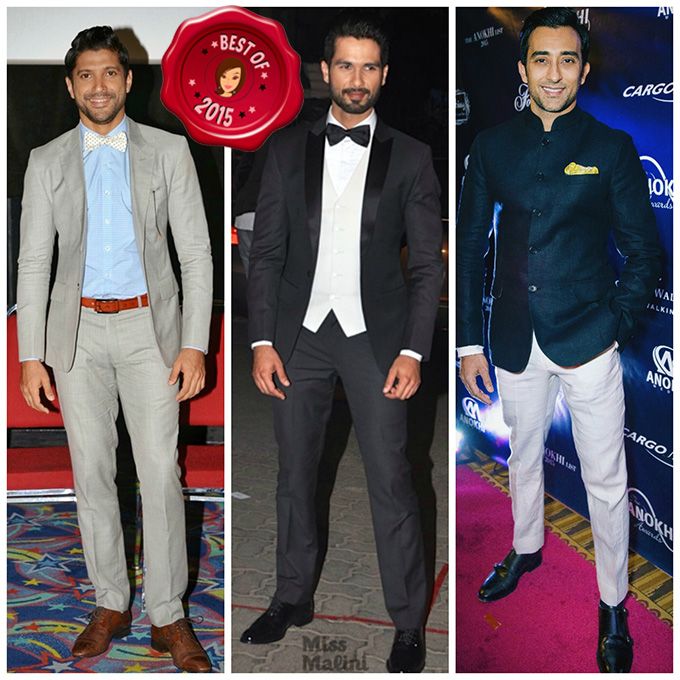 Being perfectly well-dressed gives one a tranquillity that no religion can bestow, Ralph Waldo Emerson, great American philosopher (among other things!), once said. Had he been around still, he'd remark that these messrs hit that level with these formal outfits. I'd like to think. In other words, here's our edit of the Bollywood menfolk who got it bang on when it came to suiting up/formal dressing in 2015 — hop on!
Shahid Kapoor at the Filmfare Awards
Shahid Kapoor was cleaning up the awards for his sublime take as Haider last year, so when it came to Filmfare Awards he arrived kitted out like he knew he was going to win. Everything about this Kunal Rawal outfit was on point — the epitome of sophistication and yet fresh and modern.
Ranveer Singh at Forbes' 30 Under 30 event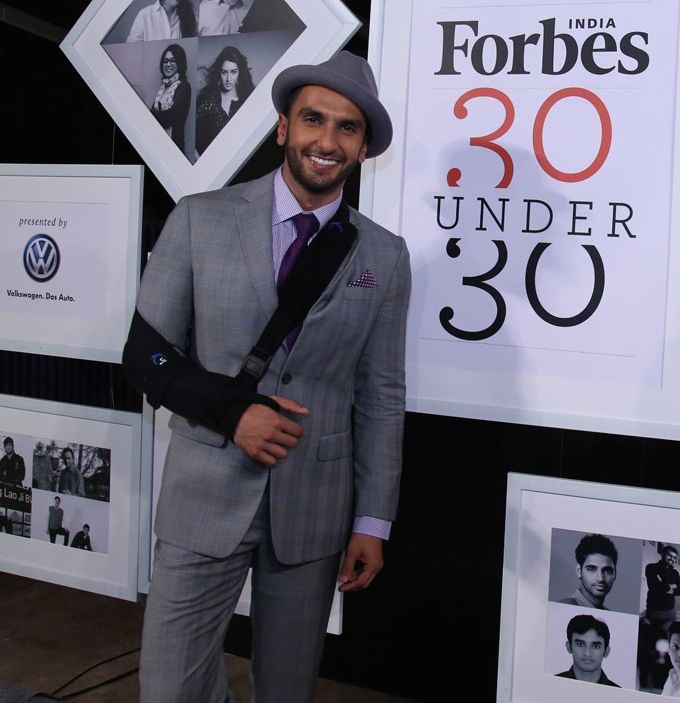 One to always go for the attention-seeking, it's nice, when, on the odd occasion, Ranveer Singh decides to rein it in. For the Forbes India 30 under 30 event, he wore an impeccable grey windowpane suit by Brooks Brothers that was accented with all sorts of purple. It's an outfit that works fantastically — thanks to its fit and the harmonious colour combo.
Anil Kapoor at Sanjay Hinduja and Anu Mahtani pre-wedding bash
Is there a more dashing sight than a man in a well-cut sherwani? There is… ? You think so? In that case, I present to you… Anil Kapoor at Sanjay Hinduja and Anu Mahtani's pre-wedding bash. Clad in a midnight blue sherwani by Rajesh Pratap Singh with white churidaars, he looked preposterously elegant that night.
As impressive as his decision was to go down the sherwani route — and not the suit way — and that too in such a lush hue, it was his judgment to punctuate the sea of blue with a contrasting pocket square that elevated the look to otherworldly level. Mr Kapoor, my hat is well and truly off. Soz, Sonam, Rhea and Sunita, try as you may but it's your old man/better half who takes the mantle of the most stylish Kapoor 🙂
Farhan Akhtar at the Dil Dhadakne Do screening during IIFA
Farhan Akhtar's get-up at the Dil Dhadakne Do screening during the IIFA weekend in Kuala Lumpur was an exhibition of taste, restraint and flair.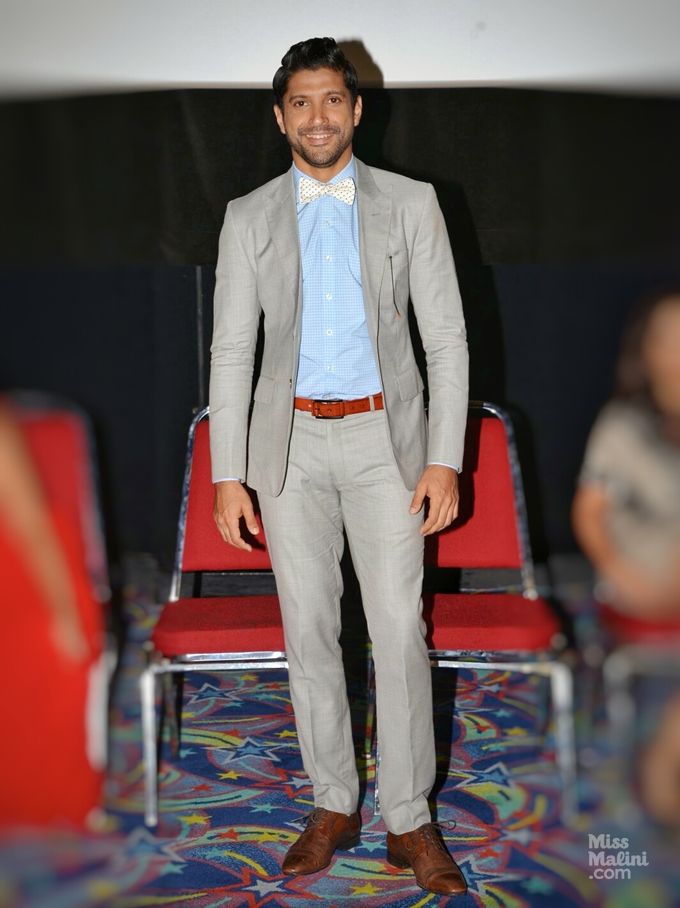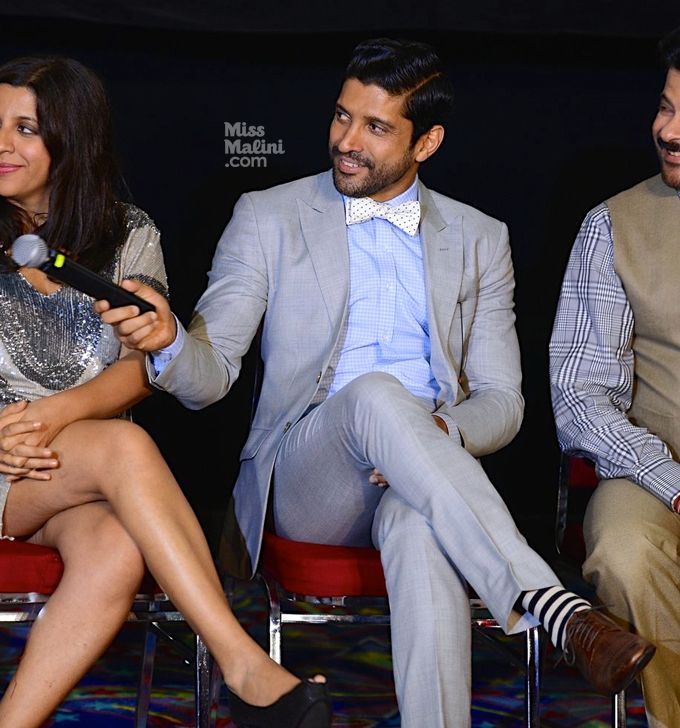 He had polka dots, micro checks and stripes on at once and none of it looked out of place. This was a coaching on how to do print-on-print without looking like a clown. Simply outstanding, this Govinda Mehta outfit was!
Imran Khan at the HT Mumbai's Most Stylish Awards
When it comes to black-tie dressing/formalwear, Imran Khan is on a whole other level altogether. He knows how a suit should fit, how to accessorise it and the etiquettes for wearing it.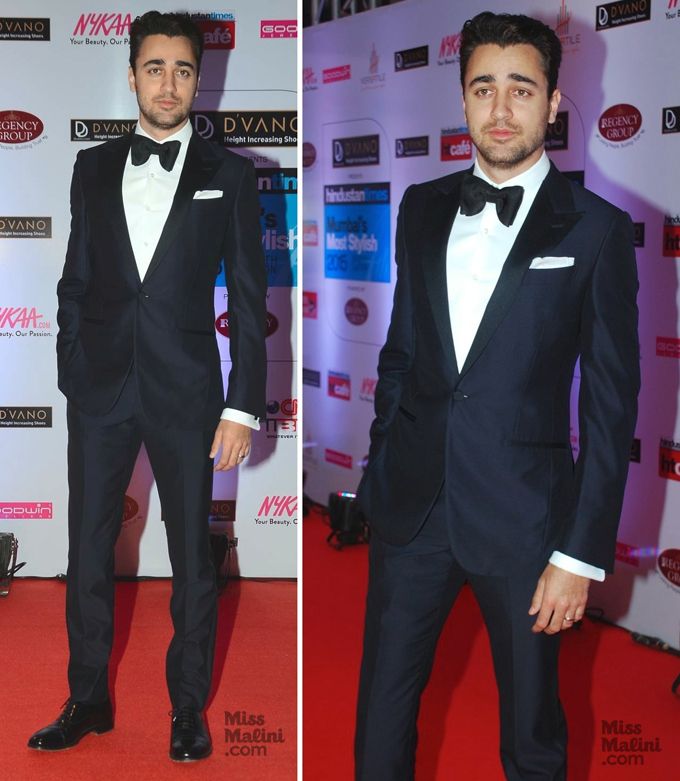 So no wonder then, that he was THE best dressed person at the HT's Mumbai's Most Stylish Awards — by a country mile. When there's a made-to-measure Zegna dinner suit in a lush midnight blue hue, crisp white shirt, self-fastened bow-tie (both by Tom Ford), impossibly shiny black patent cap-toe balmorals (by Herring), you just can't nitpick. Also, special mention to the Presidential style white pocket square, which added the final flourish to this incredible look. If the James Bond series was ever made in India, if…
Imran Khan at the Filmfare Glamour & Style Awards
Having said that, he can rebel with the dress code to a formal event if he fancies and still come up trumps. Take, for instance, his subversive take to black-tie dressing at the Absolut Elyx Filmfare Glamour & Style Awards.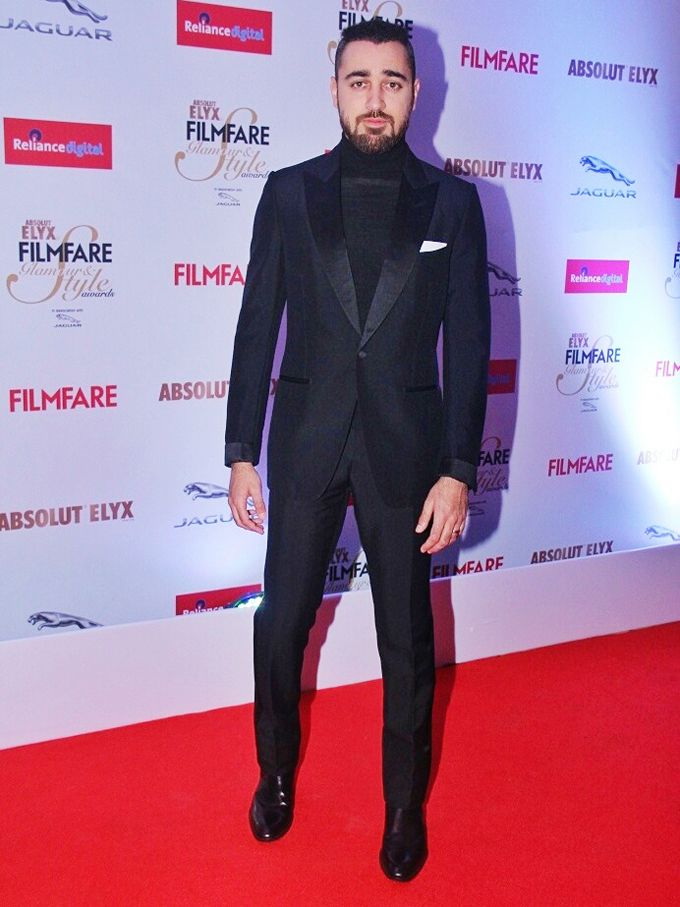 He ditched the bow-tie altogether and teamed his slim-fitting dinner suit with a roll-neck (both by Tom Ford), and before walking through the front door, got on a pair of uber-cool Saint Laurent jodhpur boots. This look was steeped in vintage rock 'n' roll swagger.
Imran Khan during Katti Batti promotions in Australia
Yeah, another Imran Khan entry! But what can I do when he turns up on the sets of an Australian talk show giving us a masterclass on how to mix and match items from your wardrobe to put together a winning look? He wore a khaki windowpane blazer by Corneliani, navy Tom Ford knitted tie, grey dress trousers by Ermenegildo Zegna and Herring 'Rushden II' mahogany brogues. All very disparate items but they looked so in sync.
Fawad Khan at the Filmfare Awards
It was established last year during the Khoobsurat promotion trail that Fawad Khan does not put a foot wrong when it comes to sartorial matters. And it was no different at the Filmfare Awards, which wrapped up the introductory chapter of his dream-like Bollywood travelogue.
Clad in a Dior Homme suit with pinstriped waistcoat, Giorgio Armani shirt, Louis Philippe tie, Akshata Bhojania pocket square, Dolce & Gabbana patent lace-ups and Tag Heuer gold and steel watch, he was dapper extraordinaire as he strutted up on stage to collect the best debut award. With everything slim and tailored to perfection, this is exactly how you do monochrome.
Aditya Roy Kapur at the Filmfare Glamour & Style Awards
One to always turn up in events not sharply-dressed, this dashing black-tie look of Aditya Roy Kapur at the Absolut Elyx Filmfare Glamour & Style Awards knocked us off our bean bags.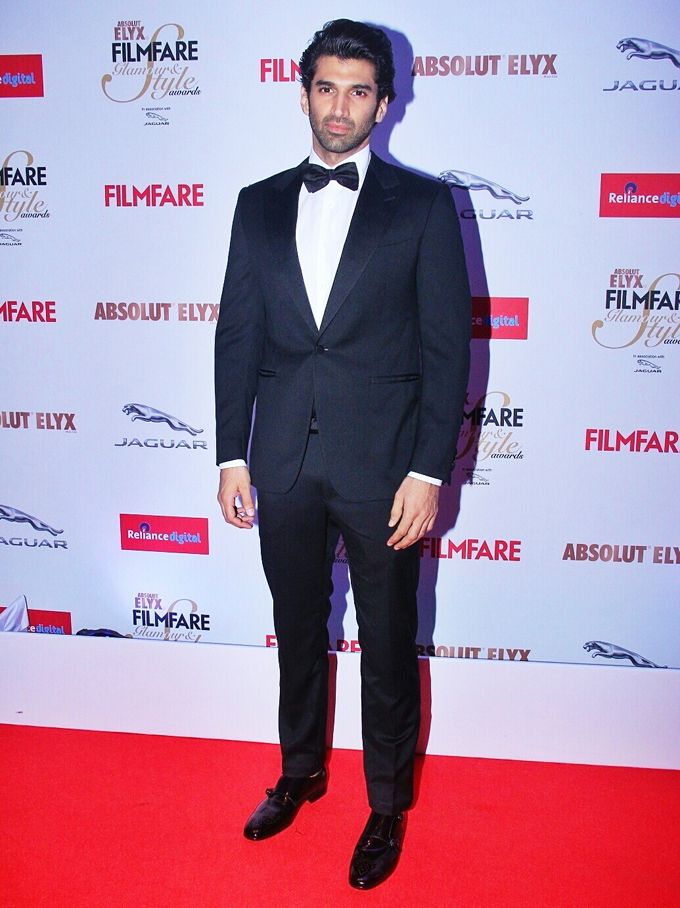 From the perfect fit of the dinner suit (by Zegna) through to the patent monk straps (by Tod's) and the cummerbund (by Canali) in between, this was one virtuoso sartorial outing. And special mention for the monk-straps, an anti-establishment alternative to the classic Oxfords. Ah, there's a still a hint of the old Aditya!
Mohit Marwah at the Filmfare Awards
Yeah, I'm one of the few hundred Boardwalk Empire fans around, so I totally looooved the 1920s throwback in Mohit Marwah's ensemble for the Filmfare Awards by way of the club collar shirt (by Armani, FYI) and the lapel chain, which, by the way, got a decidedly novel spin here. It was pinned to the tie! The immaculate fit of the suit and the Ferragamo double-monks helped the case here too.
Rahul Bose at the IIFA Awards
What good is a round-up of the best-dressed men without a mention of Mr Bose, aye?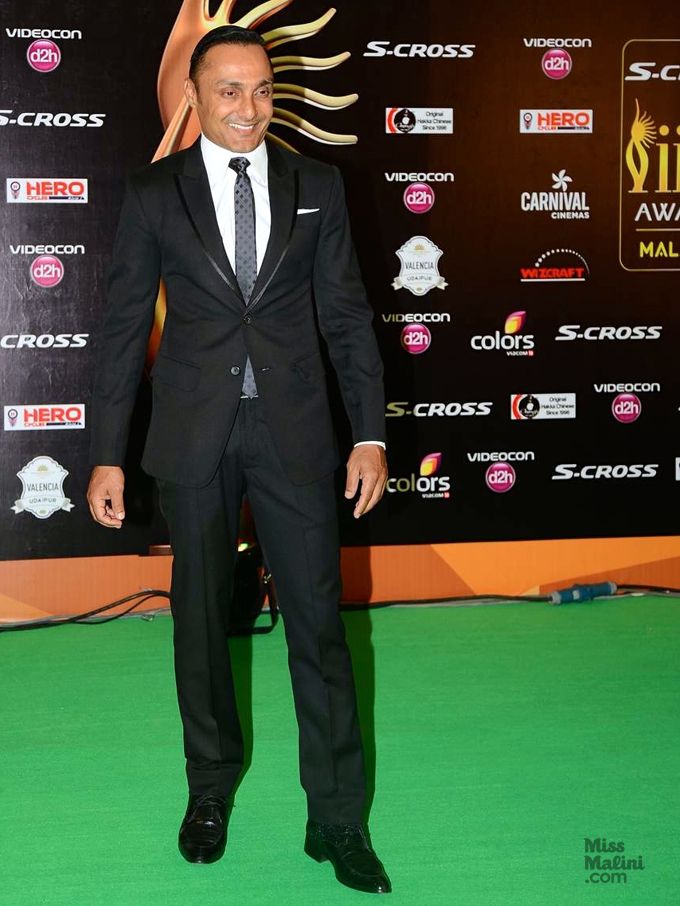 We expect nothing but perfection from him every time he suits up and this look of his at the IIFA Awards was no different. This is simplicity at its best!
Virat Kohli at the Vogue Beauty Awards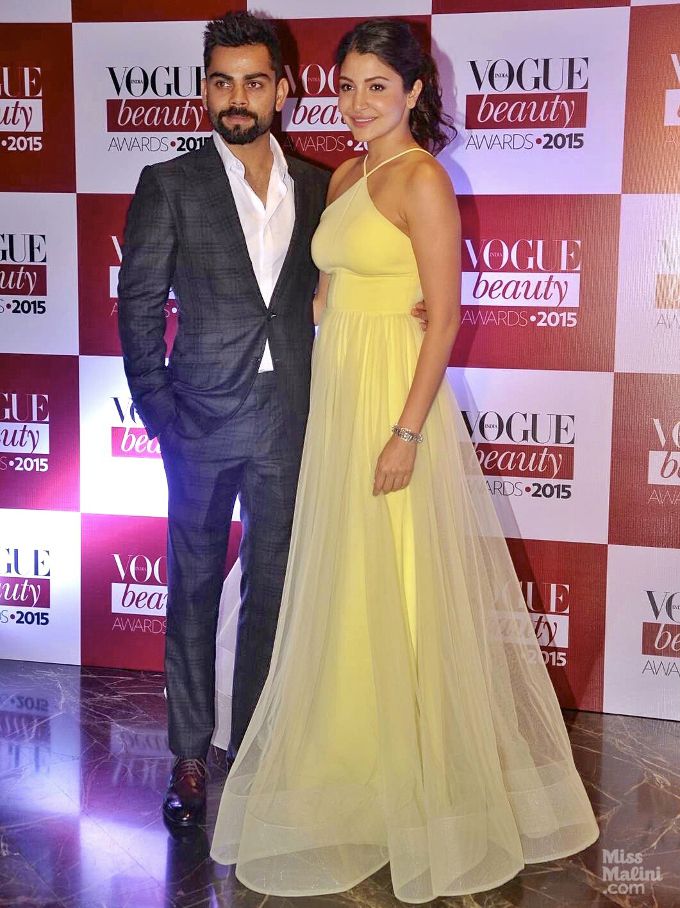 It's always tricky to dress for an event where your missus is getting the big award for the night. Go big and people would think you were trying to outshine her. Keep it simple and people would think you couldn't be arsed for it. You really can't win. Except Virat Kohli just did, with that rakish windowpane number by Anuj Madaan. The exaggerated peak lapel suit of yore was given a contemporary touch here by way of the windowpane fabric, slim cut and cropped trousers. It was smart, age-appropriate, interesting but not attention-hijacking.
Troy Costa at the GQ Best-Dressed Party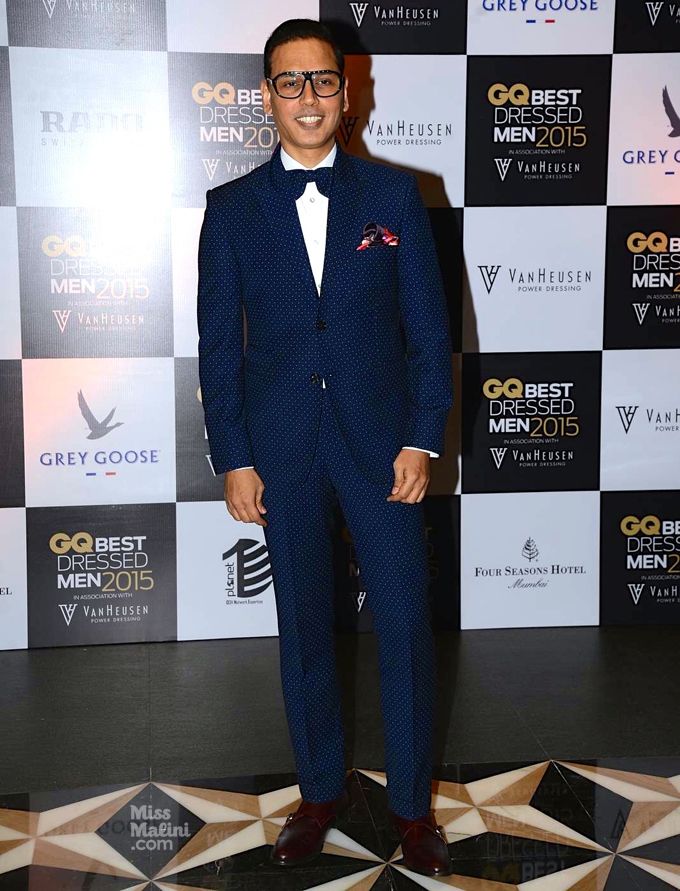 A nicely tailored quirky suit, topped off with a gorgeous pocket square by Troy Costa on Troy Costa — what's not to like, aye?
Akshay Kumar at the GQ Men Of The Year Awards
That textured dinner jacket was reason enough to get Akshay Kumar on this list, but those patent opera slippers simply made the case unassailable. I don't remember any of the Bollywood menfolk sporting them before or after this. Muy jefe!
Rahul Khanna at the ANOKHI 12TH Anniversary Gala and Media Awards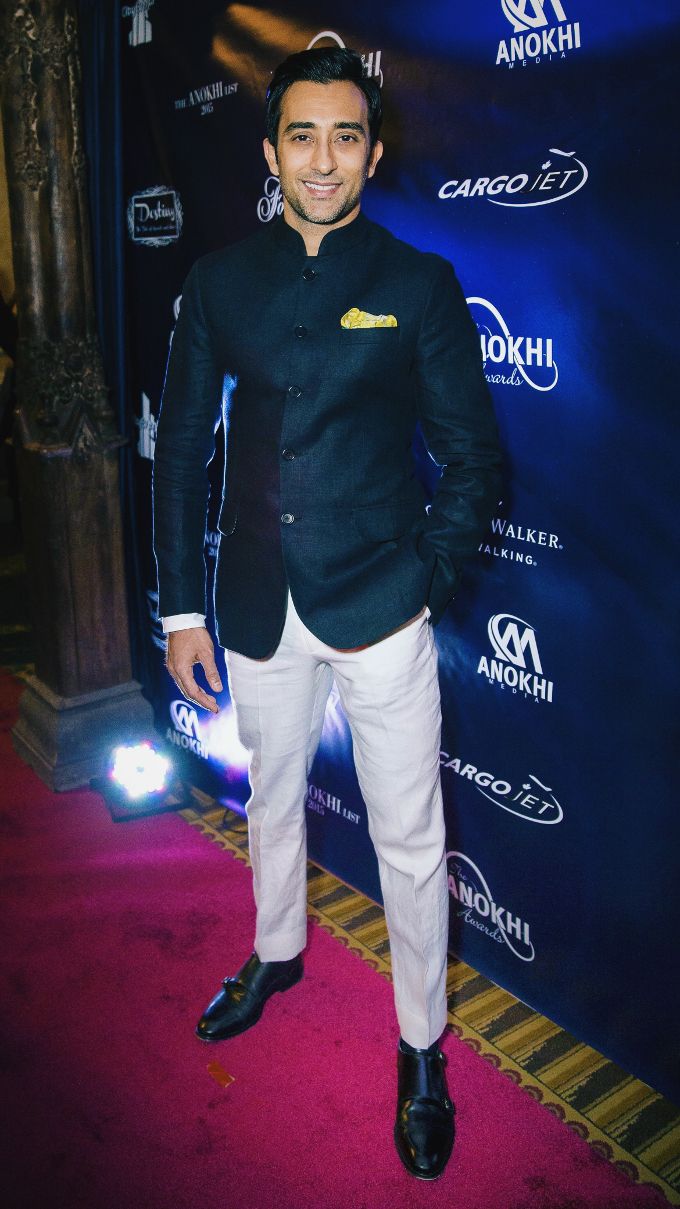 Yes, friends, like always, he smashed it out of the park at the ANOKHI 12th Anniversary Gala and Media Awards, where he was conferred the 'International Actor of the Year' award. From that immaculately tailored bandhgala through to those beauteous double-monks, everything about this look screamed perfection.
And the pocket square, it brought just the right dose of cheeriness to the authoritative proceedings. Guys, watch and learn — this is how it's done.
SO, which one was your fave?