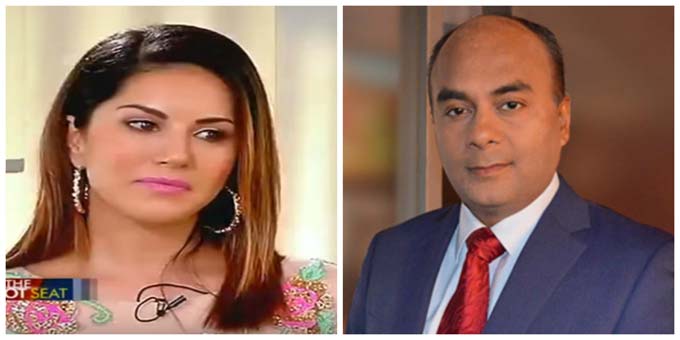 Bhupendra Chaubey, the interviewer who has come under a lot of fire for making Sunny Leone uncomfortable has written a blog post on his website. He has tried his best to defend himself and his style of interrogating the actress. Here are excerpts of his open letter –
I have been pilloried by many, suggesting that I was obnoxious in my questioning. Some thought I was obsessed with her past. Well, Yes, I agree. The only reason why Sunny Leone, or Karanjit as she used to be called earlier, would have qualified to be on my show, is because its her past now evolving into her present which is the story waiting to be told.
We aren't really going to the cinemas to watch her because she is a star. And I might just add here that I haven't seen any of her Bollywood films. Because I have kids at my place, so I cant watch any of her films in her earlier avatar even if I wanted to. Sunny Leone is a newsmaker in her own right because of what was going on in her past, the circumstances she operates in today and the manner in which she deals with criticism which is bound to come her way.
Frankly, let me be honest with you folks. She did tell me half way through the interview, that she felt it was like an interrogation. She did concede that if she knew the format, she would have been better prepared. But ever since the first airing of the interview, I am only seeing positive feedback for her. So Sunny, you did well! It doesn't matter that I was convinced at the end of the interview that you were an extremely brave woman to have dealt with your past in the manner in which you did. It's the viewer that counts. Whether its you or me.
Many articles assume that I have been judgmental. I fail to understand how. I simply did the job of asking questions, yes which were perhaps moral in nature. But isn't that also the story? I did mention this multiple times in course of the interview that Indians were a bunch of hyper hypocritical people. I am not writing this blog to respond to the critics. But I thought its important to place the facts correctly. In the right context.
Read the the entire blogpost here.