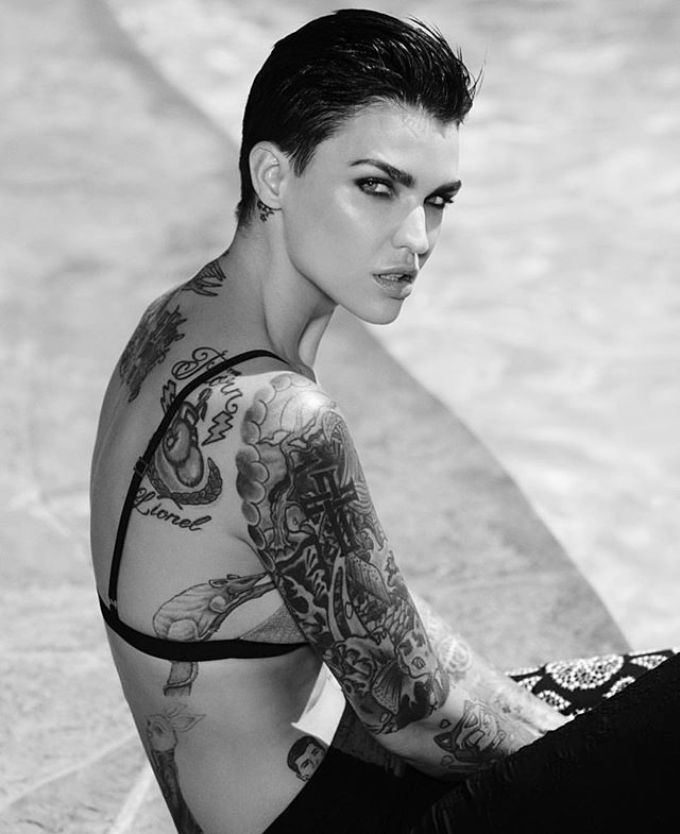 From being a bad-ass biker chick, to a green haired style pixie now, Ruby Rose is a star on Orange Is The New Black and our #StyleCrush of the month. She is one of the most active celebrities on social media and her Instagram feed is filled with style inspirations for those who live life on their own terms! Here are BandraRoad's favourite things about Ruby Rose…
Her green hair swag!
After nailing her blonde pixie look for a while, Ruby Rose recently posted this picture of her with a new hair colour. While green is a tough hair tone to pull, Rose rocks it just fine!
She makes a basic white shirt look dope
We love a crisp white shirt, and the way Ruby does it makes it a whole lot better.
She's funny AF!
Yup. In the Instagram video below, Rose is seen joking around about her gear that is actually from a luxury high-street brand!
Her denim-on-denim game is stronger than yours
Denim overalls + denim jacket + a sheriff's hat = #swag!
GQ thinks she's dope too
She was named Woman of The Year by GQ Australia in 2015.
Her biker-girl gear is always on point!
Be it in the pages of a high fashion magazine or on the street. Ruby Rose knows her biker swag and styles it #likeaboss!
She brings gangster braids on the red carpet
We love it when style icons push the boundaries at formal red-carpet events.
She really gives us bad-ass street goals!
#SWAG
That's why puppies love her
She is that adorable!
And we love Ruby. From being on TV to spinning some sick beats as a DJ, Ruby Rose is definitely one of the reigning style icons right now and is our style crush of the month!
Wanna know more about the hottest looks making waves? Follow us on @BandraRoad: Facebook, Instagram and Twitter!