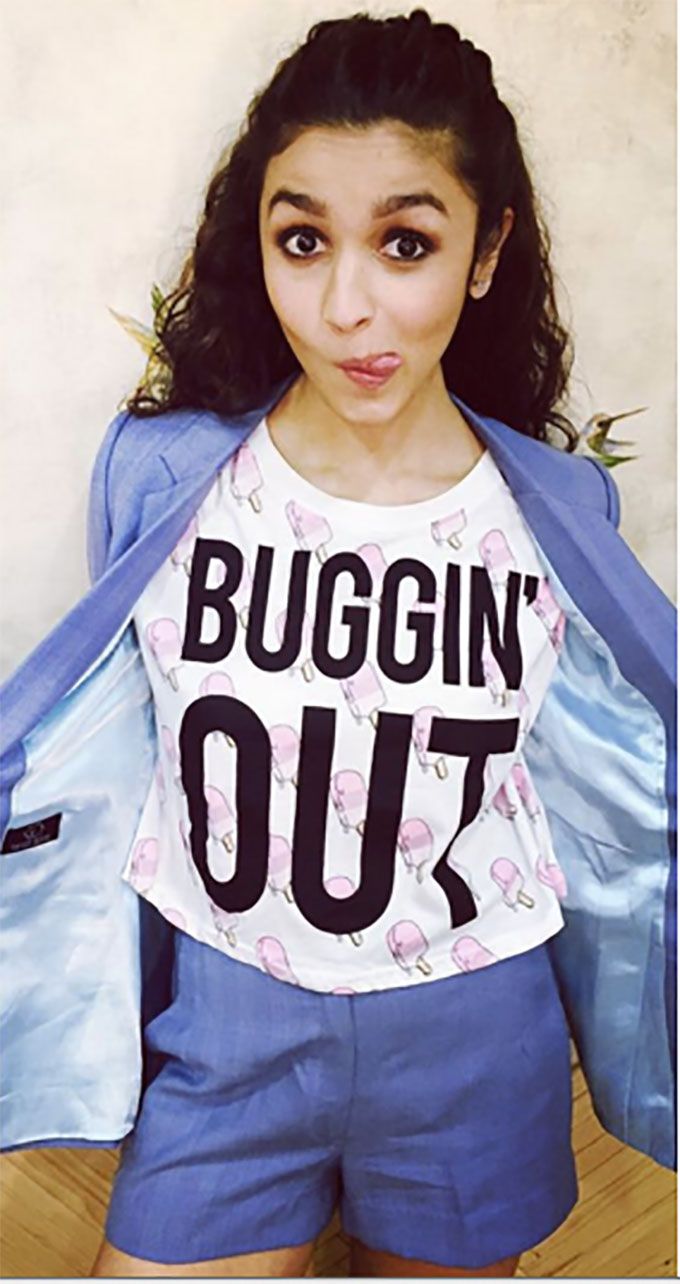 I just love Alia Bhatt. She's just so cute and it doesn't hurt that she can laugh at herself too. Also, I'm quite taken by her fun and playful vibe. Talk about a girl crush?! She most definitely, always gets it right with her fashion choices and I especially like the way she carries off short skirts and dresses with ease – stylishly, of course. Here are some of my favourite looks:
1. Yay for prints
I love this killer, custom-made Coca Cola skirt by Ami Patel, the pop pink lip colour at the hands of Vardan Nayak and messy, side knot courtesy Ayesha DeVitre.
2. The casual LBD
At the Shaandaar promotions, Alia wore an casual LBD shift dress from H&M and brown oxfords. Her glowing face and pink lip was courtesy makeup artist Arti Nayar and the half up-half down pony was by Ayesha.
3. Camouflage craziness
Diesel's camo dress looked so sexy when it's paired with those killer black heels. From head to toe, her makeup and styling were spot on.
4. Sunshine stripes
Masaba Gupta really knows how to have fun with her designs, as we all know by now. And Alia scored a fun, pleated and striped custom-made dress from House Of Masaba that she wore for the Shaandaar promotions, along with Aldo shoes. Her smudged red eye liner and red lip matched her shoe too, which was a nice addition of colour. Hairstylist, Ayesha experimented with a cute braid that added a girly touch to her look.
5. Suited up
How awesome is this custom-made short suit by Kanika Goyal? Worn over that fun, graphic tee. Alia looks quite effin' cool! And you gotta love the textured wave that Ayesha had going for Alia.
P.S: Dear Santa, can I please have a few of Alia's outfit this Christmas? #Kthanks
Comment below and tell us what you think guys!