We love it when a new month begins! New month, new self has always been our motto, but this time we have a different reason. New month this time equals new and amazing magazine covers! Recently we spotted Kangana Ranaut & Jacqueline Fernandez looking smokin' and now, the cover of Hi! Blitz lands on our lap! It's got none other than Sonakshi Sinha on it.
She is wearing a crisp white shirt with a heavily embroidered lehenga and yup, your eyes aren't imagining it, she is wearing white sneakers! Adding to her ethnic ensemble are some gorgeous pieces from Manubhai Jewellers, one of which she has worn under the button up collar. Her make up is flawless, highlighting those cheek bones and keeping the brow game strong.
She looks fierce, as usual!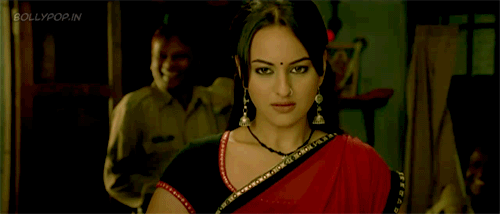 P.S. Does this look remind you of Sonam Kapoor's when she shot Dolly Ki Doli?