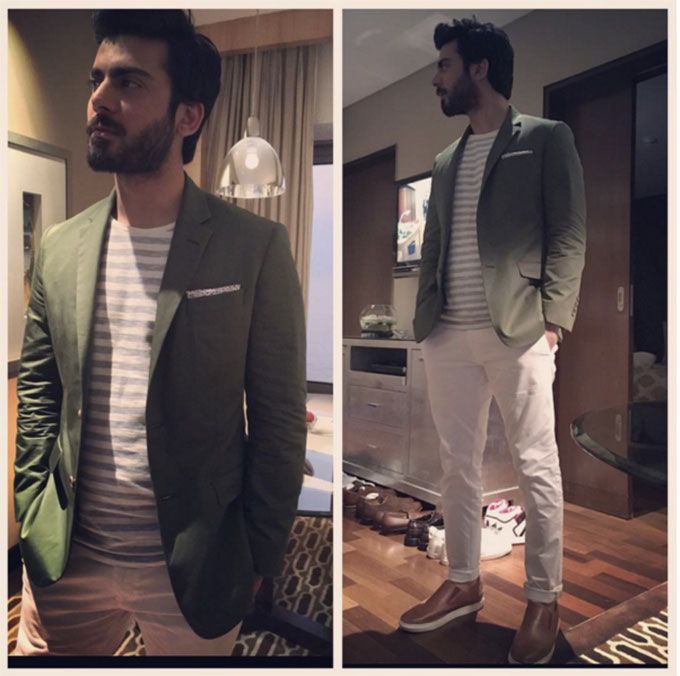 If it were left up to me, Fawad Khan would be in all the Bollywood movies from now on. He strolled into India's hearts with the release of Khoobsurat and for once fashionistas here were paying less attention to Sonam Kapoor and more to the hunky new guy in the well-tailored suits on screen.
As you can imagine, we are all mad excited about the release of Kapoor & Sons and with promotions for the film in full swing, we love that we're getting to see so much of Fawad again. Fashion stylist Abhilasha Devnani put together this dashing look for him yesterday. He's wearing a Brooks Brothers olive green jacket over a G-Star RAW striped tee on white pants from Zara and Hush Puppies from Bata tan shoes. We really dig the combination of the grey and white stripes with the olive green. Also, his pocket square from The Bro Code is super trendy too! And how about the folded cuffs on those pants… very cool, right? But wait there's more…
Abhilasha styled him in this super casual get up for radio promotions. He's wearing jogger jeans from Kenneth Cole with a shirt from GENES by Lecoanet Hemant. The white inner is from Marks & Spencer and the white sneakers are from none other than Zara. His cool factor goes up by 1000 points with those Prada shades, don't you think?
We just proved in one swift post that Fawad's appeal is timeless and he can carry off just about any look with ease! What do you think? And which one do you prefer? Let us know, okay? #Kbye.