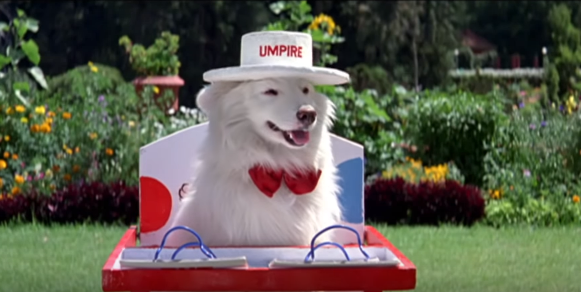 We go on nostalgia trips pretty often. Sometimes we wonder what Mayoori Kango is up to now or search for new photos of young child stars who played parts in movies (we're looking at you Poo). Not a day seems to go by without us digging through the archives to find the latest update on all of the characters and childhood favourites anyone who has grown up in India will undoubtedly recognize.
While discussing important characters of epic Bollywood movies, especially of the '90's, we realized not much is known of the most iconic dog of our generation – Tuffy, the adorable spitz from Hum Aapke Hain Koun who united Prem and Nisha while 'Radhe Krishna Gopal Krishna' played in the background.
Tuffy was my personal favourite character in an otherwise annoying film (don't kill me) and he definitely had the breakout role in the magnum opus. I mean, how can you not instantly fall in love with an adorable pooch who always seems to save the day? He even had his own wardrobe for the movie, and we wouldn't be surprised if this included hair and makeup as well! While thinking about Tuffy, I came across this piece on Scroll.in about pets in Bollywood and the article had this amazing nugget of information about the real Tuffy. His real name was Redo and he was adopted by Madhuri Dixit after the shooting of Hum Aapke Hain Koun was complete! Awwwwww!
Basically, Nisha and Tuffy lived together in real life as well. That's what we call a true movie pairing! That's why when comedian Aditi Mittal came up with this mockumentary of Tuffy's origins, I couldn't help but laugh. Check it out!
We love you Tuffy and the fact that Madhuri and Tuffy stayed together after the movie makes us so happy!